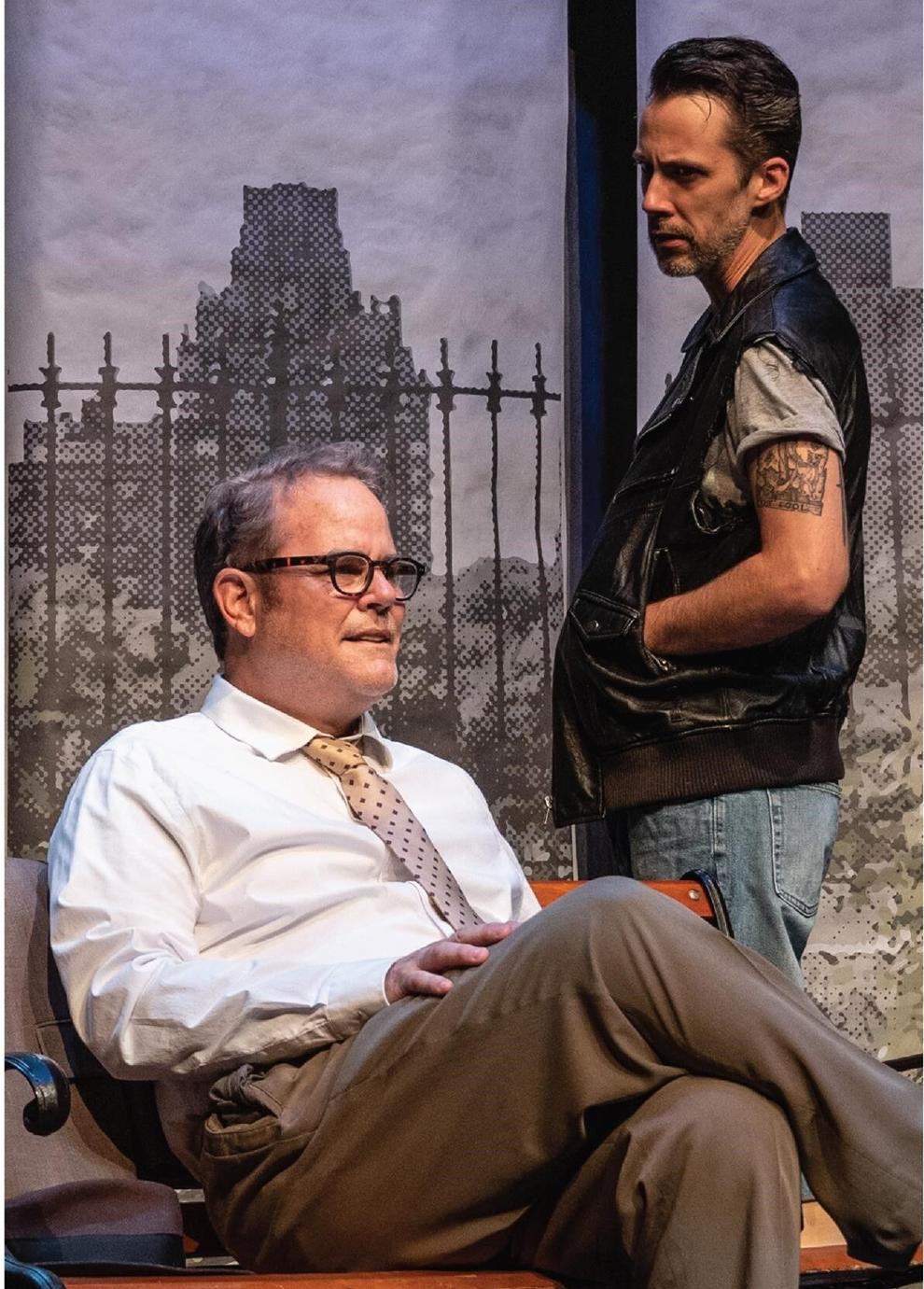 Plays: The Zoo Story and The Dumb Waiter
Company: St. Louis Actors' Studio
Venue: Gaslight Theater, 358 North Boyle Ave.
Dates: Sept. 23 through 26, Sept. 30, Oct. 1 through 3
Tickets: $35; visit stlas.org
Highlights: St. Louis Actors' Studio returns after a shuttered 2020-21 season due to the coronavirus pandemic with an engaging, well-crafted presentation of early works of modern theater in the 20th century by two of its most gifted practitioners, Edward Albee and Harold Pinter.
Story: In The Zoo Story, every Sunday afternoon middle-class Peter relaxes on a park bench nestled within a secluded area of Central Park in New York City. The publishing executive brings along a favorite book to read for a few hours away from the domestic bliss of his wife, two daughters, two cats and a pair of parakeets.
On this particular Sunday, though, his idyllic existence is interrupted by Jerry, a disheveled, shady-looking sort who wanders over to Peter's seat. He tells Peter that he's been to the zoo. Getting no reaction, he addresses Peter again, remarking that he's visited the zoo. Still being ignored, he raises his voice and gets right in Peter's face.
Finally, Peter acknowledges the stranger's presence in somewhat pleasant fashion, restrained but not impolite. This reaction opens the door for Jerry to inform Peter not only about the zoo and the animals therein but also a cat which belongs to his landlady, and all of the problems which people and animals seem to send Jerry's way.
Peter's reluctant friendliness gives way to a leery and wary reaction to Jerry's increasingly discordant musings until words of heightened anxiety lead to physical confrontation. It's not what Peter expected on his regular Sunday sojourn.
In The Dumb Waiter, two hired guns pass the time in a seedy, dingy basement room while awaiting further instructions from their boss. Ben reads and rereads a newspaper, intermittently interrupted and annoyed by Gus' mind-numbing ramblings.
Between the two dumpy beds on which the men recline is an ancient dumbwaiter, which opens suddenly with an order for some food. Thinking that they must be in what once was a restaurant kitchen, Ben and Gus try to piece together the meaning of the order. Ben talks into a speaking tube affixed on the wall near the dumbwaiter to ascertain what is going on above.
While Ben sends Gus into a side room to make some tea, both men ponder the increasing number of paper orders being sent their way via the dumbwaiter. There must be a method to this madness, but is it friendly or malevolent? Is this a comedy of miscommunication or a deadly game in which Ben and Gus are mere pawns?
Other Info: This 14th season for St. Louis Actors' Studio is titled The Lost Episodes. These two one-act dramas from the late 1950s, one by American Albee and the other by the British Pinter, certainly qualify in that regard. Each of these gems features its playwright's signature use of slowly building menace to tantalize an audience with the unsettling effect of feeling tranquility slip into something sinister and unexpected.
Director Wayne Salomon meticulously moves his performers gradually into a descent of uneasiness, especially in The Zoo Story, in which William Roth as Peter finds himself pulled into a frightening scenario despite the pleasant weather and ambient beauty of nature in its Central Park setting.
That's thanks to a wonderful turn by Joel Moses as the wildly uneven Jerry. Moses' character is as unsettling as a land mine and as precarious as a hand grenade with a finger replacing the latch after it's been removed, ready to explode at any moment. Moses conveys danger as much with his twitching and Jerry's aggressive friendliness as with his interpretation of Jerry's unstable psyche.
The actors switch their hierarchy in The Dumb Waiter, in which Roth excels as the fastidious Ben, who chafes at the realization that Gus has packed a piece of cake for himself but not brought another one along for his partner.
Ben is Abbott to Gus' Costello in The Dumb Waiter, badgering his simple-minded colleague, who is aptly played by Moses as an affable if dimwitted second-in-command, while Roth depicts the bossiness and exasperation of the elder hit man.
Salomon builds the tension slowly and effectively in The Dumb Waiter, where the uneasy feeling and palpable danger comes not from the two characters but from the disembodied voice on the other end of the speaking tube and the incessant slamming of the dumbwaiter as orders are sent from above.
Patrick Huber offers two telling set designs: a panoramic view of Central Park on a series of background strips for The Zoo Story, and then a highly convincing design of a seedy dump of a basement room – complete with dingy walls, a tiny photo, a pair of unsavory beds and a functioning dumbwaiter for maximum effect – all effectively illuminated with his lighting design.
Teresa Doggett adds some pinpoint costumes, including narrow '50s ties for the hired guns, Peter's casual attire and Jerry's biker look.
Albee and Pinter were just getting started with their illustrious careers when they penned The Zoo Story and The Dumb Waiter, respectively. It's highly satisfying to witness such a carefully crafted production that gives justice to both playwrights and their penchant for unsettling, off-kilter and provocative drama.