Show: Diary of a Madman
Company: Saint Louis University Theatre
Venue: Online
Dates: Run concluded
Story: Low-level civil servant Poprishchin, a troubled bureaucrat in 19th century Russia, chafes at his menial tasks while secretly pining for Sophie, the attractive daughter of his boss. For her part, she barely knows that he exists, sending the emotionally fragile Poprishchin further into his accelerating mental illness.
In his journal, Poprishchin keeps careful records of his encounters with his boss and other government employees. He also jots down the conversations he overhears between Sophie's dog and other canines, convinced the dialogue has import for him. As he continues his psychological descent, Poprishchin eventually believes that he also is the king of Spain, which he thinks may or may not be the same as China.
Life goes on for Poprishchin and those around him, but his tenuous grip on sanity grows more precarious by the day.
Highlights: Director Lucy Cashion and her student cast tap into their collective imaginations during the age of COVID-19 to bring a modern tint to Gogol's classic tale of mental instability.
Other Info: Cashion says upfront that the 2020-21 theater season for Saint Louis University Theatre is actually "two different seasons," a regular slate of shows as well as a "pandemic season." To that end, she presents the production of Diary of a Madman as a film rather than a stage show.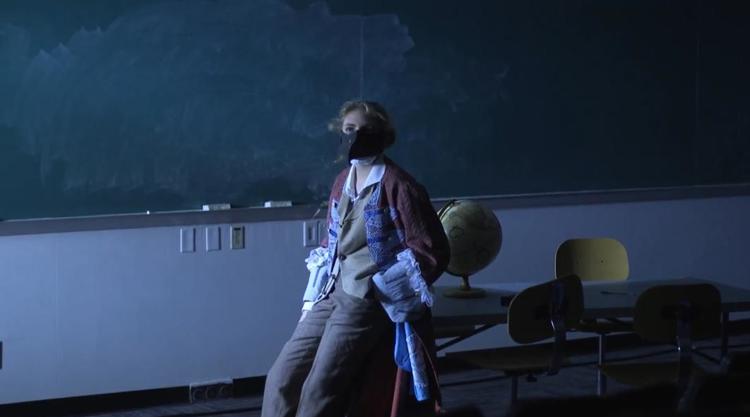 Cast members take turns in different segments portraying Poprishchin as well as several supporting characters in their adaptation of Gogol's famous story. As one might expect with such a large ensemble and a story told in more than a dozen vignettes, it's an uneven production, although clever and entertaining scenes far outnumber those which are labored or flat in execution.
Given wide latitude by Cashion, the enterprising players offer the viewer a variety of scenes, many indoors in classrooms or other enclosures on the SLU campus, but also a number filmed outdoors around the university in midtown.
The result is often refreshing and engaging. Since the protagonist is off-center throughout the tale, using a number of players to bring his story to life is an informed method for identifying his mental illness.
Cashion's idea to move the production from stage to film because of safety measures during the pandemic leads to an effective presentation by those involved. Joining her behind the scenes and richly contributing to the finished work are director of photography and editor Emma Glose, lighting designer Jordan Phoenix, costume design mentor Lou Bird, props master Joe Stafford and assistant production manager/assistant director Spencer Lawton.
The colorful cast bringing Poprishchin's off-kilter thoughts to life are Sammy Davis, Andrew Devine, Frankie Haefner, Anna Hsu, Trevor Jones, London Kimble, Cheyenne Levengood, Reed McLean, Bryce Palmer, Vanessa Perou, Rose Reiker, Cameron Schoeck, Kate Smith and Emerson Tobar.
This production of Diary of a Madman and its imaginative response to COVID-19 shows great promise for the remainder of the 2020-21 SLU theater schedule in a responsible and creative approach to the strictures of the pandemic.