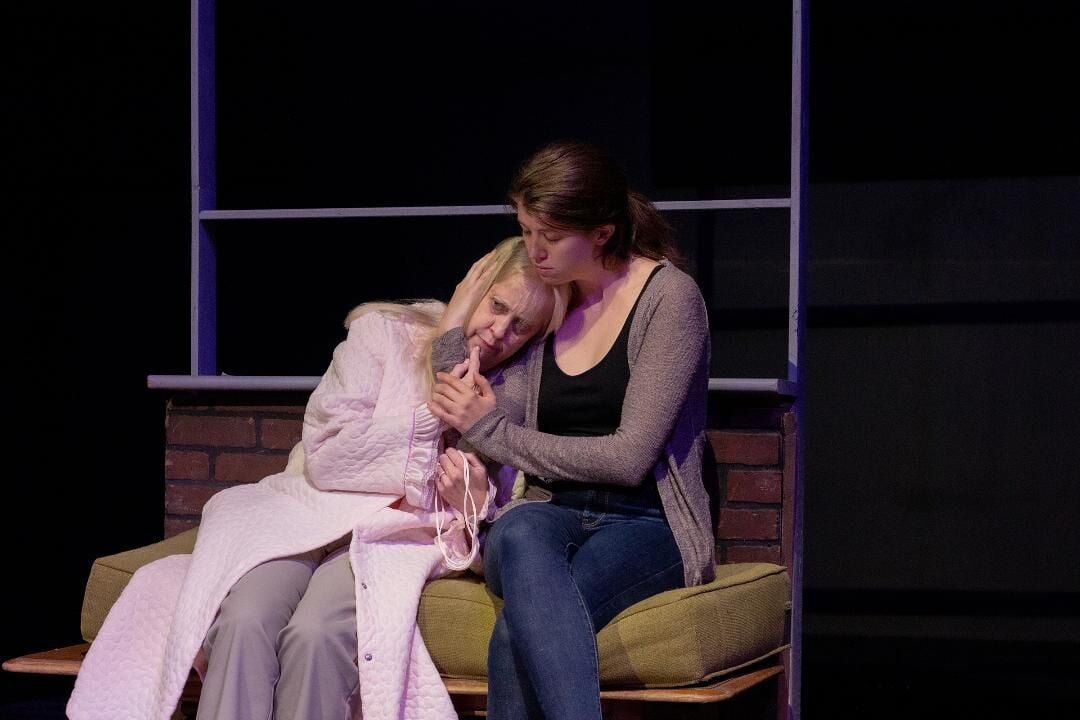 Play: Breadcrumbs
Company: R-S Theatrics
Venue: .ZACK, 3224 Locust Street
Dates: Oct. 15, 16, 17, 22, 23, 24
Tickets: $20; call 314-534-1111 or visit metrotix.com
Highlights: R-S Theatrics opens its 2021-22 season after a pandemic hiatus with the local premiere of Breadcrumbs, Jennifer Haley's pensive, two-hand drama from 2010.
Story: Alida has spent a lifetime doing her best J.D. Salinger impression as a popular but reclusive writer of fiction. While being questioned at a health facility by a young woman named Beth, the latter is enamored of Alida's occupation and is curious to know more about her.
After Alida's visit, Beth stops by the older woman's apartment with some materials which Beth says that Alida left behind. That's basically a pretext, though, for Beth to spend more time with Alida to satiate her curiosity about the mysterious woman.
The cantankerous Alida shows no interest in humoring Beth. However, when Beth notices the difficulty with which Alida is attempting to put her thoughts on paper, she proposes to Alida that Beth take dictation to help the writer complete her latest novel.
Although she refuses any such offer at first, eventually Alida consents and even states that she'll pay Beth to do the work. As it turns out, Beth has just lost her job at the clinic, as she has other jobs in the past. She's in a relationship with a new boyfriend, which she thinks will be better than her previous, failed attempts with other men. She also has a disturbing tendency to lie to Alida, or so the older woman claims.
Alida's new story centers on a young girl whose mother is troubled in her own right, always seemingly in search of Mr. Right to take care of her and her daughter. In flashbacks of her faltering memory, Alida reveals clues which may lead Beth to the truth behind Alida's thinly veiled fictitious story.
But is Beth really interested in helping Alida complete her work as the writer slips further into the rabbit hole of dementia? Or is she simply using the older woman to bail Beth out of her own failures at work and relationships?
Other Info: While the focus of Haley's one-act, 75-minute piece is the impact of dementia on Alida, it's also a keen character study of Beth as well. This gives director Sarah Lynne Holt and her two performers, Jodi Stockton and Julie Amuedo, the opportunity to address the myriad angles from which Haley handles the delicacies and frustrations of dementia.
Stockton shows the curt and abrasive side of Alida's personality as the writer battles the progression of the condition on her psyche, memory and emotions. She also takes on the role of the younger Alida in the little girl's conversations with her troubled mother. Karen Pierce's lighting design helps make the segues between past and present easily discernible.
Interestingly, Haley's depiction of Beth allows for more surprising character development, and Amuedo succeeds in subtly raising the audience's suspicions about the young woman's real motives. Is she truly fascinated with the idea of working with a well-known writer, or is she taking advantage of Amida's fading memory to address her own needs and compensate for her shortcomings?
Amuedo additionally delineates the less than admirable traits of Alida's mother several decades earlier, providing insight into the character's faults up to the pivotal climax.
Holt's scenic design brings Alida's drab and depressing apartment to life, with a table and chairs at center stage where Alida tells her story to Beth. Costume designer Amanda Brasher complements the characters with comfortable clothes, as well as a couple of scenes with Amuedo wearing a witch's mask. In those scenes, Alida leaves a trail of breadcrumbs a la Gretel to show her a familiar route to "safety." Ted Drury's sound design also underscores the melancholy and mysterious nature of the story.
Breadcrumbs is a delicate work dealing with a tough subject. As such, it would help if Holt could animate this production a bit with a more accelerated pace, notwithstanding the nature of Alida's condition. Cast and audience alike could benefit from such a change, subtle though it is.
As artistic director of R-S Theatrics, Holt continues the fine tradition established by the company, most recently under the guidance of Christina Rios, to showcase provocative and thought-provoking works new to St. Louis. Breadcrumbs offers a fine example of the troupe's laudable mission.