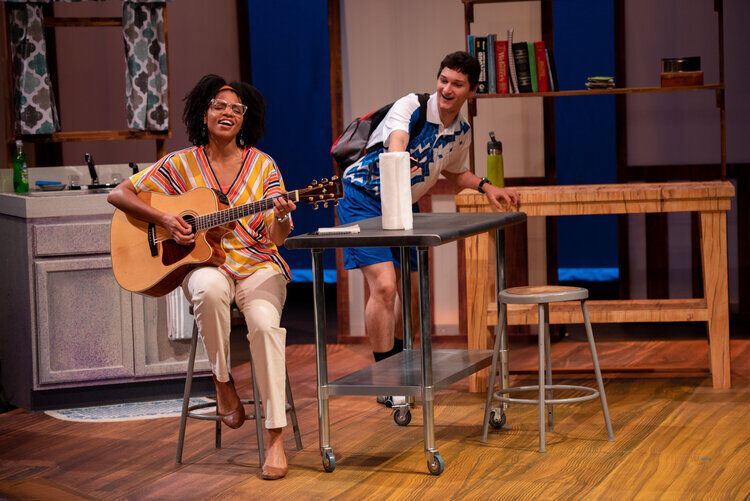 Play: Digging Up Dessa
Company: Metro Theater Company
Venue: Grandel Theatre, 3610 Grandel Square
Dates: Friday at 7 p.m., Saturday at 4 p.m., Sunday at 2 p.m. through Nov. 7
Tickets: $20-$36; call 314-534-1111 or visit metrotix.com; online virtual streaming starts at $20 and is available through Nov. 7 at metroplays.org/dessa
Highlights: Metro Theater Company opens its 2021-22 season at the Grandel Theater with a charming production of a thoughtful and appealing play by Laura Schellhardt about pursuing one's dreams despite any obstacles.
Story: Dessa is an adventurous 12-year-old whose father instilled in her a love for science. Several months ago, however, Dessa's life was turned upside down when her dad died in an auto accident, leaving Dessa and her artist mother Esther to fend for themselves with dwindling resources.
Esther does the best she can, working to pay the bills at the downsized apartment she and Dessa have moved into in order to cut down on expenses, but Dessa doesn't give her mom much slack. The young girl is energized, however, when she learns that a construction site is near their apartment building.
Passionate about paleontology, Dessa is determined to do some excavating at the site during off-hours of construction in search of artifacts, maybe even dinosaur bones. When she gets in trouble at the local history museum, she and the museum director's son, Nilo, become unlikely teammates competing in their school's science fair. The nerdy Nilo yearns for the approval of his own dad and agrees to help the smart, ambitious Dessa on the project as her assistant.
No one seems to understand Dessa's torments, she believes, except 19th century scientist Mary Anning, a pioneer for women in the field of paleontology and someone who is seen and heard only by Dessa. Mary encourages the intrepid Dessa to go forward with her project, and in turn Dessa is determined to see that Mary is given her due at the museum to justly honor Mary's contributions to paleontology.
Mary deserves recognition for her achievements; Esther yearns to achieve her artistic goals, as well, as helping her daughter come to terms with her grief; and Nilo hopes to prove himself worthy of his dad's hard-earned approval. They all are counting on the inquisitive and highly talented, albeit volatile, Dessa to help them achieve recognition and satisfaction for their efforts. Is Dessa up to the challenge?
Other Info: Digging Up Dessa premiered in 2018 at the Women's Voices Theater Festival at the Kennedy Center in Washington, D.C. Shellhardt's 70-minute, one-act play is recommended for ages 10 and up and, among its themes, focuses on the importance of role models for girls in science and the proper acknowledgment of what pioneering women achieved in the annals of history.
Scenic designer Louis Bird makes judicious use of the comfortable Grandel Theatre stage, setting up a series of large panels in the background, a kitchen area in Dessa's house at stage right, an area for the museum at stage center and left and even an area at the front of the audience seating which cleverly serves as the excavation site.
Bird does double-duty as designer of the costumes, which are highlighted by Mary Anning's stern and proper 19th century attire in contrast to the wildly colorful sneakers and socks worn by Dessa. Properties master Katie Orr adds a cool touch with a model of a dinosaur skeleton in the rafters of the museum display area and Catherine Adams' lighting effectively contrasts the daytime activities with the nocturnal site work by Dessa and Nilo.
Sound designer Rusty Wandall deserves special recognition for his wide-ranging array of sound effects, a panoply of audio accompaniment that humorously emphasizes Dessa's observations. Kudos to composer Deborah Wicks La Puma for the music and amusing lyrics "made up" by Dessa's mom as she accompanies herself on her guitar, creating songs out of commonplace materials.
Julia Flood's direction keeps the story moving at a pleasing pace to maintain the interest of younger children. She also elicits fine performances from the quartet of players who bring Digging Up Dessa to life.
Rae Davis shines as the determined, head-strong Dessa, who has yet to come to terms with her father's untimely death, quite convincing as a girl half or less Davis's age. Lizi Watt animates Mary Anning with the scientist's indomitable spirit, as well as a right proper touch of humor, and Alicie Reve Like shows the resilience, love and nurturing skills of Esther. John Katz's gangly look accentuates Nilo's trepidatious personality and his budding friendship with Dessa.
Shellhardt makes a pointed dig, so to speak, at modern science as well as history near the conclusion of Digging Up Dessa to remind her audience that work remains to be done in righting past and present wrongs. Digging Up Dessa shows what possible delights await children who dare to follow their dreams.