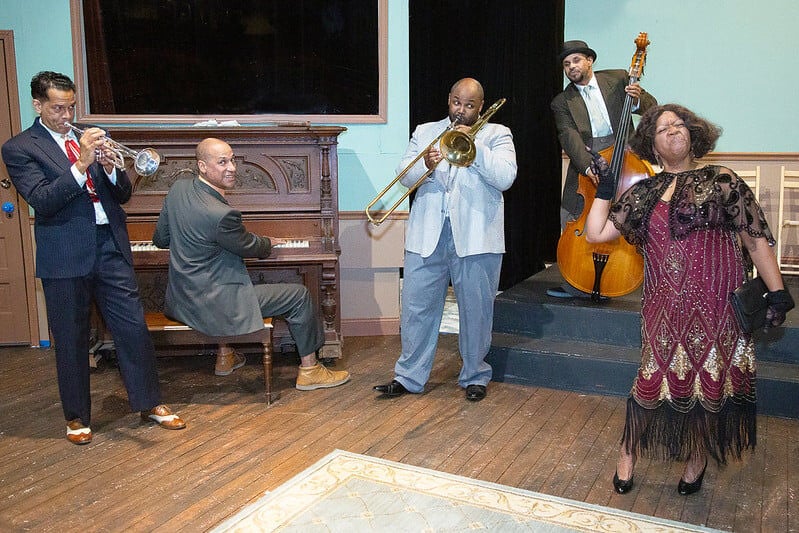 Play: Ma Rainey's Black Bottom
Company: Clayton Community Theatre
Venue: Washington University South Campus, 6501 Clayton Road
Dates: Nov. 11 through 14
Tickets: $15-$25; visit placeseveryone.org
Highlights: Clayton Community Theatre returns with its first production since the novel coronavirus pandemic shut down local theater, with its rendition of August Wilson's Tony Award-nominated drama Ma Rainey's Black Bottom.
Story: The backup band for popular 1920s blues singer Ma Rainey arrives on time for a Sunday afternoon recording session at a Chicago studio. The main attraction is running late but her manager, Irvin, tells studio owner Sturdyvant that she'll be arriving shortly.
While they wait for their headliner, band members Cutler, Toledo, Slow Drag and Levee pass the time with a light practice and a round or two of stories and jokes. Trombonist Cutler is the leader of the quartet, with pianist Toledo, Slow Drag on bass and trumpeter Levee filling out the foursome.
Levee is the youngest of the musicians and also the most passionate and flamboyant. He's been told in earlier sessions by Sturdyvant that he has impressive songwriting ability and that he can soon have his own recording time in the studio to lay down tracks for his own songs. That promise and his own swagger can make Levee overbearing at times to his fellow performers, but they generally take his cockiness in stride.
When Ma finally arrives, she's short-tempered and demanding, following the involvement of her vehicle in a fender-bender with another car. Irvin negotiates with his bristling client to calm her down and get the session underway before time gets any more expensive. Everything is further complicated by Ma's insistence that her stuttering nephew Sylvester do the voice narration leading into the song to be recorded.
Sturdyvant wants a recording of singing sensation Ma Rainey to sell to her growing legion of fans, Irvin wants to appease everyone to finish the project and Ma insists on doing everything at her own sweet pace – time and money be damned. Cutler, Toledo and Slow Drag go with the flow, but Levee, who carries memories of abuse from his youth in the Deep South, is ready for his time in the sun and is growing increasingly impatient in his quest for stardom.
What might happen if Sturdyvant doesn't follow through on his promise to Levee? When will Ma reach her breaking point with her impetuous trumpeter? And can the other members of the band survive any more turbulence?
Other Info: Wilson was one of the greatest American playwrights of the 20th century. His Pittsburgh Cycle of 10 plays is an epic achievement, chronicling the African American experience in his native city for each decade of the 20th century. The lone exception, as director Nada Vaughn observes in her program notes, is Ma Rainey's Black Bottom, which takes place in a Chicago recording studio.
Vaughn stays true to Wilson's story, a mammoth work which runs two acts and nearly three hours in length. Unfortunately, the CCT presentation at times in the first act is sluggish and lethargic, moving at a tepid pace, which belies the poetic rhythm in Wilson's superior dialogue. In truth, however, the play's most dynamic soliloquy, Levee's recounting of a horrific story from his youth, ends the first act on a powerful and sobering note.
Vaughn nurtures attentive performances from her large cast, led by Maureen L. (Hughes) Williams in a riveting turn as the titular character. Williams commands the stage as the bellicose Ma, raging at all around her as the one Black character who can demand life on her terms in a society in which white people hold all the cards. Williams sings convincingly as well, showing how Ma Rainey could achieve popularity against the odds.
Jeremy Thomas is persuasive as the genial, if overbearing, Levee, who knows his own musical talent but can't resist needling his fellow band members to the point of aggressive aggravation. Thomas succeeds, as well, in building tension in Levee.
The solid cast also includes Chris Moore as the affable Cutler, Jonathan Garland as the well-read pianist Toledo and DeRod Jordan as the supportive bass player, Slow Drag. The drama's climactic scene, however, could use more gravitas by its performers – something Vaughn might address in future performances.
Aaron Mermelstein brings the right combination of suavity and betrayal to the role of Sturdyvant, always more interested in profits than people, and Mark Lull is effectively at turns charming and disingenuous as Ma's agent Irvin. Aahron Young is convincing as the tortured Sylvester, Calysta Yalew is the flirtatious Dussie Mae, and Robert Joseph Tierney portrays a police officer following up with Ma after the auto accident.
Jean Heckmann's costume design outfits the players in classy period togs of the Roaring Twenties, and Zac Cary's set design effectively fills the stage with a recording room at stage right, the studio in the center and a waiting area and lobby at stage left – all illuminated with Nathan Schroeder's supportive lighting.
Jackie Aumer provides some cool period props such as the stand-up microphones, Gene Rauscher's adds pleasing musical direction, and Vaughn doubles as sound designer.
It's always gratifying to see a production of one of Wilson's Pittsburgh Cycle dramas, in this case a welcome return for the Clayton Community Theatre.