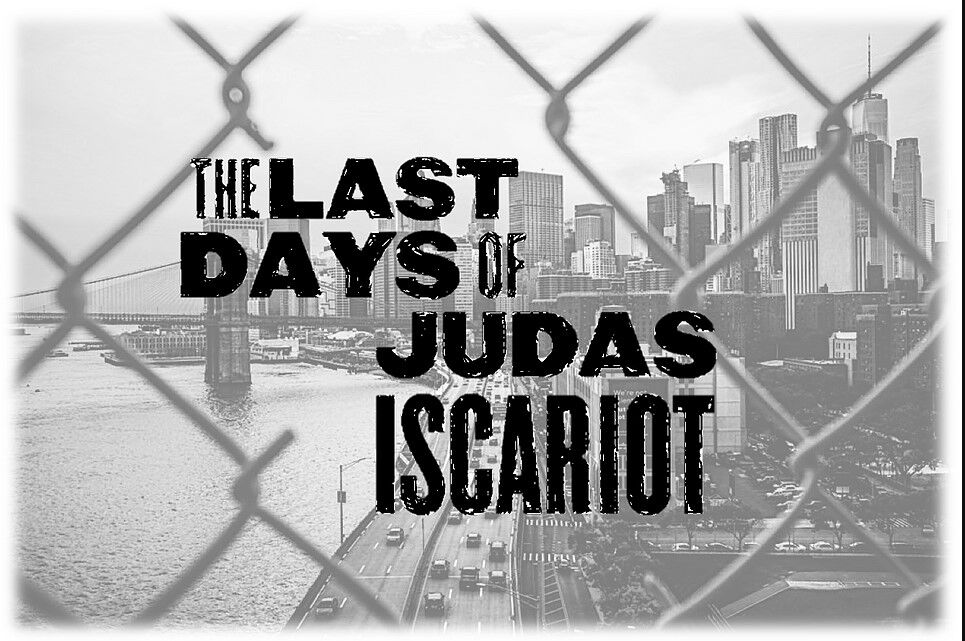 Play: The Last Days of Judas Iscariot
Company: Cats Cradle Theatre
Venue: Jefferson Avenue Mission, 2241 South Jefferson Avenue
Dates: Nov. 18 through 20
Tickets: "Pay what you can."
Highlights: Director Kristin L. Schoenback elicits strong performances from her large cast in a well-wrought presentation of playwright Stephen Adly Guirgis' provocative drama at the new Jefferson Avenue Mission.
Story: Somewhere between heaven and hell a trial opens in the case of Judas Iscariot, the apostle who betrayed Jesus of Nazareth, handing him over to the Roman authorities for incarceration and death in exchange for 30 pieces of silver. Now, Judas sits silently as a prosecuting attorney and defense attorney take turns interrogating a number of witnesses in his case before a stern, unsmiling judge.
Called to testify are such familiar historic figures as Caiaphas the high priest, Simon Zealotes, Mother Teresa, St. Monica, Sigmund Freud and even Satan himself in addition to fellow apostles Peter, Thomas and Matthew. They bring with them their specific points of view pertaining to religion, humanity and philosophy, which the two attorneys attempt to use in their respective goals to convict or acquit Judas on the charges brought against him.
Other Info: Jefferson Avenue Mission is located in the former Emmaus Lutheran Church. Its website says that it is involved in "creating a safe and equitable space for artists and community members alike to engage with difficult conversations while we explore the interplay of art and faith and what it means to be a neighbor."
Its initial presentation is a production of Guirgis' highly charged and controversial drama from 2005 about a keystone element of the Christian church, the betrayal of Jesus by Judas. The play could more rightly be titled The Trial of Judas Iscariot because that is the driving theme of the story, but so it is.
Jefferson Avenue Mission's pastor, Geordie Denholm, is producing this fine presentation by Cats Cradle Theatre, a Chicago-area, project-based collective "dedicated to new work and new industry practices that center on themes of empathy and social justice," according to the website.
If this rendition of The Last Days of Judas Iscariot is any indication, Cats Cradle does finely polished work, as Schoenback's ensemble turns in a number of well-etched portrayals. Taking place in the main area of the former Emmaus Lutheran Church, Schoenback uses the church's altar for the many courtroom scenes, with desks for the two attorneys set several pews behind seating areas for patrons. Scenic designer Kara Grimm-Denholm also utilizes the large church windows to enhance her lighting design for the show, with composer and musician Nicolette Emanuelle tucked off in a raised area at stage right above the pews.
Alison Nichols' costumes feature black and red for Satan's signature attire; mod looks for the two attorneys; professional attire for Caiaphas, Freud and Zealotes; and the religious headwear of Mother Teresa, who appears via Zoom teleconference call.
There are several well-etched portrayals by the cast, including Tim Gouran, appropriately cocky and condescending as the Prince of Darkness himself, able to switch from dapper and debonair to menacing and scary on a dime. Hannah Geisz is excellent as the hard-working defense attorney, Fabiana Cunningham, who works to keep her emotions in check.
She stands in sharp contrast to her legal counterpart, the overly compliant prosecutor Yusef El-Fayoumy, played to the hit by Sam Lyons, whose primary objective seems to be fawning as he attempts to ingratiate himself to the more powerful witnesses, as well as the judge.
Stephanie S. Stroud is the hard-of-hearing but resolute Mother Teresa, firm in her convictions, and Carole Ann Miller does double-duty as Mary Magdalene and Judas' grieving mother. There's fine work, too, by Larenzo Allen, Mike DePope, Ieshah Edwards, Joseph Garner and Molly Perling, as well as St. Louis actor Charles Heuvelman as the irascible Judge Littlefield.
Gregory D. Hicks portrays Jesus in addition to St. Matthew and an unrepentant Pontius Pilate, while Brandon Ellis plays Judas, a relatively minor role despite being the title character, a person used more as a human tennis ball than an actual individual.
The Last Days of Judas Iscariot is filled with vulgar, coarse language but raises a number of interesting questions to ponder. It's a well-made debut effort by Jefferson Avenue Mission and its collaborator, Cats Cradle Theatre.