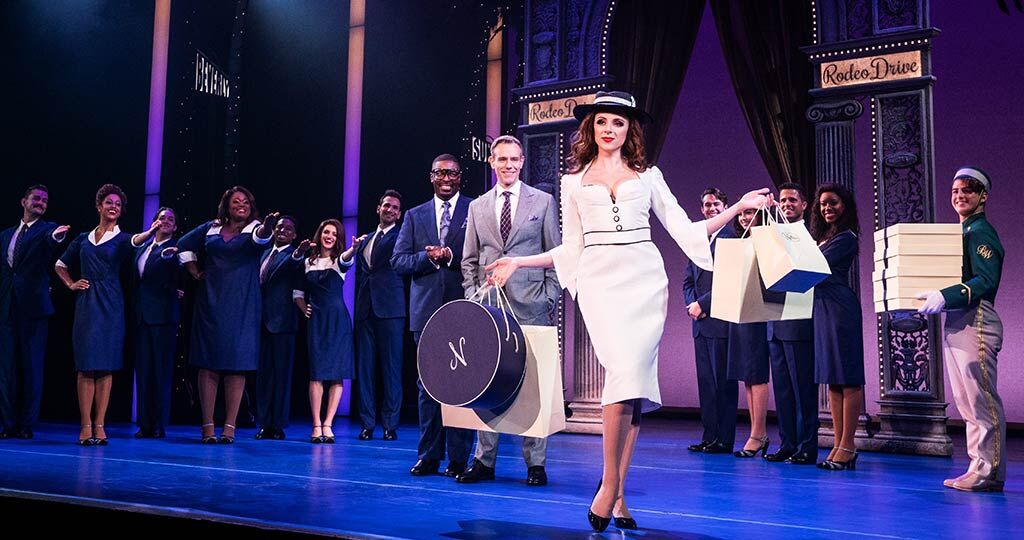 Musical: Pretty Woman: The Musical
Company: Touring show
Venue: The Fabulous Fox Theatre, 539 North Grand Blvd.
Dates: Nov. 18 through 21, 23, 24, 26 through c28
Tickets: $29-$115; call 314-534-1111 or visit metrotix.com
Highlights: After what The Fox says has "been since 618 days since Broadway has been on the Fox stage," the St. Louis showcase opens following a 20-month hiatus with a polished touring production of the bouncy, upbeat show, Pretty Woman: The Musical. It's filled with likable music, energetic performances and an agreeable presentation all around.
Story: Hollywood call girl Vivian Ward doesn't think too far ahead in her life. She makes a living in the 1980s by flagging down passing vehicles driven by men who wish to spend some time and money with her for some satisfaction from "the world's oldest profession." She and her best friend Kit get by from one 'trick' to the next, dreaming of a better life but having no real plans to make that happen.
Vivian's life changes, though, when well-known financier Edward Lewis arrives in Los Angeles for some rather ruthless business dealings. He's in need of an escort for the week and, after sizing up Vivian on Hollywood Boulevard, offers her money for her services for the evening, even as he works away in another room on a plan to close the Morse shipyard business, which will result in the loss of many jobs.
The next day, after some negotiating, Vivian is signed, sealed and delivered for the rest of the week as Edward's companion, surprising Kit and raising the eyebrows of staff and guests at the posh Beverly Wiltshire Hotel. Intrigued by the all-business Edward as much as he gradually is by her, the R-rated Cinderella and her Prince Charming find themselves growing more attracted to each other. Edward's attorney Philip, however, wants to get Vivian out of the picture so some serious money can be made on the power- grabbing business deal.
Other Info: Based on the smash 1990 movie of the same name, Pretty Woman: The Musical features a book co-written by J.F. Lawton, who wrote the screenplay. The show's jaunty, pop score is by rock star Bryan Adams and Jim Vallance, who collaborated on the music and lyrics.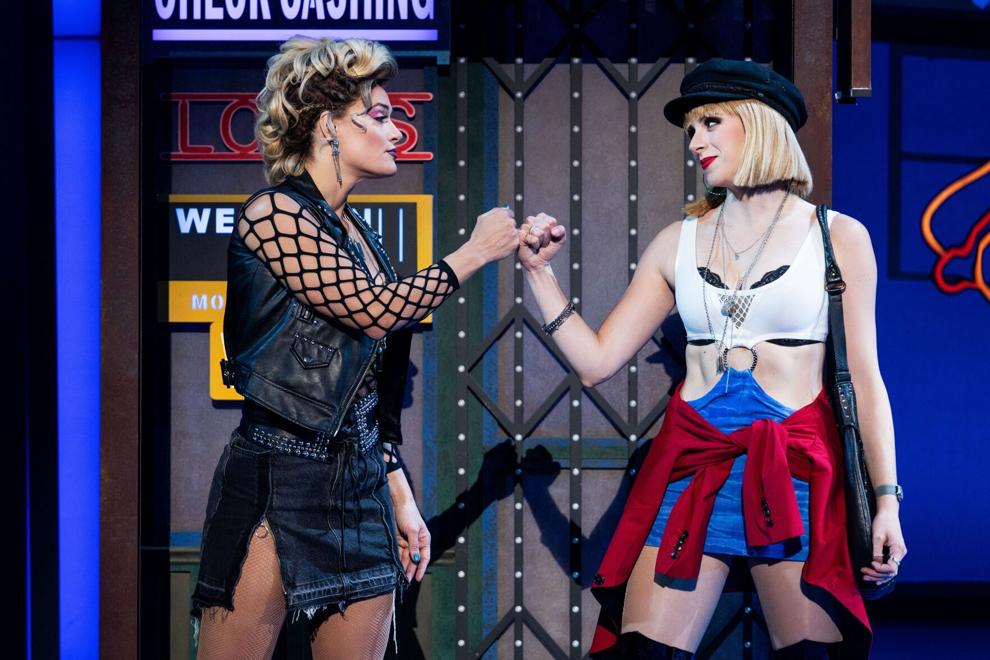 Julia Roberts created the role of Vivian on the silver screen, but Olivia Valli, granddaughter of singer Frankie Valli of The Four Seasons and Jersey Boys fame, is delightful in the part onstage. She's bright, perky and endearing in the role, a bit naive with numbers in this adult-rated fantasy but honest and sincere as well.
Adam Pascal, who played the role of Edward on Broadway in the show's one-year run in 2018-19, reprises the part in this touring production, which just began last month. He isn't Richard Gere but he is smooth as the surprisingly pleasant business tycoon. Edward is more interested in money than in people, however, and Pascal maintains Edward's buttoned-down approach to relationships, which gradually erodes thanks to Vivian's vivacity.
Kyle Taylor Parker delivers a stand-out performance as the aptly-named "Happy Man," a narrator of sorts for the proceedings, and also as the suave, sophisticated hotel manager who tolerates and then welcomes Vivian to his swanky surroundings.
Jessica Crouch is fine as Vivian's brash friend and confidante Kit, and Matthew Stocke is suitably icy and villainous as Edward's attorney Philip. There are also two terrific performances, one by Matthew Vincent Taylor as the ingratiating bellhop Giulio, excelling both in comedy and dance in a polished tango with hotel manager (and competitive ballroom dancer) Parker.
The other showstopper is Amma Osei, who displays some impressive operatic chops as a singer in a performance of La Traviata at the opera attended by Edward and the wide- eyed Vivian. Terrific singing.
While the songs aren't especially memorable, Adams' turn with Broadway tunes is surprisingly engaging and enjoyable, one pleasant number after another starting with the opener, Welcome to Hollywood. His stock-in-trade is ballads, and those are well represented in the show, including solos by Valli and Pascal.
It's a good-looking production, with an eye-popping lighting design by Kenneth Posner and Philip S. Rosenberg, and a smooth, functional set designed by David Rockwell, which includes scenes in the Wiltshire penthouse and the elegant Wiltshire lobby, as well as the Hollywood street setting and a fancy Rodeo Drive clothing boutique.
Gregg Barnes dresses the players in the swanky attire of the '80s elite, as well as the attention-grabbing garb of the street walkers and the bohemian look of the Happy Man, coordinating with Josh Marquette's hair design and Fiona Mifsud's makeup.
Musical director Daniel Klintworth conducts the tight, six-piece orchestra from his keyboards, delivering an agreeable reading of the score, with music supervision, arrangements and orchestrations by Will Van Dyke. Holding it all together is director and choreographer Jerry Mitchell, who keeps the two-act, two-and-a-half-hour musical moving at a quick pace, enlivened by a succession of lively dance numbers.
Pretty Woman: The Musical is a pretty sight to see on the expansive Fox stage after nearly 20 months of silence. Be sure to stick around for a little extra treat at the end of the performance.