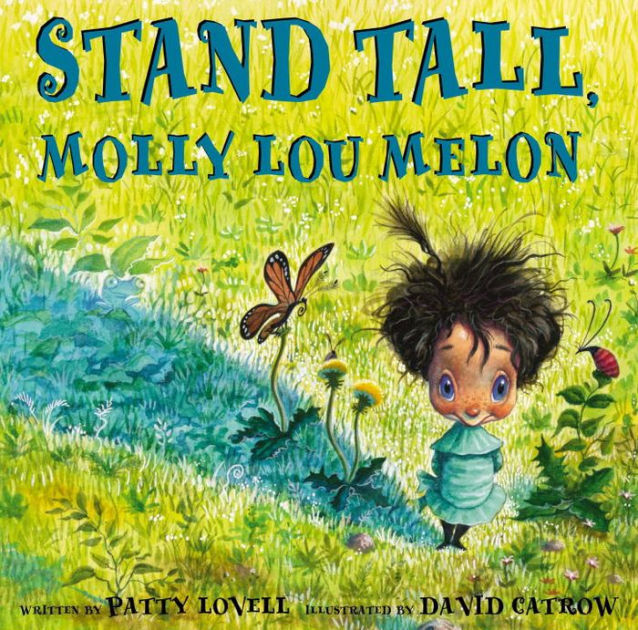 Books can lead us to discover impactful truths, sometimes by employing humor through both text and pictures – as does this month's Ready Readers recommendation, Stand Tall, Molly Lou Melon.
Writer Patty Lovell's irrepressible protagonist, the shortest girl in her grade, lacks coordination, has buck teeth and sounds "like a bullfrog being squeezed by a boa constrictor." Although that description doesn't align with traditional beauty standards, illustrator David Catrow creates a delightfully engaging individual whose innocence and goodness outshine her outward appearance.
The book introduces Molly Lou Melon's physical characteristics individually, with each characteristic countered with an explanation of how it makes her special: "Molly Lou Melon was often fumble-fingered. She didn't mind. Her grandma had told her, 'Believe in yourself and the world will believe in you too.'" In perfect harmony with that text, readers can then see a catastrophe unfold as Catrow illustrates the wee girl sitting amid broken dishes – the result of a failed attempt to carry a ridiculously tall stack of dirty pots, pans, plates and utensils across the kitchen. With Lovell's text still lingering, the next pages show her indomitable heroine juggling a full tea set while riding a unicycle on a tightrope – a fabulous tableau accompanied only by the words "So she did."
With her grandmother's teachings to believe in herself and never give up firmly established, Molly Lou moves to a new town, where she must fit into a new school. Letting her light and talents shine, Molly Lou quickly befriends everyone but the class bully. Lovell and Catrow again work seamlessly to depict the bully's attempts to demean and belittle the charismatic main character, and readers should revel in Molly Lou's eventual success in remaining steadfast and true to herself.
Stand Tall, Molly Lou Melon presents an opportunity for parents and children to discuss the importance of kindness, self-esteem and respect for others. This story should make a great tool to promote needed understanding. 
Ready Readers knows that Kids Who Read Succeed! Please join our efforts to share books and creative learning opportunities with our community's most vulnerable preschoolers by visiting our website, readyreaders.org.
Stay up-to-date on what's happening
Receive the latest in local entertainment news in your inbox weekly!