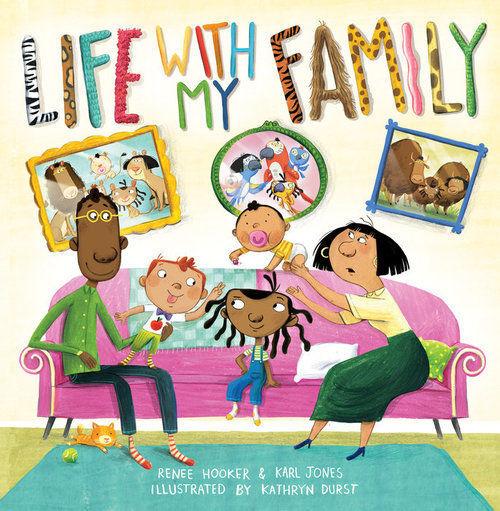 For June, Ready Readers recommends Life With My Family, a literary treat that celebrates the roller coaster of living together every day.
Abetted by illustrator Kathryn Durst, writers Renee Hooker and Karl Jones weave a whimsical narrative that features a young girl with a vivid imagination. Frustrated by the chaos of busy family life, the eldest of three children imagines her family a bit differently – as a group of animals! The family is pictured as a pandemonium of parrots, a smack of jellyfish, a pride of lions, a wobble of wombats and more.
The book features text in a child-friendly font, strengthening the innocence of the narrator. While her depiction presents life's ups and down in both the human and animal worlds, she charmingly determines, "Life isn't always easy with my family, but while we're together there's nowhere else I'd rather be."
Durst's illustrations feature a riot of colors, patterns and textures that should grab readers' attention from the front cover. She balances shades and tones masterfully, celebrating the vibrant rainbow hues of a tropical rainforest, the rich, dark depths of an undersea world, the African savannah's arid calm and the bright, breezy life along a shoreline. Most engagingly, her unique portrayal of the human characters in this beautifully diverse family can be readily recognized in their animal counterparts, potentially prompting a seek-and-find game on each spread.
Life With My Family should provide creative opportunities to explore science, math and art for engaging children learning from home. Children might want to compare their daily experiences with those in the story, providing inspiration for developing, acting out and telling their own stories. 
Ready Readers knows that Kids Who Read Succeed! Please join our efforts to share books and creative learning opportunities with our community's most vulnerable preschoolers. Visit our website, readyreaders.org.
Stay up-to-date on what's happening
Receive the latest in local entertainment news in your inbox weekly!