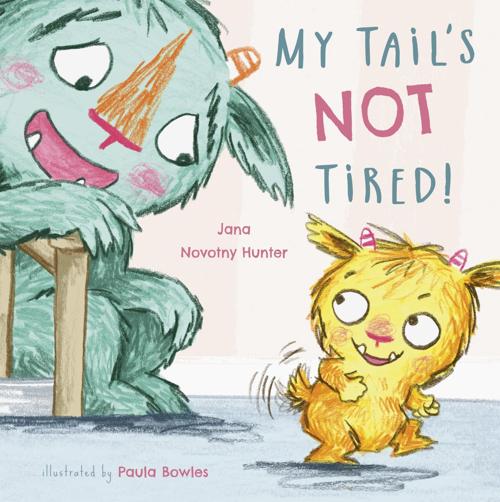 With daylight hours shortening and nights lengthening, young'uns areawide likely are pulling out all the stops to avoid bedtime – so Ready Readers recommends dipping into My Tail's Not Tired! beforehand to share a smile (and possibly a yawn) before slumber.
Writer Jana Novotny Hunter's tale, illustrated by Paula Bowles, opens with Big Monster beginning the bedtime ritual, suggesting that the kiddo must be tired from its busy day. Little Monster quickly replies, "No, I'm not. My knees aren't tired. My knees have lots of bounces in them." Big Monster responds, "SHOW ME!" and the lively little knees get a workout bouncing up and down until no bounces remain.
The game continues, with Big Monster coaxing and Little Monster responding with other body parts not yet ready for sleep: bottom, tail and back. After wiggling, jiggling, swinging and rolling across the floor, Little Monster lands in a warm bubble bath. "That tired back must need rubbing," Big Monster says, gently tracing circles on the yawning child's back. Given a second wind, though, Little Monster insists, "My voice isn't tired yet!" and begins to roar while being cuddled and rubbed in a fluffy towel.
Big Monster becomes visibly wearier, while Little Monster seems primed to go all night, jumping, flapping and zooming to the bedroom. Cuddled in Big Monster's arms, Little Monster's eyes begin to open and close, open and close, until sleep finally arrives.
Bowles' scribbly style and bright colors hint at a kinship with children. Also, the furry monsters' exaggerated features deftly convey their varying emotions, in all likelihood drawing both patient-yet-tired adults and young, enthusiastic movers into the action. 
Ready Readers is sharing But My Tail's Not Tired! with 10,000 underserved preschoolers in our community. Please visit readyreaders.org and join our efforts to share the fun of learning through books.
Stay up-to-date on what's happening
Receive the latest in local entertainment news in your inbox weekly!