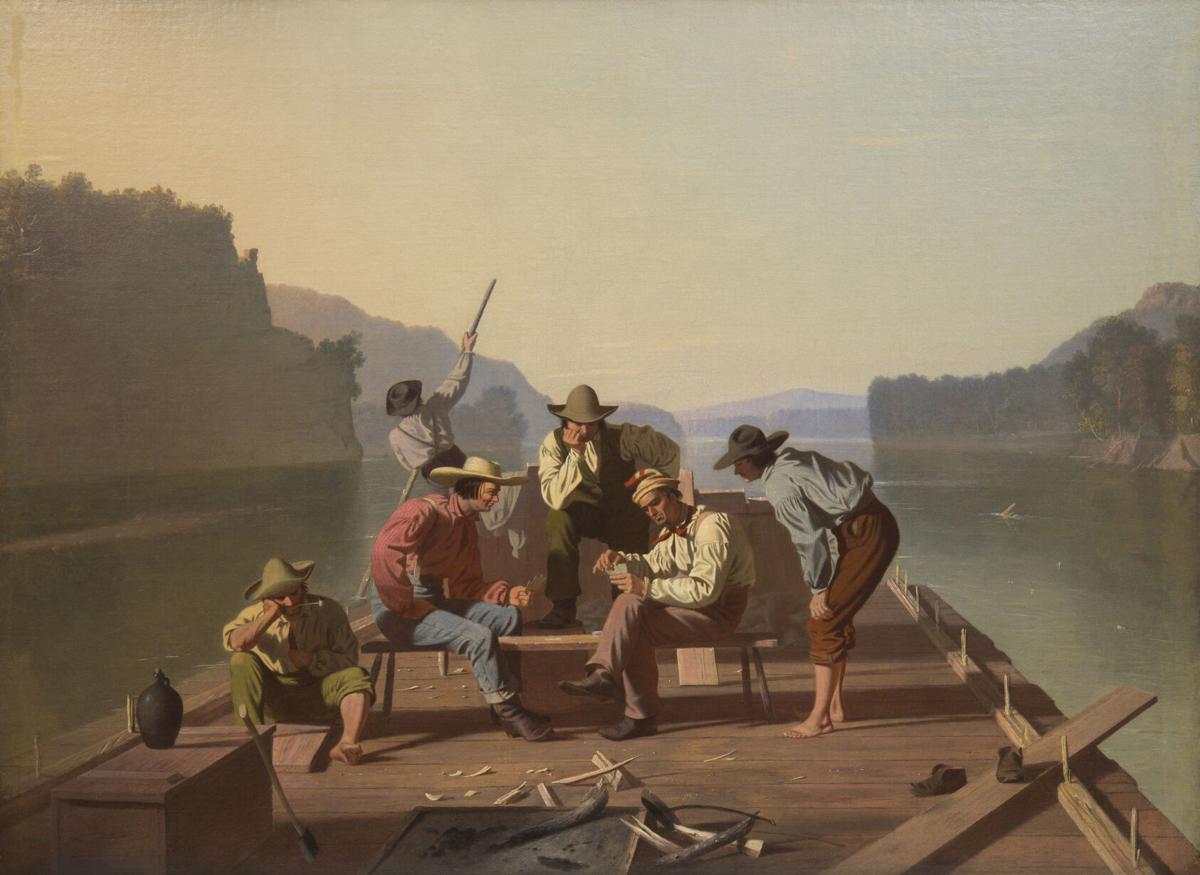 Although residents of both the East Coast and the West often jest that the metro area and related places are "flyover country," a new exhibition at the Saint Louis Art Museum blows that notion out of the water.
"Art Along the Rivers: A Bicentennial Celebration," which opened Oct. 3, will run till Jan. 9 in the Forest Park landmark's main exhibition galleries. Museum members and children under age 5 can gain admission to it for free; ticket prices for nonmembers, meanwhile, vary from $6 to $12.
Overseeing "Art Along the Rivers" are Melissa Wolfe, the museum's curator of American art, and Amy Torbert, the Andrew W. Mellon Foundation Assistant Curator of American Art. Wolfe and Torbert also have edited a 224-page, fully illustrated catalogue to accompany the exhibition.
As its subtitle suggests, "Art Along the Rivers" commemorates the 200th anniversary of Missouri's admission to the U.S. on Aug. 10, 1821, as the nation's 24th state. The exhibition's riparian arrangement also seeks to spotlight the metro area's "vibrant cultural heritage," according to a press release from the museum.
"Art Along the Rivers," the press release continues, assembles "156 objects produced or collected over 1,000 years and originating from cultures that include the ancient Mississippian, Osage (Wazhazhe), French, African American and German, among many others. These communities each developed rich artistic traditions that have vibrant legacies for artists and designers today."
The exhibition also includes a number of landscapes, some of them quite striking:
Raftsmen Playing Cards by George Caleb Bingham, an 1847 oil on canvas that radiates Luminist delight.
Marquette and Joliet on the Mississippi by Oscar Edward Berninghaus, a 1907 oil on canvas that glories in the chromatic splendor of dawn.
Landscape by Bernard Peters, a 1930 oil on canvas whose bucolic depiction borders on hardscrabble Expressionism.
Lime Works in Ste. Genevieve, Missouri by Aimee Schweig, a 1936 oil on Masonite panel whose palette leans toward oyster, ash and slate.
Dripping World by Norman Akers, a 2020 oil on canvas that incongruously crosses a stag with Salvador Dalí's Persistence of Memory.
Two noteworthy portraits, meanwhile, both focus on Native Americans: Osage Warrior by Charles Balthazar Julien Févret de Saint-Mémin, an 1806-7 watercolor-and-graphite on paper; and Wa-kon-cha-hi-re-ga in a Bark Lodge by Charles Deas, an 1840-2 oil on canvas.
Likewise gracing "Art Along the Rivers" are evocative photos like Newsies at Skeeter Branch, St. Louis, Missouri, 11:00 a.m. by Lewis W. Hine, a 1910 gelatin silver print, and All Hands on Deck #5 by Damon Davis, a 2015 lithograph.
Among various other objets d'art and trouvé, the exhibition also features striking ceramics, like Adelaide Alsop Robineau's 1901-11 Scarab Vase (Apotheosis of the Toiler); statuary (Houston Chandler's blissfully chthonic c. 1946 Gorilla); and textile art (an anonymous Plains craftsman's 19th-century shirt fashioned from hide, pigments, quills and beads).
"By pulling together this seemingly disparate group of objects, the exhibition aims to amplify the many perspectives represented in these works of art," the press release quotes Torbert as saying.
Geographically, the press release adds that "Art Along the Rivers" radiates from St. Louis on the Missouri side of things northward to Hannibal, westward to Hermann and southward to Washington County's Old Mines unincorporated community; in Illinois, the exhibition extends from Cairo northward to Anna, Carbondale, Cahokia and Elsah.
"This region played an outsize role in the history of North America as a place where major rivers, trails, rail lines and highways converged," the press release quotes Wolfe as saying. "What we want to show in 'Art Along the Rivers' are the complex, and sometime competing, artistic narratives that resulted from these powerful elements and the communities they attracted."
Saint Louis Art Museum, One Fine Arts Drive, St. Louis, 314-721-0072, slam.org