An engaging new exhibition at The Magic House transports kids and parents alike half a world away to learn about the culture and customs of India – and to expand their understanding of the international community.
Opened in late May, "Namaste India" features hands-on experiences that showcase the art, food and traditions of the world's second most-populous country.
"It's just been really heartwarming to see the children in the space," says Beth Fitzgerald, president of The Magic House, a not-for-profit participatory museum that sparks imagination and encourages curiosity and creativity. "It's always a big question when you're creating an exhibit, how people will interact with it. We're really pleased the experience is just as we've dreamed."
"Namaste India"is included with the price of admission to The Magic House and consists of several different experiences that illustrate various facets of Indian culture. One minute, kids could be striking a pose on a glamorous Bollywood red carpet, and the next, they're riding in a three-wheeled tuk tuk (a motorized rickshaw common throughout India). Unsurprisingly, Fitzgerald says the latter has been a fast favorite with attendees.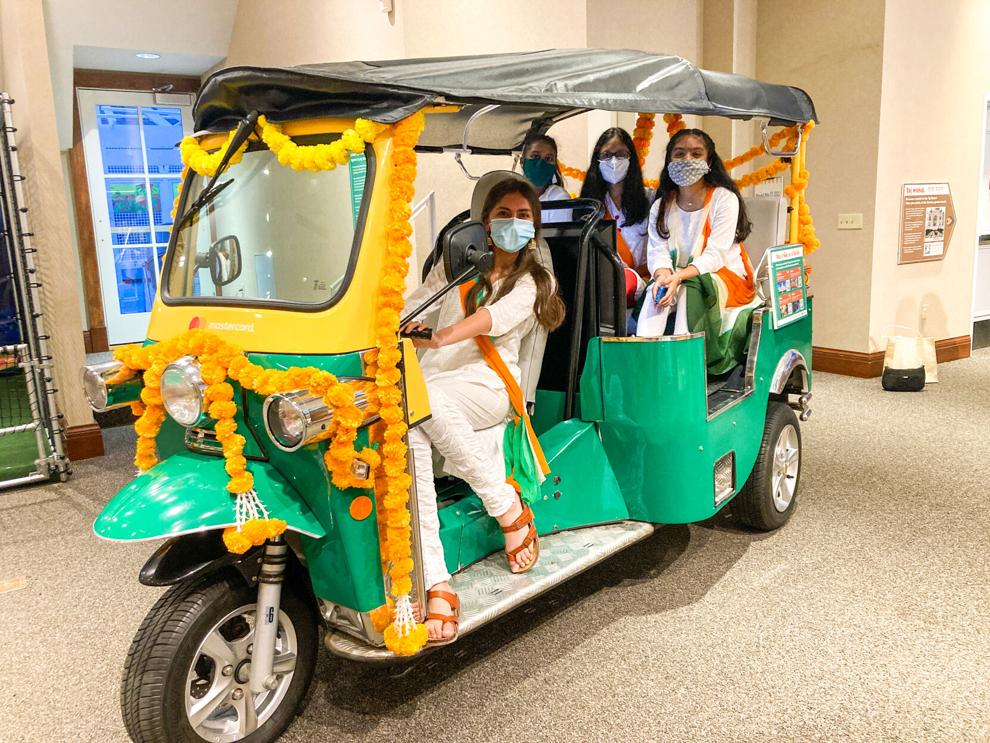 "Namaste India"also includes areas dedicated to cricket, school, home life, a marketplace and a dhaba, or roadside diner. Each component of the exhibition was meticulously planned and crafted by an advisory committee of 32 metro area professionals – all of whom have an Indian heritage. The group began meeting in-person with The Magic House in January 2020 – only two months before the COVID-19 lockdown. The committee adapted like everyone else, however, and continued to meet over the course of a year-plus to bring the exhibition to life.
"It's such a sharing experience," Fitzgerald says. "We weren't able to go to India because of COVID and experience it ourselves, so it was really their role to share everything they could think about their culture and try to bring it to life. They were excited to collaborate to find the commonalities, as India is such a diverse place."
The result is an authentic representation depicting some of the most common components found in modern Indian culture.
"We're proud that we can showcase these different aspects of Indian culture that everyone shares," Fitzgerald says.
"Namaste India"is a big deal for another key reason: It's the first new in-person exhibition created by the museum to open since the COVID-19 pandemic, which spurred a shift in how The Magic House connected with its audiences. Although the museum's leaders are happy to (safely) welcome back visitors, they've retained some of the more popular pandemic-era introductions to its repertoire.
"We were pretty successful in finding ways that we could still connect with the community," Fitzgerald says. "One of those was virtual field trips, and those were extremely successful in reaching a much broader audience than we had in the past. We are planning to continue virtual field trips next year. We see that as something coming out of COVID that is a new opportunity for us, and something we probably never would have done that without COVID."
"Namaste India"will run through next April here before embarking on a nationwide tour to different children's museums. These plans are still in the works, but Fitzgerald and her team have already generated some good buzz among partners across the country.
"Namaste India" marks the latest entry in The Magic House's traveling cultural exhibition series, which includes "Children's China," "Kenya's Kids" and "Argentina's Niños." Each was designed to build interest and empathy among children and their families for cultures worldwide. That goal always inspires parents, youngsters and even staff at the museum.
"We want to celebrate different cultures," Fitzgerald says. "And we want children to see the similarities and differences between different cultures."
The Magic House, St. Louis Children's Museum, 516 S. Kirkwood Road, St. Louis, 314-822-8900, magichouse.org