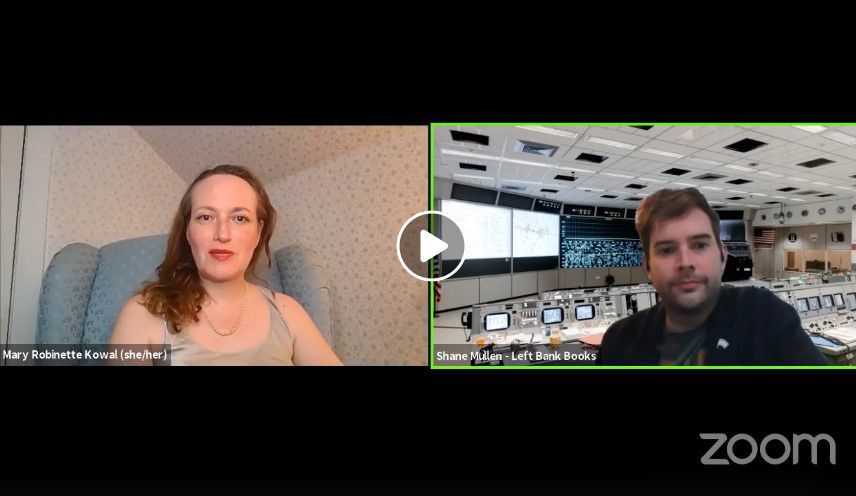 Left Bank Books co-owner Kris Kleindienst and her sterling staff have kept the indie gem running for more than half a century, and amid the pandemic, they are reconfiguring the shop's in-person author interactions with pure pixel power, in the form of livestreaming events and related tech-based offerings.
Previously, before the new coronavirus turned the world topsy-turvey, the much-loved bookshop in St. Louis' Central West End neighborhood scheduled and staged such interactions – readings, discussions, signings and so forth – on premises. COVID-19, though, has curtailed some authors' ability or inclination to travel in person to the metro area.
This quasi-science fictional reconfiguration, appropriately enough, came into sharp focus recently when Kleindienst and her team remotely fêted the Chicagoan author (and, intriguingly, professional puppeteer) Mary Robinette Kowal.
On its Facebook site, Left Bank Books livestreamed a discussion/Q&A session with Kowal at 7 p.m. on July 29 regarding her new novel, The Relentless Moon. That book marks the third in Kowal's Lady Astronaut series, following The Calculating Stars and The Fated Sky.
The Kowal livestream has been archived on the Left Bank Books Facebook page and joins roughly 160 similar livestreams in a veritable video bounty for bibliophiles. 
Kowal's work packs an impressive punch. Regarding her work, a press release from Left Bank Books quotes encomia from both Publishers Weekly ("An immersive world that will stay with the reader well past the final page," in a starred review) and The Wall Street Journal ("This is what NASA never had, a heroine with attitude").
In particular, The Calculating Stars – incredibly, the author's science fiction debut at novel length – earned the Nebula, Hugo and Locus awards (bestowed, respectively, by professional SF writers, SF fans at the genre's largest annual convention and readers of Locus, the genre's monthly newsmagazine). A tour de force, it combines "hard" SF tropes in an alternative historical setting with impeccable characterization and considerable suspense.
To keep up with Left Bank Books' virtual events, see the shop's calendar at left-bank.com/event.
Left Bank Books, 399 N. Euclid, St. Louis, 314-367-6731, left-bank.com
Stay up-to-date on what's happening
Receive the latest in local entertainment news in your inbox weekly!