About this time last year, Joanna Serenko graduated from Kirkwood High School and, like many recent graduates, questioned the next steps she'd take in life.
She had plans to attend college and pursue a career in the medical field, but then a voice called – The Voice, actually – and led her down a different, exhilarating path to becoming a musician.
Serenko, now 19 years old, had auditioned for NBC's singing competition show The Voice once before as a sophomore but didn't make it very far. In early 2019, she received a call from the show's representative inviting her to try again.
After a series of summer auditions, she finally got to perform in front of the show's four celebrity judges, also known as coaches. "I just took a big, deep breath and did it," Serenko recalls, and by the final note, she had Kelly Clarkson, Nick Jonas, John Legend and Blake Shelton singing her praises.
"I've been here for five seasons now, and I haven't heard anyone sing like that," Clarkson said after first hearing Serenko sing.
When it came time for Serenko to choose a coach, Jonas stood up to "fight for her," which she says influenced her decision to join his team. "I wanted to work with him, and it just made sense at the moment," she says. "Also, the Jonas Brothers was my first concert, so it was like a full-circle moment."
Serenko's talent revealed itself at a young age. She says she remembers singing at a sleepover, and her friend's mom, who was a vocal instructor, suggested Serenko take lessons. So at 6 or 7 years old, she began fine-tuning her voice with an instructor's help.
While at North Kirkwood Middle School, Serenko participated in musical theater and played the trombone. She even auditioned for America's Got Talent in eighth grade but says that didn't go anywhere. In high school, she joined choir and secured her own gigs around the metro area at radio station KDHX, the Ready Room, Blueberry Hill's Duck Room and more. Then, last spring, she won the St. Louis Teen Talent Competition and was awarded a scholarship and the opportunity to professionally record two original songs.
Serenko's successful blind audition on The Voice (which usually airs locally on KSDK on Monday at 7 p.m.) sent her to the show's "battle rounds," which aired in late March of this year. She trained with Jonas and then performed a duet alongside teammate Roderick Chambers. Their rendition of 19-year-old American singer/songwriter Billie Eilish's "When the Party's Over" brought all four coaches to their feet.
Jonas described Serenko as a "flawless singer" with the ability to produce vocal runs he envies, but he ultimately chose Chambers as the battle winner. Fortunately, her journey didn't end there, thanks to Legend. Legend used his "steal" – one coach's ability during the battle rounds to take a contestant from another coach's team if the singer loses his or her battle – to keep Serenko in the competition.
"I was just hoping and praying that I would get stolen because I was not even in the mindset of getting sent home yet," she says. "Thankfully, John [Legend] came in the clutch."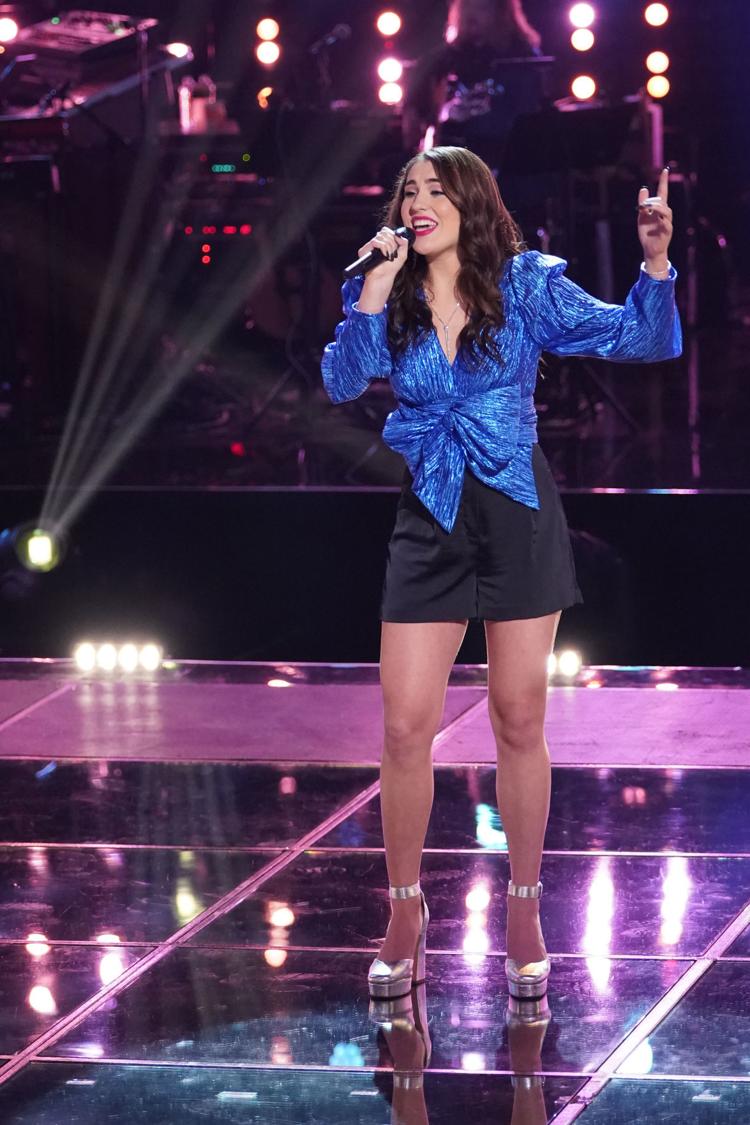 In the "knockout rounds," which premiered April 13, Serenko was once again "stolen" and joined Shelton's team as she heads into the live shows.
Serenko says The Voice has given her the confidence she needed to pursue a career in music. She's now reconsidering her future and reapplying for college with new goals.
"I'm going to just keep doing [music] and get as far as I possibly can," Serenko says. "I feel like doing this – getting this far and seeing what the coaches have to say and just the whole learning aspect of all of it – I feel like just put a lot of it in perspective. It's still so surreal to me, and it's still so wild, but it's kind of starting to sink in."
All episodes of The Voice that have aired so far were filmed months ago. A representative for The Voice says the program's creators have been monitoring the coronavirus situation to determine how to proceed with the live shows, which were scheduled to begin May 4. On April 13, Shelton said during an episode of The Tonight Show that the singers and coaches would appear remotely from their homes, allowing the show to go on. 
Stay up-to-date on what's happening
Receive the latest in local entertainment news in your inbox weekly!