Diverse plant species, water features and hands-on activities will abound in a natural wonderland at Forest Park's new Anne O'C. Albrecht Nature Playscape, set to open in late spring.
The imaginative, immersive 17-acre attraction will help generations of children live better, healthier lives through engagement with nature, says Lesley Hoffarth, president and executive director of Forest Park Forever.
"Forest Park's Anne O'C. Albrecht Nature Playscape is about joy and exploration in nature, with a special focus on kids," Hoffarth says. "Early on in the project in 2018, Forest Park Forever and our City of St. Louis partners talked directly with youth across the region about what they'd love to see in a space like this. From our early community engagement to ongoing conversations with local educators and families, we know how excited the community is for this experiential new destination."
Located in the heart of Forest Park near the World's Fair Pavilion, the interactive green space will enable visitors, especially children, to connect with nature and engage their senses as they explore, discover and learn through nine distinct activity areas, including the Sensory Garden, Spring, Meadow, Young Forest and Wetland. "A series of accessible paths and boardwalks connects the areas, so visitors of all abilities can explore their way through the entire site," Hoffarth says.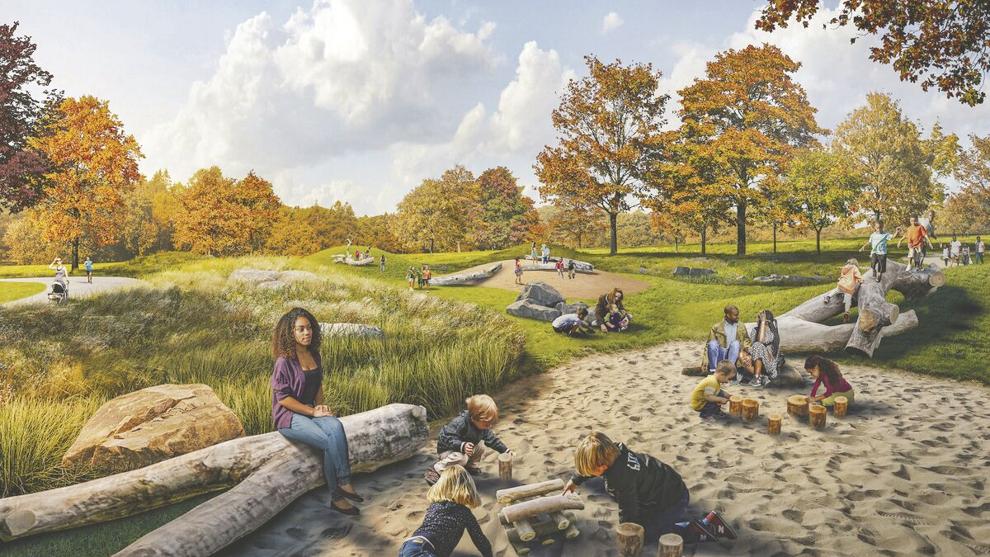 Funded by donors to Forest Park Forever, with the lead gift provided by the Albrecht Family Foundation, construction on the new Playscape began in spring 2019, transforming mowed grass into natural landscapes showcasing native and diverse plant species and water-based activity areas. "Our crews have installed 36,000 perennials and grasses, planted 300 trees, constructed four new wooden boardwalks, installed 1,500 tons of Missouri limestone boulders and rock, installed 1,500 wooden 'stump-steppers' for kids to hop across on and so much more," Hoffarth says. "It's been a remarkable transformation."
For metro area residents, the COVID-19 pandemic has further highlighted the importance of outdoor space, Hoffarth notes. "Studies have shown how valuable it is for kids to set screens aside and have hands-on fun in nature," she explains. "While this project started well before the pandemic, it's only underscored how vital this concept is for our community's health and wellness."
The Playscape, as noted, has entered its final phase of development before welcoming its first visitors. "Forest Park Forever and the City of St. Louis will work together to ensure the site opens to visitors with the proper health and safety protocols and guidelines in place," Hoffarth says, adding that, as the project nears completion, community members can sign up to be alerted when there may be virtual or limited in-person tour opportunities announced; for such alerts, interested parties should visit forestparkforever.org/playscape.
Hoffarth and her team foresee a bright future for the new attraction. "When we picture visitors enjoying the Playscape later this year, we picture a lot of smiles," she says. "Kids and kids at heart will be able to take in the sights, smells and sounds of the Sensory Garden, scramble over boulders, crank a water pump into a spring, build ephemeral structures with loose parts and so much more. Visitors who want to get their hands – and boots – dirty will be able to do that, but they'll also be able to just peacefully tour the site and take in the quiet beauty."
Forest Park's stewards, official and unofficial, are excited about this unique addition to the metro area's impressive collection of green spaces, Hoffarth says: "One of the things that inspired the Forest Park Forever donors who funded this ambitious project is that it not only provides fun for today's kids – it's also building connections to nature that could last a lifetime. That really speaks to the 'forever' part of our mission."