Educator Julius B. Anthony has spent the last few years working to make racially and culturally diverse literature available to children across the metro area. To him, this undertaking does more than address a lack of representation; it's a way of fighting for social justice.
"When I went to school, we never saw books that were authored by African Americans," Anthony reflects. "I also knew, just in my experiences as an educator in this region, that the schools that primarily serve Black children – they had little to no books that reflected Black children's experiences or even images that had Black children in them."
According to data from the Cooperative Children's Book Center, "between 1985 and 2014, children's books by African American authors or illustrators never surpassed 3.5 percent of annual publications. Books containing African American content never reached 6 percent. Even more sparse were books about Asian Americans, Latinos/Latinas or indigenous people."
In a 2019 survey of more than 3,700 children's books from U.S. publishers, the center reported that 12.1 percent featured narratives about Black or African characters. The Black population makes up 13.4 percent of the total U.S. population, according to the U.S. Census Bureau's 2019 estimates.
Anthony officially founded the St. Louis Black Authors of Children's Literature nonprofit in 2018 and has partnered with Scholastic Book Fairs, Nine Network St. Louis, Books for Newborns and area schools to increase access to Black children's literature, but he describes his recent collaboration with St. Louis' Field House Museum as "the jewel in [his] crown."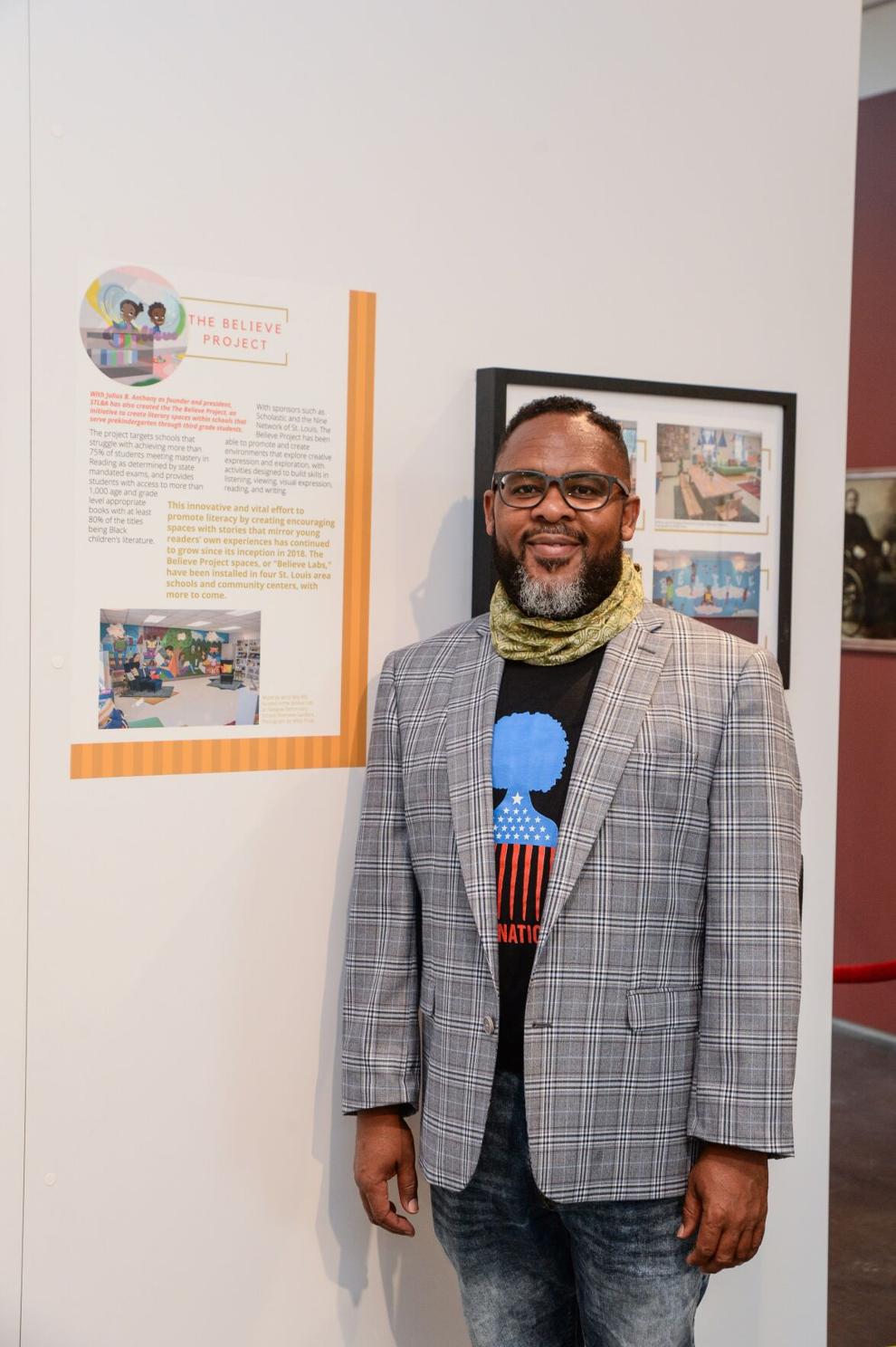 "There has never been, in the history of St. Louis, a museum exhibit primarily focused on the history of Black children's literature," he says. "It's important that the public understands the importance of the journey that Black people in this country have taken to be literate."
The exhibition, titled "The Power of Words: The Ongoing Tale of Black Children's Literature," takes visitors through a history of Black literature, beginning with the 1600s and the tradition of oral storytelling. Panels convey information on the Harlem Renaissance, barriers to publishing Black authors' work and the accomplishments of Black authors of the past and present.
Stephanie Bliss, executive director of the Field House Museum, agrees that this is a first for the metro area in the way the exhibition not only showcases Black authors' literature but also honors the lives of those influential writers.
"We have their books on display, and not only do we have them on display to look at, but we also have an area where you can sit down and read some of their books," Bliss details.
Additionally, metro area organizations including Ready Readers, Turn the Page STL and St. Louis Black Authors of Children's Literature donated books to the museum so that every child who tours the exhibition may take home a piece of Black literature. Bliss says the exhibition appeals to "the young and young at heart," noting that the exhibit appeals to anyone interested in educating themselves on equality through representation. Anthony agrees that there's something for everyone, no matter their age or race.
The exhibition remains open until June 20. The Field House Museum charges admission based on age and membership status, with children ages 6 and younger allowed in for free. Bliss encourages families to schedule a tour to ensure social distancing is possible and notes that the third Thursday of every month is a dedicated "free family afternoon." Museum hours are 10 a.m. to 4 p.m. Wednesdays through Saturdays and noon to 4 p.m. Sundays.
"My desire is that everyone that walks away from [the exhibition] understands, from a heart perspective, the importance for children to see themselves in stories," Anthony says. "It's really important that every child connects to a story that is reflective of the people that they live around, the food that they eat, the places that they go – because we know when children do that, they become more confident in themselves.
"As an educator, I believe that that confidence then can translate into competence, meaning that that child can become a successful reader."
St. Louis Black Authors of Children's Literature, stlblackauthors.com
Field House Museum, 634 S. Broadway, St. Louis, 314-421-4689, fieldhousemuseum.org