Work for many local performers, including actors, singers and musicians, screeched to a halt in mid-March when the COVID-19 pandemic staggered the metro area. One by one, theater companies both large and small announced the postponement or cancellation of the remainder of their 2019-20 season or the start of their 2020-21 schedule.
At that point, Anna Blair, a local performer and bartender, concocted her own refreshing response to the situation with a delightful enterprise she terms "a coronavirus endeavor called Curbside Cabaret Cocktails."
"I visit people at their homes while keeping social distance," Blair explains. "Drinks and songs are free, and guests are welcome to put something in my tip jar if they want. Guests can schedule my visits ahead of time."
Blair, who began her service this spring, says she asks interested parties to "name a date, time, place, cocktail of choice and favorite song."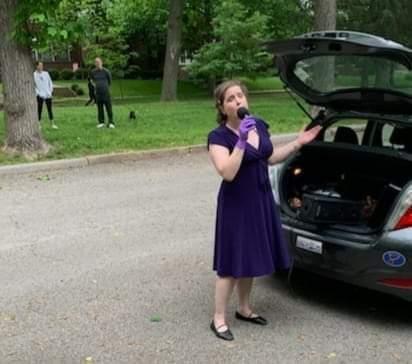 "I'll fix the drink (with gloves and a mask on) for you to enjoy while I sing your song from 6 or more feet away," she says.
Blair observes that because of the pandemic, "I lost my job as a bartender at The Repertory Theatre of St. Louis. And all theaters canceled their seasons, so I wasn't going to get any acting work anytime soon. I asked myself, 'What am I good at?' I thought it would be fun to drive to someone's house, pour them a free drink and sing them a song, all from the curb."
Blair also cites the personal importance of the work. "It means a lot to me that I can see people smile or wipe away a tear of joy while I sing," she says. "That was my original purpose, just to provide a tiny respite from the craziness of the world right now. I think it has really filled a need for live entertainment during these troubling times."
"I sang 'As Time Goes By' [made famous in the 1942 Warner Bros. film classic Casablanca] for one elderly couple," Blair continues, "and the woman said very sweetly, 'Can you come back tomorrow? This was just delightful.' I've been back there twice more!"
Blair – who has performed her own cabaret shows at Blue Strawberry Showroom & Lounge, The Gaslight Theater and other area venues, and has long done a Patsy Cline revue – says her original idea "was to pour a drink or two, sing a song that means something to a couple (like a song they danced to at their wedding or how a person feels about the other) and then pack up and leave in about 10 minutes.
"[Then] friends started asking me to entertain with a few songs at socially distanced driveway parties where they provided the drinks. So that is part of the menu I offer now, as well. I sing between two and four songs ('Happy Birthday' doesn't count), so my maximum is about 20 minutes."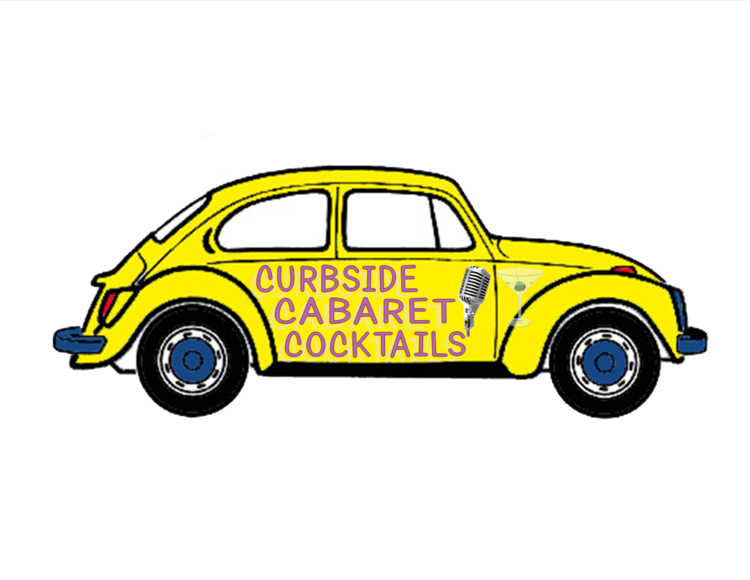 Guests are required to request their songs and drinks (including nonalcoholic) ahead of time. "It keeps my mind active learning songs," Blair says. "I'm massively increasing my musical repertoire."
While performing at the curb, the savvy songbird also elicits responses from passersby. "How often does someone turn on a microphone and sing in the middle of your neighborhood?" she says.
Anyone interested in contacting Curbside Cabaret Cocktails should email curbsidecabaretcocktails@gmail.com or visit the Curbside Cabaret Cocktails Facebook page.
Stay up-to-date on what's happening
Receive the latest in local entertainment news in your inbox weekly!