Bar K has sought to "reinvent the dog park experience" by establishing a venue where humans and their four-legged friends can enjoy food, drink and entertainment together.
Since August 2018, the business has bloomed in Kansas City, Missouri, and within the next year, Bar K's second location will open in St. Louis' Grove business district.
"Like a lot of entrepreneurial stories, we started with trying to solve a problem for ourselves," says Leib Dodell, founding partner of Bar K and proud owner of three rescue pups.
"I've always been known as the crazy dog guy, and so I would always try to bring my dogs with me to social events, often inappropriately," Dodell continues with a laugh. "It always struck me as so limited – the opportunities to bring your dogs with you places."
Construction is underway at 4565 McRee Ave., creating a 2-acre playground for dogs and their owners. Dodell says St. Louis' Bar K will be similar to the Kansas City facility, but this second location will feature a 10,000-square-foot indoor, off-leash dog park in addition to an outdoor park.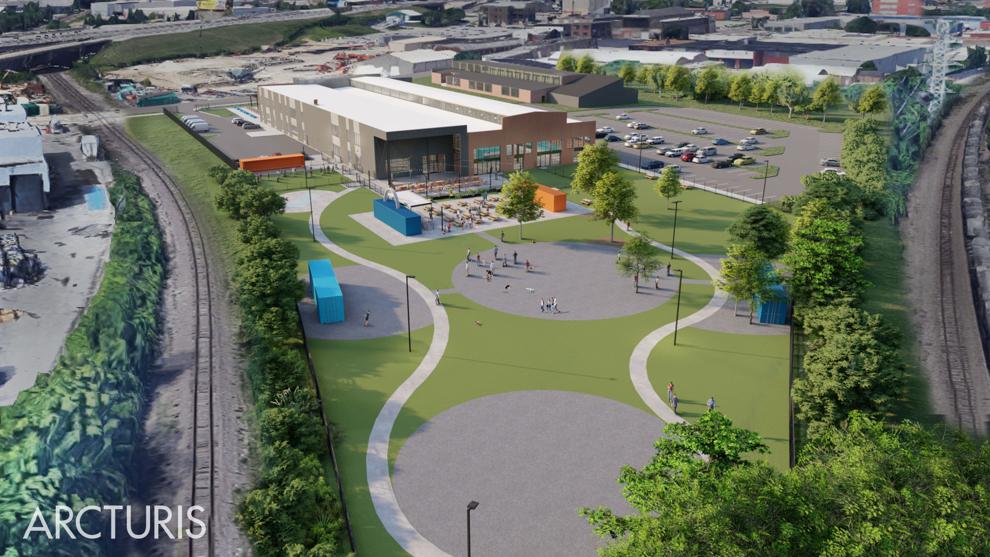 While dogs play in the park, owners can visit the restaurant and bar knowing their pets are taken care of, Dodell says. "Dogtenders," or trained supervisors, stand watch to keep the park safe and clean.
Bar K will serve craft cocktails and locally brewed beers, and its restaurant will offer a casual menu of affordable and healthy foods, according to the press release. Pets can also enjoy a treat from the Food for Dogs section of the menu, curated with help from Purina's pet nutritionists. Dodell says it's all part of creating a "brand-new experience for people and dogs."
"What they have created in Kansas City and will bring to St. Louis is a community gathering place for dog lovers that is unlike anything else," said Bill Broun, vice president of personalization and business development at Purina, in the press release.
"Purina has been involved with Bar K from very early on," Dodell says. "They're actually a small investor in our company and believe in what we're doing, so they were very excited to have a Bar K in their hometown."
Dodell says Purina being headquartered in the metro area was part of St. Louis' pull for the business, as was the proximity to Kansas City and the warehouse property available for repurposing.
"We're always looking for unique and creative concepts for our properties, and Bar K fits this site perfectly," said Phil Hulse of Clayton's Green Street St. Louis, the owner and developer of the property, in the press release.
The partnership with Purina goes beyond food to provide a dedicated space for pet adoption events at Bar K's Petfinder Park, named after the Purina-owned pet-adoption website petfinder.com. Dodell says local pet rescue organizations will be invited to use the space.
"We find if we give people a cocktail and a puppy, we can close the deal pretty quickly," he says with a chuckle. "We've gotten well over a hundred dogs adopted at Petfinder Park events in Kansas City."
Dodell says Bar K has collaborated with multiple Kansas City businesses and is looking to do the same with metro area businesses. His team is in the process of identifying local partners, and he asks that those interested in collaborating reach out.
Bar K operates as a membership club to ensure "all our pups are properly socialized and vaccinated," according to its website. Annual membership costs $225 for your first dog and $25 for each additional dog. Throughout the summer season (May through September), day passes will be available for $10 for one dog on weekdays and $15 on weekends, plus $5 per additional dog. People without dogs may enter for free anytime.
As of May 15, Bar K in Kansas City has reopened with a number of precautions in place to prevent the spread of COVID-19. Dodell says his team will monitor the situation in St. Louis as they approach project completion in early 2021. He expects Bark K will continue finding innovative ways for humans and dogs to socialize and will adapt as needed to make that happen.
Bar K, 4565 McRee Ave., St. Louis, 816-474-2275, barkdogbar.com