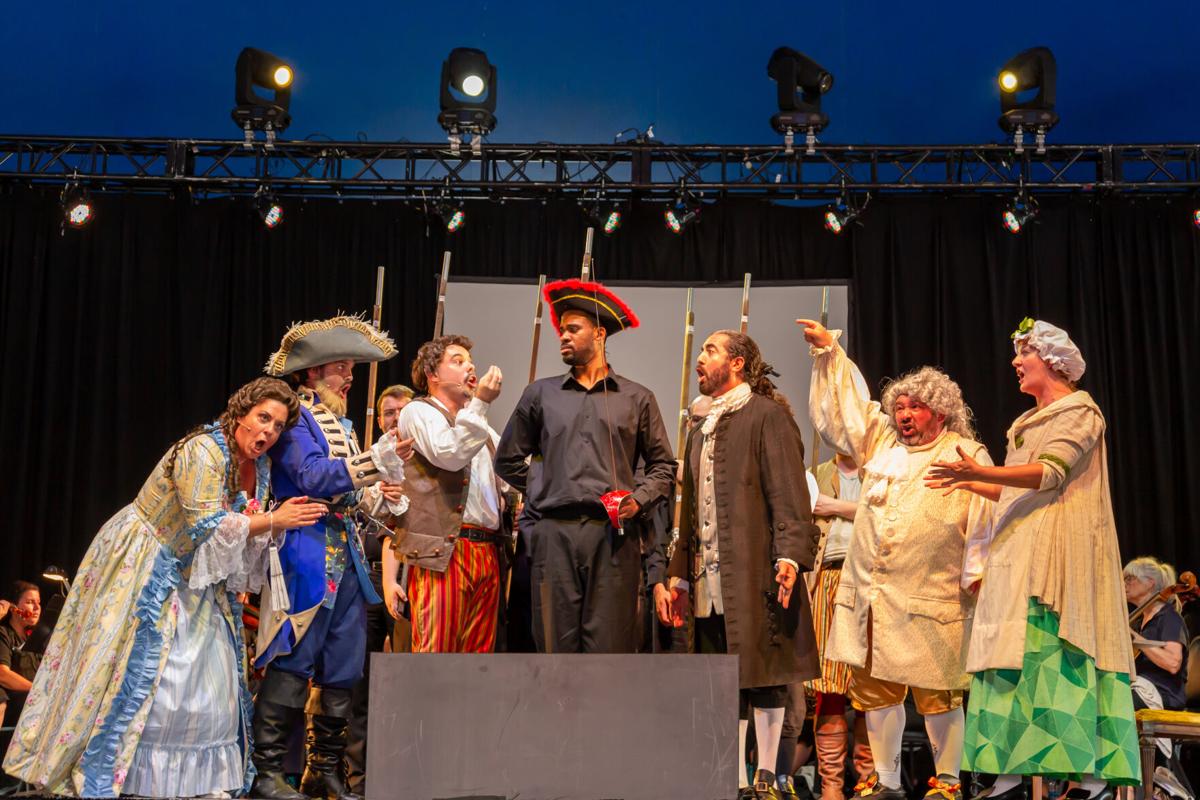 Opera: Il Barbiere di Siviglia (The Barber of Seville)
Company: Union Avenue Opera
Venue: The Big Top on Washington Avenue in Grand Center
Dates: Run concluded
Highlights: Union Avenue Opera closed out its shortened 2021 season with a rollicking version of Rossini's ever-popular opera buffa, The Barber of Seville, featuring a terrific performance by Robert Mellon in the title role in his Union Avenue debut.
Story: Young and wealthy Count Almaviva is in love with Rosina, the ward of the aged physician Bartolo. Almaviva disguises himself as a poor student named Lindoro in an effort to woo Rosina. Meanwhile, Bartolo intends to marry Rosina when she is of age in order to gain access to her dowry.
Figaro, the town barber who once worked for Almaviva, is asked by his former boss to introduce him to Rosina. Figaro suggests that Almaviva disguise himself as a drunken soldier seeking shelter for the evening. Bartolo resists granting the soldier entry, but the ensuing ruckus with the "soldier" brings the police to Bartolo's door.
Almaviva later returns to Bartolo's house, this time disguised as a music teacher named Don Alonso who supposedly has replaced Rosina's "ill" music teacher Basilio. When Basilio himself shows up, he is bribed by Almaviva to disappear.
Bartolo tells Rosina that he has received a note she wrote to Lindoro, which proves that Lindoro is toying with her for Almaviva's amusement. The angry Rosina then agrees to marry Bartolo, but Almaviva and Figaro convince her that Lindoro and Almaviva are the same person, who dearly love Rosina.
She agrees to marry Almaviva as soon as possible, but the ladder which Figaro and Almaviva used to enter Rosina's upstairs room through her window has been removed. Nevertheless, in the presence of Basilio and a notary, Almaviva and Rosina are wed, Bartolo receives Rosina's dowry to placate him and Figaro collects a tidy fee for his matchmaking efforts.
Other Info: As with its other 2021 presentation, Tales of Hoffmann, Union Avenue Opera cleverly utilized the spacious area inside The Big Top on Washington Avenue to stage a delightful production directed by Jon Truitt and conducted by Stephen Hargreaves, who even doubled at the keyboard when not leading the accomplished UAO orchestra.
While the stage was crowded, with the orchestra seated in the back and the singers performing at the upper portion of the stage, Truitt shrewdly utilized performance space to a comfortable maximum while maintaining the show's breezy style.
While the non-air-conditioned facility was warm at times, it also provided a fun setting for a fine version of The Barber of Seville, which has been an audience favorite pretty much since it debuted way back in 1816. With an infectiously lively score by Gioachino Rossini and a libretto in Italian by Cesare Sterbini, it's filled with rich comic moments as well as plenty of stirring musical motifs delivered by savvy musical craftsman Rossini.
Mellon matched his considerable singing prowess with an engaging comic performance, which accentuated both the music and the comedy in the two-act opera buffa, which has long stood the test of time.
There were also solid performances by newcomer Pedro Barbosa as Count Almaviva, Janara Kellerman as Rosina and Andy Papas as the blustery Bartolo. Isaiah Musik-Ayala contributed nicely as the confused Basilio, and Erin Haupt offered her own comic moments as Bartolo's timid housekeeper Berta. Benjamin Worley and Jordan Work capably filled the roles of servants, and Micheal Lowe did well in his UAO debut as an officer.
Teresa Doggett's costume design added to the levity, as did Katie Orr's props, and Patrick Huber's lighting served the production well. Truitt kept everything humming at a most enjoyable clip, while Hargreave coaxed an entertaining reading of Rossini's score from the UAO orchestra.
Congratulations again to Union Avenue Opera for not only finding a suitable place to create its productions but also to maintain the high quality its patrons have long appreciated in this abbreviated but fulfilling 2021 season.