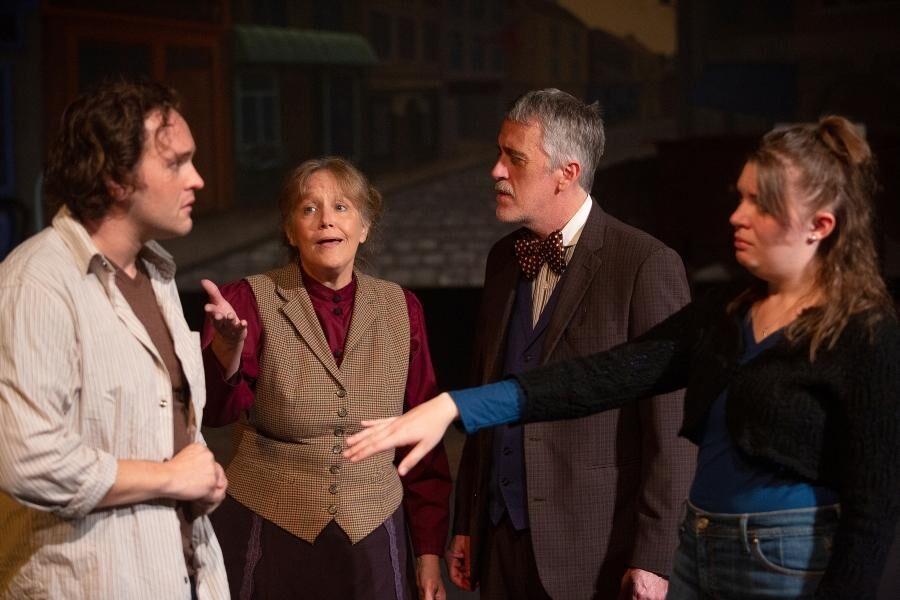 Play: Bloomsday
Company: West End Players Guild
Venue: Union Avenue Christian Church, 733 Union Blvd.
Dates: Sept. 23 through 26
Tickets: $20-$25; visit westdndplayers.org/tickets
Highlights: West End Players Guild opens its 110th season following an 18-month sabbatical due to the pandemic with a charming rendition of Steven Dietz's gentle and affecting drama of what was, what is and what could have been and might yet be.
Story: Robert has returned to Dublin 35 years after his initial visit there. It's Bloomsday, June 16, the day when devotees of James Joyce's novel Ulysses – Dubliners and others – traverse the route taken by the book's main characters, Stephen Daedalus, Leopold Bloom and his wife Molly Bloom. Bloomsday is an annual celebration on June 16, the day in 1904 in which the novel takes place.
When Robert was 20, the young American was in Dublin during Bloomsday and had been invited to join a tour group by its leader, Caithleen. The superstitious Caithleen had 13 in her entourage and needed to make it 14, so she invited the American straggler and he accepted.
Now 55 years old, Robert actually teaches courses about Ulysses, which he has grown to dislike increasingly through the years. Much of that distaste doubtless comes from what he considers an opportunity squandered all those years ago in Dublin, when "Robbie" hit it off immediately with the youthful, beguiling Caithleen. They may even have been an item in an alternate universe, but Caithleen didn't take Robbie up on his impulsive offer for her to return to Seattle with him.
Eventually Robbie married and had two sons before divorcing. In all that time, though, Robert never forgot the Irish lass who won his heart at first sight. He's arranged to meet 'Cait' again in Dublin in an attempt to re-connect. Somehow, though, waiting for Cait in a park he sees instead the youthful Caithleen and shortly thereafter his own much younger self before Cait arrives.
How is this possible? With Robert's knowledge and the advantage of wisdom sewn through the decades, can he somehow convince Robbie and Caithleen to successfully move forward as a couple? Their adventures are every bit as memorable as those of Stephen, Leopold and Molly in 1904.
Other Info: Dietz is a master storyteller, as evidenced by such works as Private Eyes, Inventing van Gogh, Becky's New Car and This Random World, all of which have been performed locally in the last few decades. His plays are filled with interesting characters, some well-known and others not, and he moves them through intricate and intelligent plots.
That's certainly the case with Bloomsday, which is given an enchanting backdrop in the West End Players Guild production, a beautiful painting of a Dublin street focused on the Fay McKenna Pub, a loving homage by the venerable ensemble to one of its most loyal members and accomplished actresses, the late Fay McKenna. Marjorie Williamson and Morgan Maul-Smith justly deserve the accolades for their winsome contribution.
Director Jessa Knust moves her performers around, off and on the stage at just the right pace to avoid confusion with the time traveling to enhance Dietz's tantalizing fantasy. She elicits fine performances from her quartet of players: Megan Wiegert as the high-spirited, fetching Caithleen; John Moore as the adventurous but uncertain Robbie; Jeff Lovell as the melancholic yet optimistic Robert; and Colleen Heneghan as Cait, who reveals a surprising secret to Robert when they meet again.
Ted Drury's sound design of lilting Irish melodies accentuates the locale, while Tracey Newcomb's costume design dresses the players in attire befitting their respective ages. Jacob Winslow's lighting and Jackie Aumer's props help establish the thoughtful yet playful mood of the presentation.
Bloomsday is a classy, literate piece and a most pleasing one to mark the return of one of the area's most venerable theatrical institutions in graceful and moving fashion.