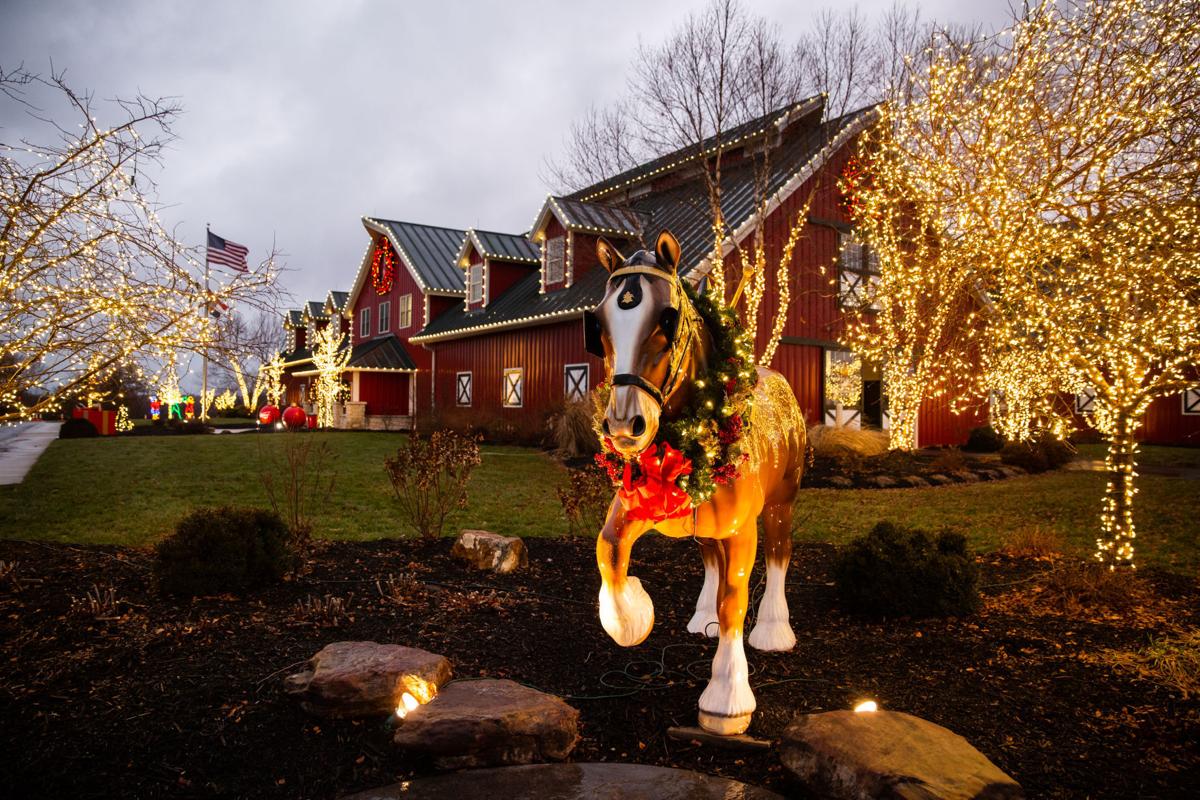 Although COVID-19 has managed to out-Grinch the Grinch himself, not even the no-longer-novel coronavirus can stop Christmas (and similar seasonal celebrations) from coming – as suggested by a speedy survey of seven holiday attractions and activities set to take place through the end of 2020 and into 2021. For details on each, visit the relevant website. 
Frosted at Home
COVID-19 compelled Tower Grove Park to reconfigure its (second) Frosted holiday cocktail experience as Frosted at Home. The St. Louis park's pivot offers four packages ranging in price from $50 to $250.
Each features intriguingly named "festive custom cocktails" from local mixologist Pat Gioia and the self-styled "Elevated Libations Catering" company of STL Barkeep: Kentucky's Christmas Spirit, Gingle All the Way, Granny's Gold Coins and One for Jingle Belle (riffs, respectively, on the Old-Fashioned, the Negroni, the margarita and the cosmopolitan). Each package also includes beer, snacks and access to an hourlong online program, featuring cocktail demonstrations, holiday music and stand-up comedy.
Frosted at Home boxes can be picked up at Tower Grove Park's Piper Palm House beginning Friday, Dec. 18, at a time and date selected during checkout at frostedstl.com. Dec. 22 is the last day orders will be taken.
Garden Glow
The Missouri Botanical Garden's Garden Glow remains undimmed by the global pandemic, much to the delight of its devotees. The eighth annual event, which opened Nov. 11 at the St. Louis landmark, runs nightly through Jan. 2 and features more than a million lights, as well as photo ops, food and drink, music and other attractions, some old, some new.
Hours vary by date, as do (required) advance ticket prices, which range from $3 to $20. Moreover, the garden has instituted manifold health-related protocols in the battle against COVID-19, including Garden Glow nightly capacities greatly reduced from those of prior years to bolster ample social distancing. For tickets and more information, visit glow.missouribotanicalgarden.org.
Soulard Holiday Parlour Tour
Now observing its 45th year, the Soulard Holiday Parlour Tour raises funds for St. Louis' storied Soulard neighborhood. Hosted by researchers Neil and Veronica Putz, the aesthetic buffet for history buffs runs into the (much-anticipated) new year. The tour's website tempts visitors to "explore nine neighborhood homes … through 360-degree images, as well as video content with both homeowners and our committee historians."
The website further promises a "glimpse into the lives of past homeowners," interwoven with "details from newspapers, photographs and census data." The tour requires no registration and charges no virtual admission fee, but "donations are appreciated," according to the website.
Virtual Christmas Candlelight Concert
Because of COVID-19 concerns, the Bach Society of Saint Louis is taking the 80th season of a Powell Hall tradition online. The society's Virtual Christmas Candlelight Concert takes place Wednesday, Dec. 23, at 7 p.m. General admission to the event – which features "audience favorite carols … sure to leave the attendee filled with joy and holiday cheer," according to a press release – costs as little as $15 per device, with packages for VIP tickets ranging from $75 to $150.
VIP options, the press release notes, include access to "exclusive live performances and interviews before and during the concert," as well as an event box with bubbly and other goodies. Go to bachsociety.org/christmas for details.
For additional holiday performances and theatrical offerings in the area, click here for information compiled by Mark Bretz, LN's peerless prince of the proscenium.
Warm Springs Ranch Holiday Lights Drive-Thru
In addition to the inaugural Grant's Farm's Holiday Fun Experience, Anheuser-Busch has launched the Warm Springs Ranch Holiday Lights Drive-Thru in Boonville, roughly 140 miles west of Ladue, just past Columbia. In the event, which runs Thursdays through Sundays from Nov. 27 to Dec. 30, the famed Clydesdales' breeding facility charges $20 per vehicular visit (excluding larger vehicles like buses and RVs and smaller ones like golf carts, ATVs and, presumably, one-horse open sleighs). Family Fun Bundles with merchandise for kids can be added at varying prices.
"Reservations are required and spots are limited," the event's website cautions, "so sign up today." Grant's Farm's Holiday Fun Experience has already sold out!
Winterfest
Since Nov. 20, the trees in Kiener Plaza, at the heart of downtown St. Louis, have been blazing with holiday luminescence as part of the Gateway Arch Park Foundation's fifth annual Winterfest. The free nightly oglefest incorporates more than 70,000 lights and runs from 5 to 9 p.m. through Jan. 3 – a grand way to "get lit" for the season.
Winterfest also incorporates a number of contests and other activities available to enjoy online over a cup or two of eggnog, including (on varying dates at various times) a holiday mixological demonstration and a visit with Santa's better half. Learn more at archpark.org/events/winterfest.
Winter Jewels
Also from the Missouri Botanical Garden, Chesterfield's Sophia M. Sachs Butterfly House is presenting Winter Jewels. Like the Garden Glow, that event opened Nov. 11, but it runs from 10 a.m. to 4 p.m. Wednesdays through Sundays, through Dec. 31.
Winter Jewels, according to the garden's website, transforms the Butterfly House "into an enchanted land full of knights, dragons, gnomes and, of course, jewel-toned butterflies." It incorporates two subsidiary attractions: on Wednesdays through Fridays, Books & Butterflies, and, on select nights, Supper With Santa (a limited-capacity attraction requiring advance tickets). Admission to the Butterfly House includes admission to Winter Jewels, which also involves a number of anti-coronaviral precautions.