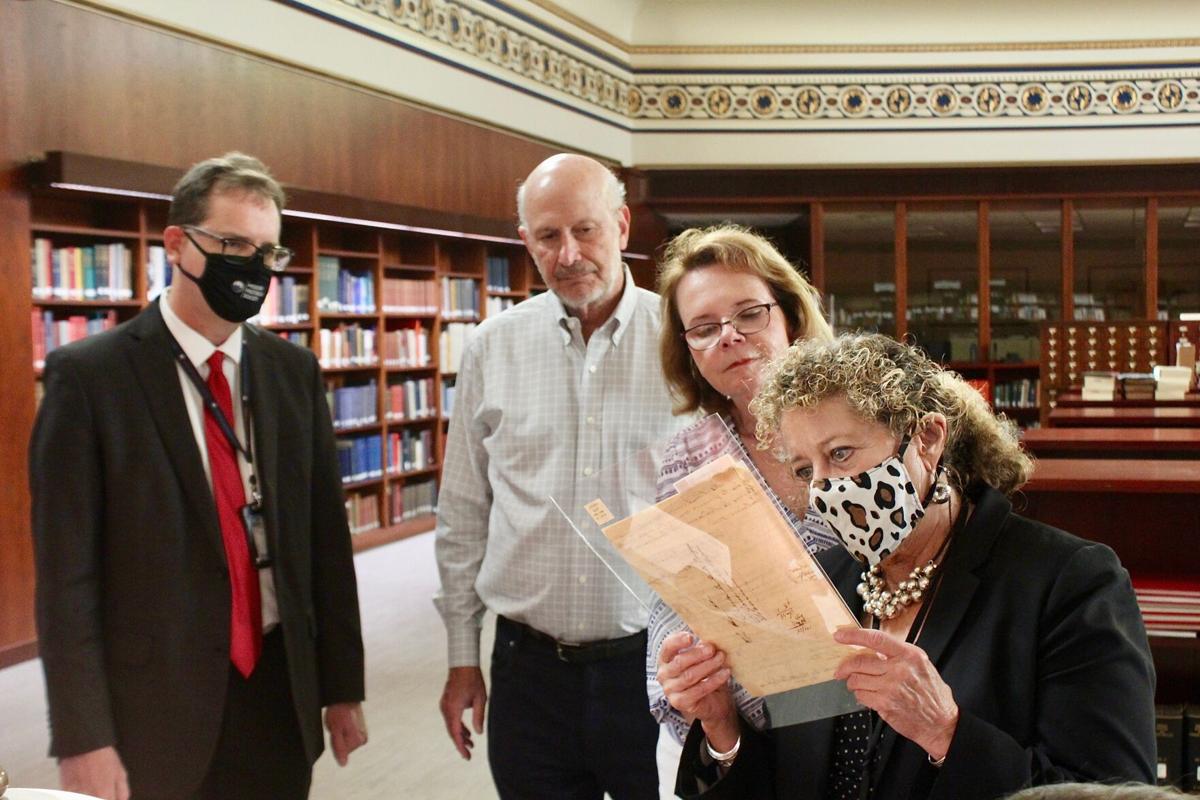 A dozen pieces of French correspondence recently donated to the Missouri Historical Society's archives involve what may well rank as the slickest real estate deal ever made: President Thomas Jefferson's $15 million acquisition for the still-in-its-infancy United States of 530 million acres in the Louisiana Purchase of 1803.
That territorial coup comprised the entirety of what subsequently became six states (Arkansas, Iowa, Kansas, Missouri, Nebraska and Oklahoma) and large or small parts of nine others (Colorado, Louisiana, Minnesota, Montana, New Mexico, North Dakota, South Dakota, Texas and Wyoming), as well as comparatively small chunks of Alberta and Saskatchewan in Canada.
The parcel, which effectively doubled the area of the nascent nation, took place with diplomatic assistance from fifth President-to-be James Monroe and Robert R. Livingston.
Molly Kodner, who serves as the society's head archivist, has been researching the letters extensively for posts to its History Happens Here blog and a forthcoming article for Gateway, its biannual journal. She succinctly explains why the letters, which date from1796-7 and 1803, look fabulous despite their age and the vicissitudes of sunlight and humidity.
"The letters are absolutely in remarkable condition," Kodner says. "I think there are two reasons:
"First, paper from this time period was made completely differently [from paper today]. It's cotton rag paper, not wood pulp. As a general rule, paper from this time period is in far better condition – and will last a lot longer – than paper from the 1920s, 1930s, 1940s. We have documents from that time period that are already brown and crumbling because of the acidic content of the paper.
"The second reason for the good condition … is that the Missouri Historical Society is now only the third owner of these documents. The letters were all sent to Charles DeHault Delassus and kept in his family until the 1890s, early 1900s. At that time, a manuscript dealer in New Orleans helped a man named Alonzo J. Tullock – who lived in Kansas and had an interest in the Louisiana Purchase – buy the letters from the Delassus descendants. The letters remained in the Tullock/Sharp family for over 100 years, until they were donated to the Missouri Historical Society by the Sharp family and Henry and Susan Warshaw."
Kodner also dwells on how the French correspondence contributes to our understanding of the Louisiana Purchase, commenting: "The letters from 1796-1797 document the complexities of life and governance of this area, then known as the upper Louisiana Territory. It was governed by Spain, but was primarily settled by people of French descent. The 1796-1797 letters from Baron de Carondelet to Delassus document the tenuous hold Spain had over the area. They dealt with expansionist pressure from the United States and the threat of attacks by France and England. All the countries that had a part in the eventual Louisiana Purchase are mentioned.
"Then, of course, the letter dated November 12, 1803, from [ninth President-to-be] William Henry Harrison to Delassus shares the news that the Louisiana Purchase had been ratified by the Senate."
Finally, since an Aug. 9 reception unveiling the letters, they have received a comparatively light initial scholarly reception, both regionally and nationally, which Kodner also explains. "Unfortunately, we haven't had many researchers use the letters yet," she says, "but we have been closed to researchers due to a construction project, so I hope that will change soon."
Missouri Historical Society, Library & Research Center, 225 S. Skinker Blvd., St. Louis, 314-746-4500, mohistory.org