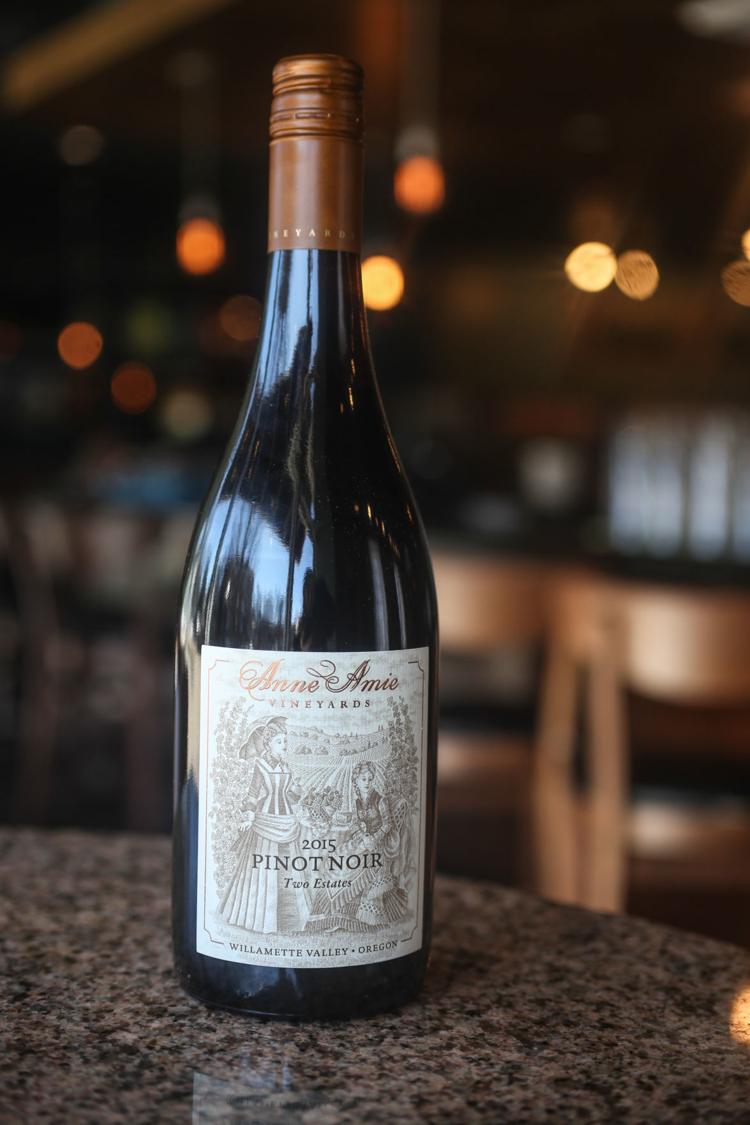 2015 ANNE AMIE TWO ESTATES, PINOT NOIR – WILLAMETTE VALLEY, OREGON
Grape: 100% Pinot Noir
Owner: Anne Amie Vineyards
Winemaker: Thomas Houseman
Approximate Retail Price: $24
Website: anneamie.com
TASTING NOTES:
Color: Bright and clear; deep ruby hues with an impressive gradience from the rim
Aroma: Fierce red cherry and mulberry layered with hints of smoke and mild spice
Taste: Medium-bodied and complex, with loaded black fruit of plum, cassis and rich black cherry, laced with baking spices, cola and the slightest hint of oak, finishing smooth with great acidity
Just to be sure it's pronounced correctly, the locals of the region will tell visitors, "It's WillAMette, d***it!" – lightheartedly showing their well-deserved pride in that valley in the U.S. Pacific Northwest.
Willamette Valley has long been the cultural and political center of Oregon, being widely publicized as "a promised land of flowing milk and honey" as early as the 1820s. In recent decades, it's gained worldwide fame for its wine country, with more than 19,000 acres planted to vine and more than 500 wineries.
Anne Amie Vineyards was born in 1999, when Dr. Robert Pamplin purchased the Chateau Benoit Winery with a dedication to create stunning and prodigious pinot noir. Situated in the Yamhill-Carlton American Viticultural Area, or AVA, in the valley's Chehalem Mountains, the winery produces roughly 20 different wines in three categories: Reserve, Classic and Cuvée A.
Though it focuses on the pinot family, producing pinot noir, pinot gris and pinot blanc, Anne Amie Vineyards also makes riesling, viognier, sparkling wines, rosés and a frizzante demi-sec white blend. There's also the unique hybrid Müller-Thurgau, whose vines on the estate date as far back as 1979.
Anne Amie Vineyards consists of two estates: Anne Amie Estate and Twelve Oaks Estate. In quest of quality, the winery starts with its vineyards, all of them certified by Salem, Oregon's LIVE (an organization that seeks to ensure sustainability and biodynamic practices in vineyards and wineries). The fruit for Anne Amie Vineyards wines comes from these two estates, with their several pinot noirs representing various combinations of the estates/vineyards.
Aptly named Two Estates, the featured wine constitutes a cuvée of barrel selections from both estates, chosen to best represent each vintage. The 2015 – consisting of 67 percent Twelve Oaks Estate and 33 percent Anne Amie Estate – was aged 16 months in a relatively equal combination of new, 1-year-old and neutral oak. The resultant wine displays amazing finesse, boasting ripe fruit from the hotter vintage with balanced acidity and mild tannins.
Anne Amie Vineyards ranks as a testament to quality pinot noir, nodding at Burgundian influence, but boasting the divine style of the Willamette Valley, d***it!
Food Pairings: The 2015 pairs nicely with anything with mushrooms, rack of lamb, buttery pastas, duck breast, kale salads, grilled salmon and tuna.
Certified Sommelier Stanley Browne owns Robust Wine Bar in Webster Groves.