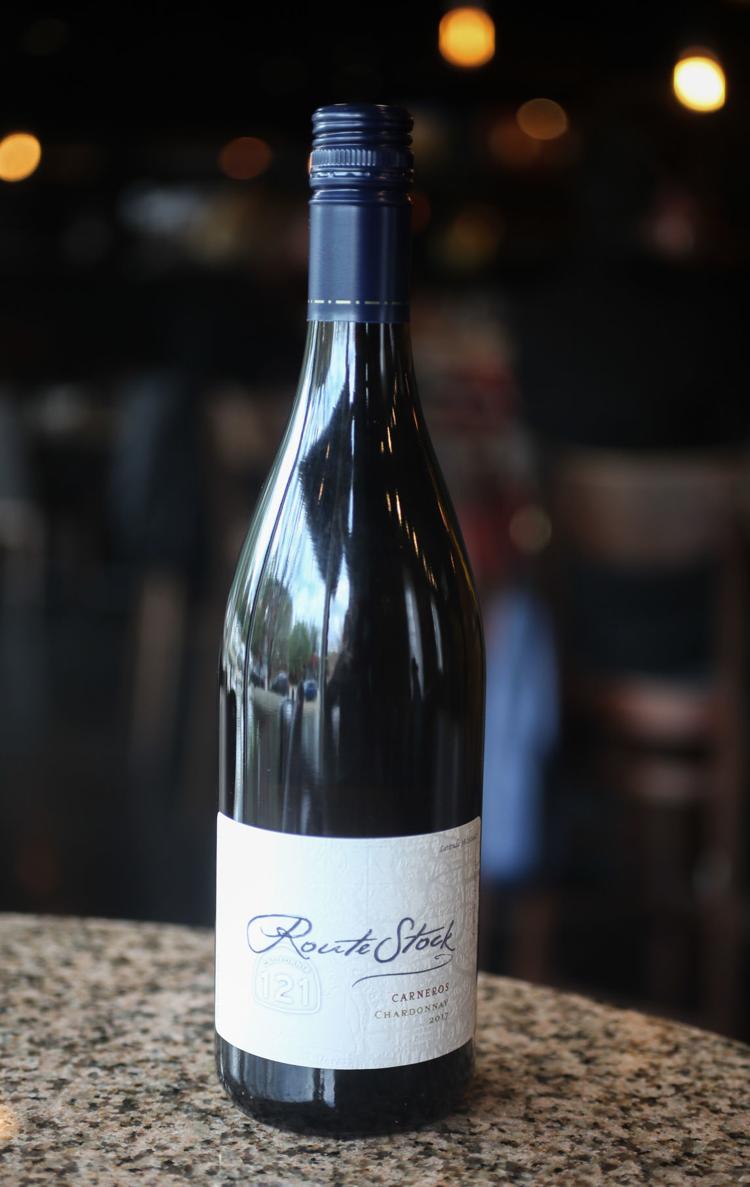 2017 ROUTESTOCK, ROUTE 121 CHARDONNAY – CARNEROS, CALIFORNIA
Grape: 100% Chardonnay
Winemaker: Vance Rose
Aged: 8 months in French oak, 12 percent new
Approximate retail price: $18
Website: wilsondaniels.com/winery/routestock
TASTING NOTES:
Color: Golden straw, bright and reflective
Aroma: Rich and buttery, honey, lemon curd, pineapple with a touch of ginger
Taste: Evenly balanced with luscious fruit tempered by strong acidity, modestly boasting a bit of oak
RouteStock prides itself on producing the finest classic varietals from West Coast regions that will best represent the wines created there. Playing on the "root stock" association to viniculture, the vintner names all of its wines after the correlating popular "routes" – highways and byways – traversing each region. Route 121 goes through the Los Carneros American Viticultural Area, or AVA, better known simply as Carneros, and passes through many of the vineyards used to produce its chardonnay.
California's Carneros region lies at the southernmost tips of Sonoma and Napa, straddling both of those other regions. Its cooler climate and clay soils make it a perfect growing area for pinot noir and chardonnay, although those aren't the only varietals produced there. The temperate weather has made Carneros widely known for its sparkling wine production, with such well-known producers as Domaine Chandon, Cordoníu, and Gloria Ferrer.
Carneros comes from a humble beginning: Louis M. Martini purchased a ranch in the area during the 1940s and began to vigorously replant its fields, with more than 1,300 acres planted to vine by the '70s. Carneros received its own AVA in 1983 and, by the '90s, had more than 6,000 acres dedicated to wine-growing.
Chardonnay has achieved its reputation as such an extraordinary varietal not only for its flavor and attributes but also for its versatility and ability to be expressed in diverse ways. It remains one of the few white varietals that can undergo malolactic fermentation (a secondary fermentation whereby malic acid becomes lactic acid, resulting in a less crisp, creamier structure) and oak regimens. Chardonnay can range from crisp, clean, refreshing wines with Granny Smith apple and lemon flavors to rich, buttery and oak-driven wines with hints of vanilla, toast and tropical fruits.
The RouteStock Route 121 Chardonnay makes an impeccable example of wine forged from the center of those two extremes. Only 12 percent new French oak for aging and a partial malolactic fermentation yields a balanced, elegant and easy-drinking wine displaying subtle hints of butter and oak underneath delicious fruit and very slight spice.
Food Pairings: Enjoy this wine with cream pastas, pan-roasted whitefish or salmon, roasted chicken, chowder or soft cheeses – or easily consume it on its own on the patio or by the pool. 
Certified Sommelier Stanley Browne owns Robust Wine Bar in Webster Groves.