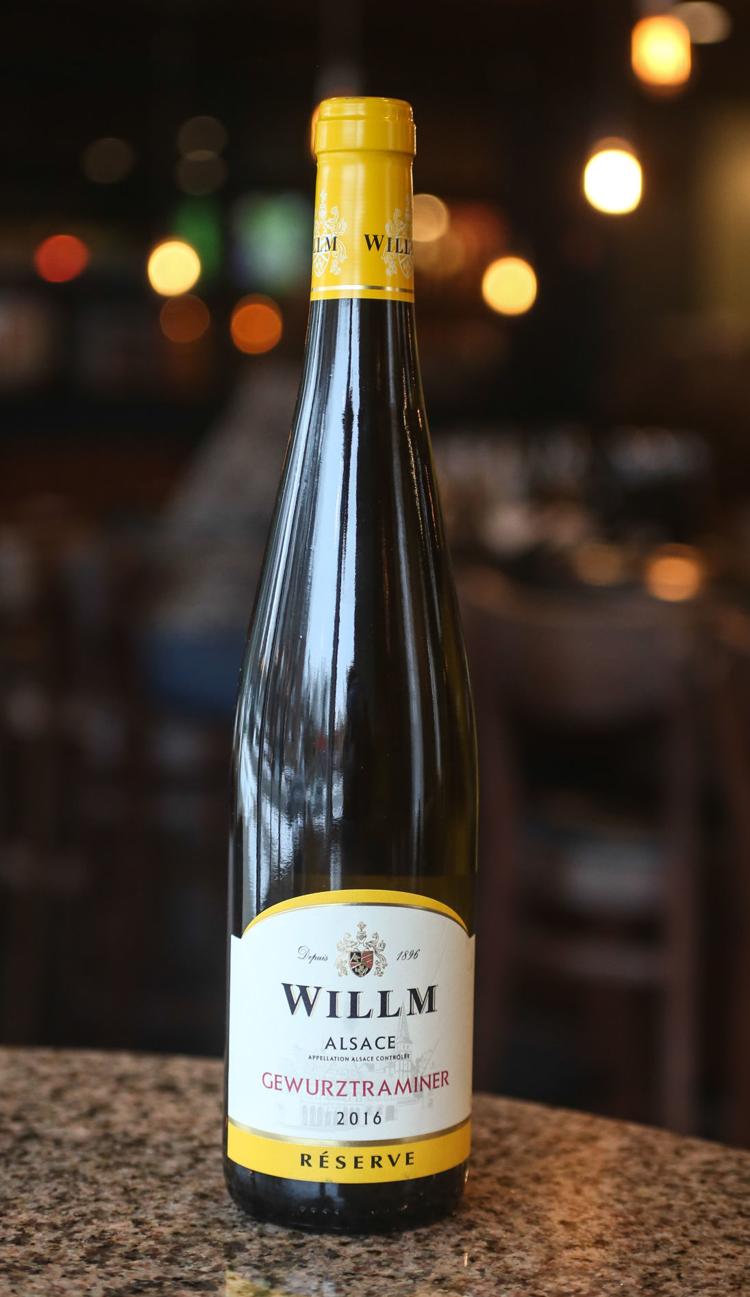 2016 WILLM RESERVE GEWURZTRAMINER – ALSACE, FRANCE
Grape: 100% Gewürztraminer
Owner: Domain Willm
Approximate Retail Price: $20
Website: alsace-willm.com
TASTING NOTES:
Color: Pale straw with very slight pinkish hues, bright and reflective
Aroma: Hypnotizing, clay minerality, gunpowder and rich spices coat ripe apple and starfruit
Taste: Full creamy texture, bursting with ripe fruit, light clove and cinnamon, finishing with mouthwatering acidity and a touch of sweet
Gewürztraminer, a particularly unique grape, possesses traits similar to riesling and has often been referred to as a more masculine version of the noble riesling. Gewürz literally translates to "spice" – basically the epitome of this varietal. Although still possessing aromas and flavors of pear, stone fruit, lychee and complex minerality, it also reveals spicy notes of cinnamon, cardamom, clove, sandalwood and so forth.
Though classified as a white wine grape, its skin color looks more rose than yellow or green. It has a naturally occurring high-sugar content, and although often fermented to off-dry (slightly sweet), it can also be very sweet or even quite dry (no sweetness). The style of a region, preference of a winemaker and, often, weather of a vintage all factor into determining the level of sweetness of the wine.
Although grown throughout the world, gewürztraminer typically comes from Alsace, Germany, and Austria, but has also found a home in the U.S. along the West Coast in Washington, Oregon and Northern California, as well as at the Finger Lakes in New York.
Founded in 1896, Maison Willm ranks among the more well-known Alsace wineries, producing wines from most of the typical varietals found in the region: riesling, gewürztraminer, sylvaner, pinot blanc, pinot gris and pinot noir. Founder Adolphe Willm, originally an entrepreneur working both as a restaurant owner and winegrower, soon switched entirely to winegrowing through his passion for the uniquely dry and sunny microclimate, which still produces one of the most-renowned gewürztraminers of the region. Before switching permanently to winegrowing, Maison Willm also enjoyed fame for its escargots à l'Alsacienne, a recipe for which still appears on its Facebook page.
Maison Willm historically numbered among the first winemakers in Alsace to export to the United States after Prohibition ended, in the 1930s. It's even rumored that Maison Willm wines were found in gangster Al Capone's wine cellars in 1939.
Although drinkable at any time of the year, gewürztraminer has a reputation for being a perfect winter white, a suitable mood enhancer next to the fire on a snowy day.
Food Pairings: This wine pairs well with spicy Asian cuisine, escargot, spiced salad, soft cheese and fruit-based desserts – and try it with chicken wings! 
Certified Sommelier Stanley Browne owns Robust Wine Bar in Webster Groves.