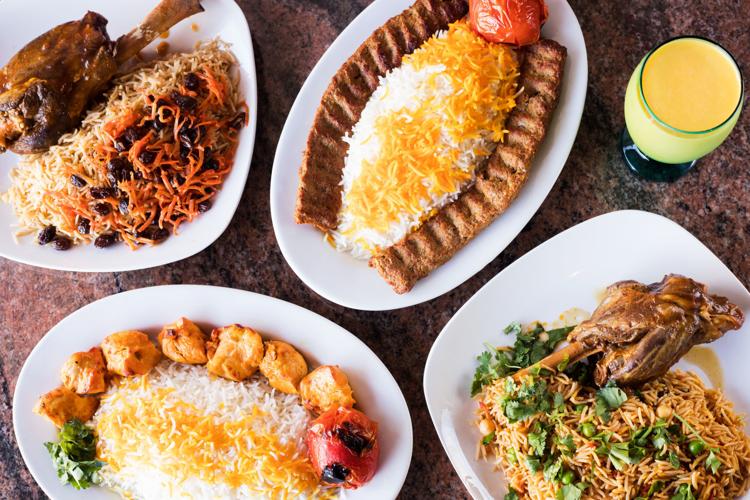 In April, St. Louis' Tower Grove South neighborhood welcomed Taste of Persia, whose casual setting showcases authentic Iranian and Afghan cuisine, as well as a selection of Indian-style dishes.
Taste of Persia comes from native Iranian Mohammad Abdolrezagh, who previously owned a variety of restaurants in the metro area. Abdolrezagh came here by way of Russia roughly 15 years ago and opened his first area restaurant, Grand Mediterranean Kabob Cafe, in 2005. After that, he owned and operated two restaurants in west St. Louis County: Hot and Sour (a Persian, Chinese and Indian eatery) and Chicago Style Dogs. All three have since sold.
Following a stint as a cabbie, Abdolrezagh decided to return to his passion for creating delicious cuisine. At Taste of Persia, he shares culinary duties with his wife, Sofia, a native of Afghanistan who brings her own flair to the menu. The family business also includes the Abdolrezaghs' daughter Ghazaleh as a manager and their son, Ahmad, helping with front-of-house duties.
Filling the space previously occupied by the supplementary dining room for its next-door neighbor, Baida Moroccan Restaurant, Taste of Persia features Persian-themed décor in a red-and-gold color scheme. Images of historical Iranian architecture complete the look.
"Our specialty is Persian food, with the menu combining Persian, Afghan and Indian cuisine," Mohammad Abdolrezagh says. "We cook from the heart."
The Abdolrezaghs' menu includes best-sellers from their previous eateries, such as their foremost specialty, the so-called King Platter, which features chicken, lamb and beef kebabs served with grilled tomatoes and basmati or kabuli rice. An appetizer platter also displays diverse offerings like falafel, hummus, kashk e bademjan (eggplant topped with yogurt and dry mint, served with naan), Shirazi salad and chutney.
Another menu highlight, Afghan-style lamb shank, comes with kabuli rice (rice cooked in lamb juices with carrots and raisins on top) or biryani (rice also cooked in lamb juice, but mixed with chickpeas and peas).
And while guests are busy choosing from the wide variety of appetizers and entrées on the menu, they oughtn't forget the desserts! Desserts include baklava, sher berinj (rice pudding) and house-made Persian ice cream, which Sofia Abdolrezagh describes as a vanilla base with hints of pistachio and rose water.
"I feel like our food stands out," Ahmad Abdolrezagh says. "It's different and unique."
Taste of Persia, 3189 S. Grand Blvd., St. Louis, 314-349-1315, tasteofpersia1.godaddysites.com