Original J's Tex-Mex & Barbecue – the latest venture from acclaimed chef Mike Randolph and his wife and business partner, Liz Randolph – debuted in November in University City and features central Texas-style barbecue with Mexican-inspired starters and sides.
The casual counter-service eatery takes nods from Público, Mike Randolph's popular Latin American-inspired restaurant, which shuttered last year after the closure of his weekends-only restaurant, Privado. The Randolphs also own two locations of brunch-based Half & Half.
"We took a trip to Texas, and I was just blown away by the simplicity of Texas-style barbecue," Mike Randolph says. "And at the end of the day, I wasn't done with the flavor profiles that we had built up at Público. It was kind of like an epiphany moment when we decided to do a continuation of Público with barbecue but wrapped up in a package that's super fun and hopefully familiar."
When asked about the origin of the new eatery's name, Liz Randolph responds: "We sort of wanted to play around a little bit with who 'J' is. You'll be hearing more about J. It's a little bit of a mystery."
Such playfulness translates into the restaurant's interior, designed by the Randolphs themselves, which is decidedly reminiscent of Texas. Original J's fills a space previously occupied by Fortel's Pizza Den, with seats for roughly 50. Slices of Americana embellish the wood-paneled dining areas, including framed vintage art, blue-checked tablecloths, booth seating, antique light fixtures and amusements including a Ms. Pac-Man arcade cocktail table.
"If somebody said this place was quirky, I'd say great – that's kind of what we're going for," Mike Randolph says. "This concept isn't trying to be on-trend. We wanted to build something that immediately makes people feel comfortable and gives them a sense of nostalgia."
The menu begins with Tex-Mex options including smoked wings with lime, agave and árbol pepper; pulled pork nachos with queso, sour cream, beans, black olives, green onion and pork; and J's Famous chile con queso – a warm cheese dip made of chorizo and roasted tomato salsa, served with tortilla chips.
Eight kinds of tacos are currently available, among them Tacos Norteño, made of a corn tortilla, brisket, cheese, roasted tomato salsa and cabbage. In the kitchen, Mike Randolph barbecues with post oak, seasoning simply with salt and pepper. Barbecued meats are also available as plates served with tortillas and two sides, like maduros, cheesy hominy or dressed kale with cotija. Additional platter options include carnitas with salsa verde, smoked jalapeño, beans and rice.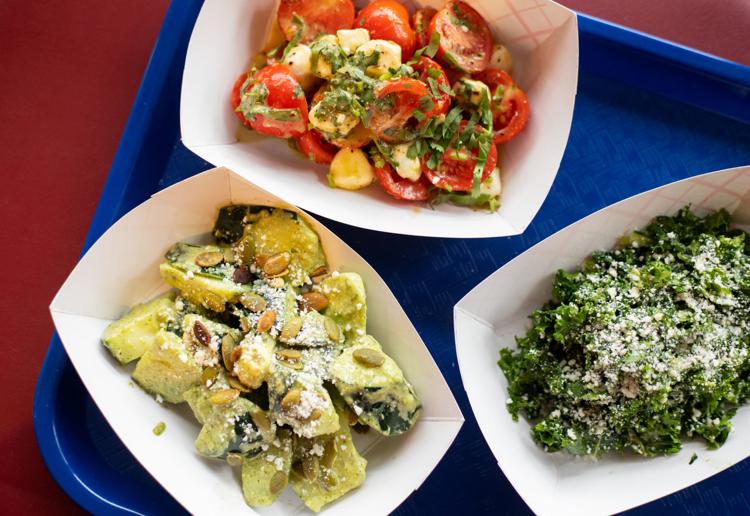 A set of drink offerings will roll out soon, including frozen margaritas and five or six beers by the can and bottle. For dessert, visitors can choose from such options as fried ice cream and a root beer float prior to enjoying The St. Louis Black Repertory's Two Trains Running.
"We wanted to have a comprehensive concept, where the menu felt like the space, and all of it felt familiar," Mike Randolph says. "We want to be the neighborhood barbecue and Tex-Mex joint that is friendly, comfortable and good for families." 
Original J's Tex-Mex & Barbecue, 7359 Forsyth Blvd., University City, 314-202-8335, originaljs.com
Be the first to know
Get local news delivered to your inbox!