Love "smashed" burgers and loaded fries? If so, make a beeline for a bite and maybe a brew, too, to Jack Nolen's, a neighborhood bar and grill that launched last December in St. Louis' Soulard neighborhood.
The moniker of the new eatery – which comes from brothers Jim and Ryan Grindstaff, with their mother, Patti – combines the names of the siblings' sons. The two also own a pair of the franchised l Jefferson's Restaurant in Belleville and Mascoutah, and Jim Grindstaff owns and runs a seasoning venture, Grindstaff Rub Company, also in Belleville.
"We wanted to do something a bit different than what we've known, which is huge menus and tons of options," Jim Grindstaff says. "It's a streamlined concept with a small set of really awesome items."
With Jack Nolen's, the sibs hope to bring their own spin on the classic American smashed burger to St. Louis. Jim Grindstaff previously hosted the burger blog Cheeseburger Central and spent several years researching and creating his ideal burger blend.
Jack Nolen's fills the roughly 1,100 square feet previously occupied by Good Luck Bar & Grill, with around 27 seats inside and an additional 49 on the patio. New décor includes classic St. Louis Cardinals photos and branded signage. Customers can place orders at a designated window and have their food brought to them, with full service also available at the bar.
The house burger blend comprises a 4-ounce smashed patty made of short rib, brisket and chuck. Customers can order it as a single, double or triple, dressed however they like and served on a buttery toasted potato roll from Martin's Famous Pastry Shoppe of Chambersburg, Pennsylvania. Available toppings include lettuce, tomato, pickle, onion and "style" sauce, Jim Grindstaff's take on Thousand Island dressing (also available in a spicy version).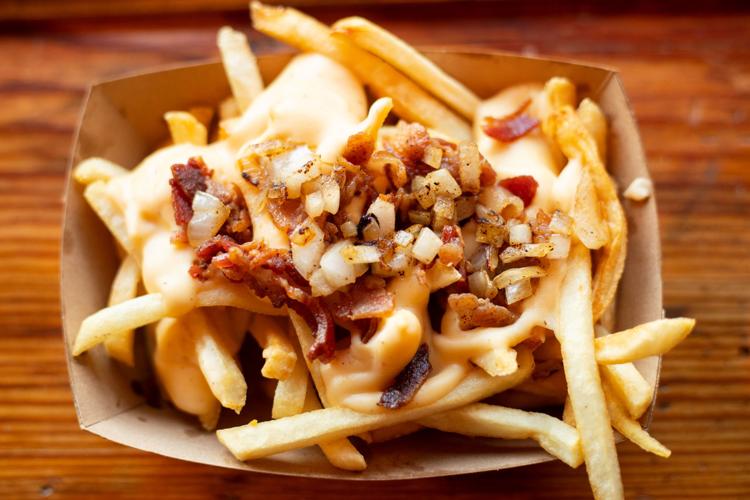 Specialty fries, another menu highlight, feature shoestring fries with a variety of topping options. The "scattered" fries, for instance, come topped with shredded melted mozzarella and Italian seasoning, while the Bluetine salutes the St. Louis Blues and incorporates brown gravy, blue cheese crumbles and parsley.
Additional offerings include smoked deviled eggs as well as the Patti Melt, named after the Grindstaffs' mother: a single-patty burger with melted Swiss and American cheeses, grilled onions and "style" sauce served on grilled marbled rye. Potstickers from St. Louis' Crispy Edge are also available in original pork or plant-based lemongrass "chick'n."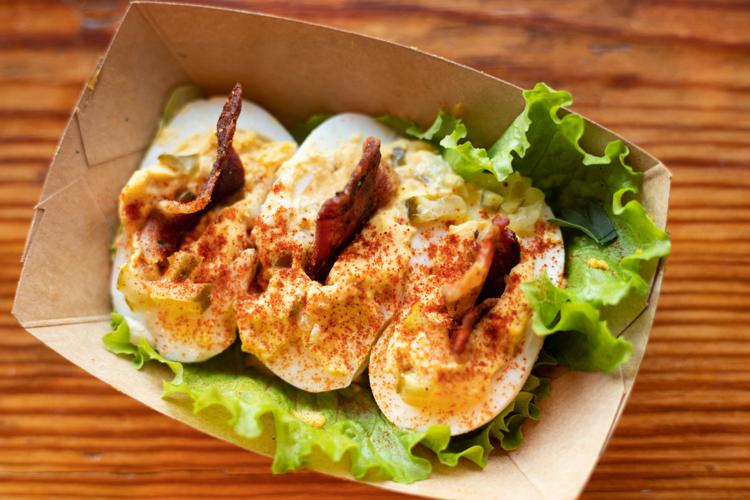 To drink, customers can choose from eight different draft beers, a selection of bourbons and whiskeys, or local products like Soulard Island Spirits, Stumpy's Spirits and Jim Grindstaff's own Grindstaff Rub Company bloody Mary mix – which should contribute to making Jack Nolen's a convivial stop before enjoying The Band's Visit at The Fabulous Fox Theatre.
"We're excited to bring the ideas we dreamed up to people and see if they like it," Jim Grindstaff says succinctly. 
Jack Nolen's, 2501 S. Ninth St., St. Louis, 706-936-5144, jacknolens.com