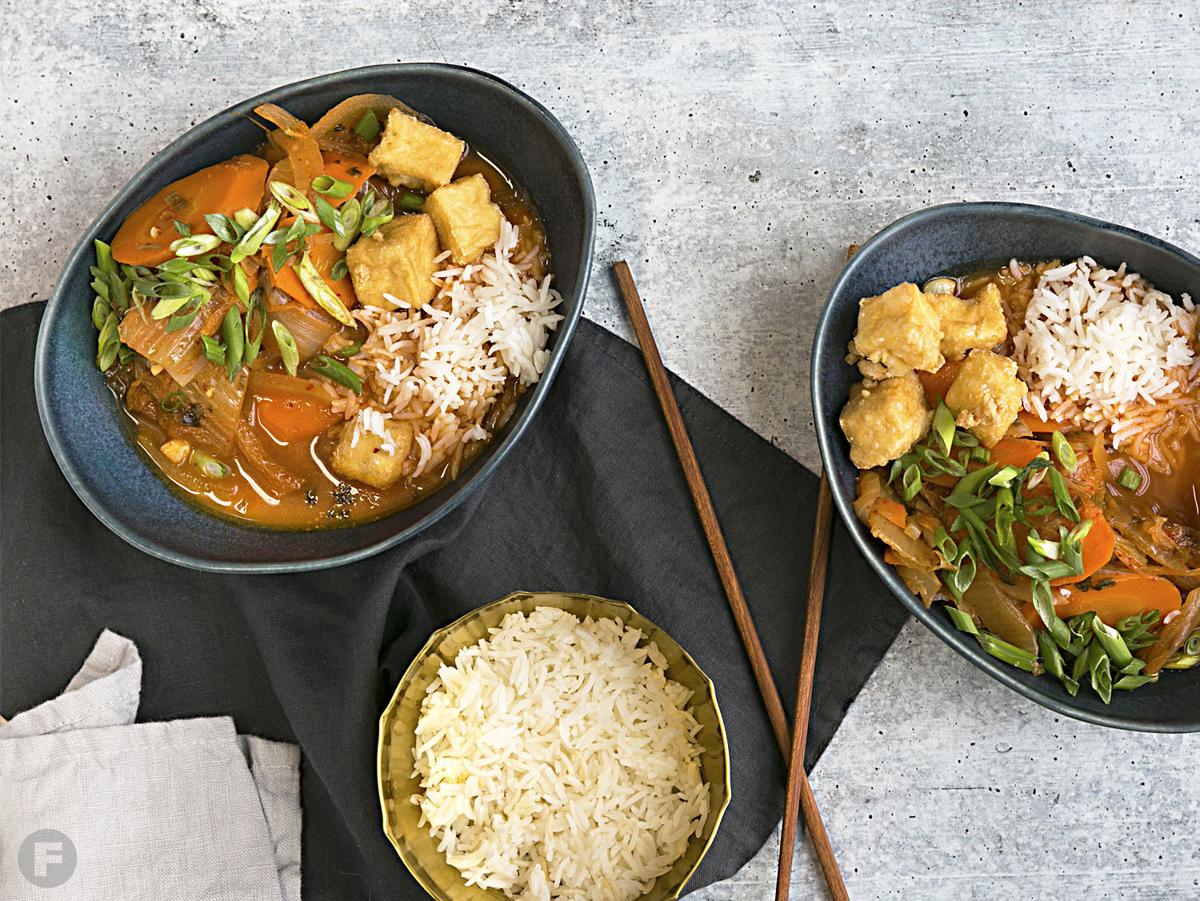 It's hard to pinpoint when my love affair with kimchi began, but over time, it has shifted, evolved and ultimately solidified itself as an unconditional affection that warms my soul. Now that we've established the deep admiration I have for this fermented vegetable – typically napa cabbage or Korean radish – let's talk about one of my favorite ways to consume it. Jjigae is a Korean dish similar to Western stew, traditionally served boiling hot in a communal dish. This vegan version is just as hearty as the meat and seafood varieties, and the type of kimchi you use will determine its spice level. Mother-in-Law's Kimchi is a delicious introductory choice; it's available at grocery stores and markets throughout the state, as well as online at milkimchi.com.
VEGAN KIMCHI JJIGAE
Serves | 4 to 6 |
4 Tbsp canola oil, divided
1 carrot, peeled and cut on the bias
1 onion, julienned
2 tsp salt, plus more for seasoning
freshly ground black pepper, to taste
4 shiitake mushrooms, stemmed and thinly sliced
1 Tbsp gochujang
2 cups kimchi
2 cups water
⅓ cup mirin (Japanese condiment)
2 tsp brown sugar
1 16-oz package firm tofu, drained and large dice
2 Tbsp cornstarch
1 cup thinly sliced scallions
cooked short-grain white rice, for serving
| Preparation | In a medium saucepan, heat 2 tablespoons of canola oil. Add carrot and onion, and season with salt and pepper to taste; cook for 5 to 8 minutes until caramelized. Add mushrooms and gochujang; cook for an additional minute. Add kimchi, water, mirin and brown sugar, and simmer until flavors come together for 10 to 15 minutes. Adjust seasoning to taste, and set aside.
In a small bowl, combine tofu, cornstarch and 2 teaspoons of salt. Add remaining oil to a medium sauté pan. Add tofu and sauté until brown and crisp on all sides for 5 to 10 minutes. Remove from heat and add tofu to stew. Spoon stew into bowls, and garnish with scallions. Serve with rice.
NOTE: More often than not, kimchi is flavored with some salty elements of the sea, such as shrimp paste and fish sauce. To keep this recipe 100 percent vegan, make sure you pick up a jar of vegan kimchi or make your own at home.
Amanda Elliott is the chef at Peachtree Catering (peachtreebanquet.com) in Columbia and authors the website Rustic Supper (rusticsupper.com), where she shares recipes centering on the idea of the communal table and embracing the heritage of food through travel. She also hosts a series of pop-up dinners in Columbia called Sunday Suppers.