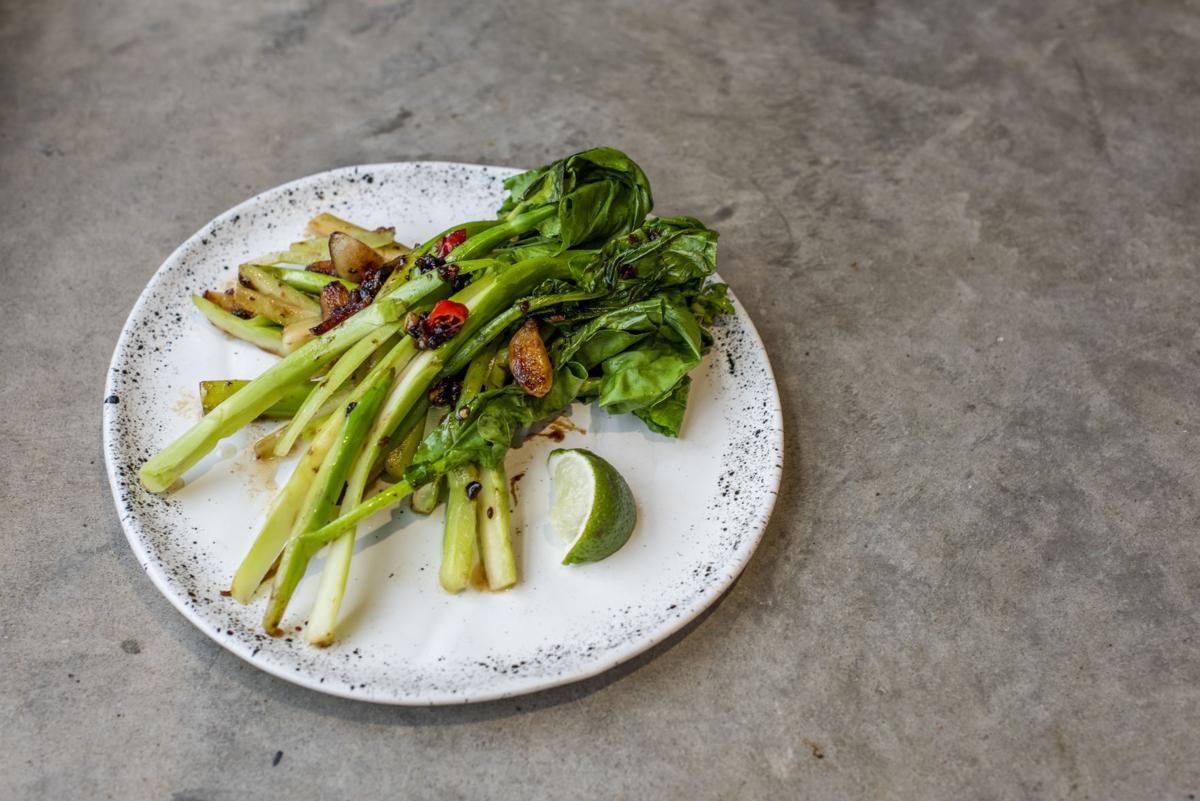 While traveling in Thailand, whenever I saw it on the menu, I ordered pad pak boong – stir-fried morning glory, also known as water spinach. Simple in its execution, it was an unexpected and delightful treat, the perfect supplement to every meal. However, because water spinach (a thick, hearty spinach with a hollow stem) can be tricky to find at this time of year, this recipe substitutes the equally delicious Chinese broccoli. Perfecting this dish demands using not only finely minced garlic but also charred whole cloves for a wallop of flavor. (I likewise include fresh-squeezed lime juice to brighten the greens.) 
Spicy Sautéed Broccoli
Serves | 4 |
9 cloves garlic, divided
2 Tbsp canola oil
2 bird's eye chiles, minced
1 tsp black bean garlic sauce
1 tsp fish sauce
1 tsp sugar
1½ lbs Chinese broccoli, stems peeled and split into two pieces
1 pinch salt
¼ cup water
½ lime
Preparation | Mince three cloves of garlic, and set aside. In a large sauté pan, heat oil over medium-high heat. Add six whole cloves of garlic, and cook for 3 to 5 minutes, until the garlic starts to soften and brown. Add minced garlic, bird's eye chiles, black bean garlic sauce, fish sauce and sugar. Almost immediately, add broccoli, and season with salt; toss with tongs to incorporate. Add water and cover; steam broccoli until just tender, for 3 to 5 minutes. Transfer to a platter, and squeeze lime over broccoli. Serve warm.
Amanda Elliott is the chef at Peachtree Catering (peachtreebanquet.com) in Columbia and authors the website Rustic Supper (rusticsupper.com), where she shares recipes centering on the idea of the communal table and embracing the heritage of food through travel. She also hosts a series of pop-up dinners in Columbia called Sunday Suppers.
Be the first to know
Get local news delivered to your inbox!