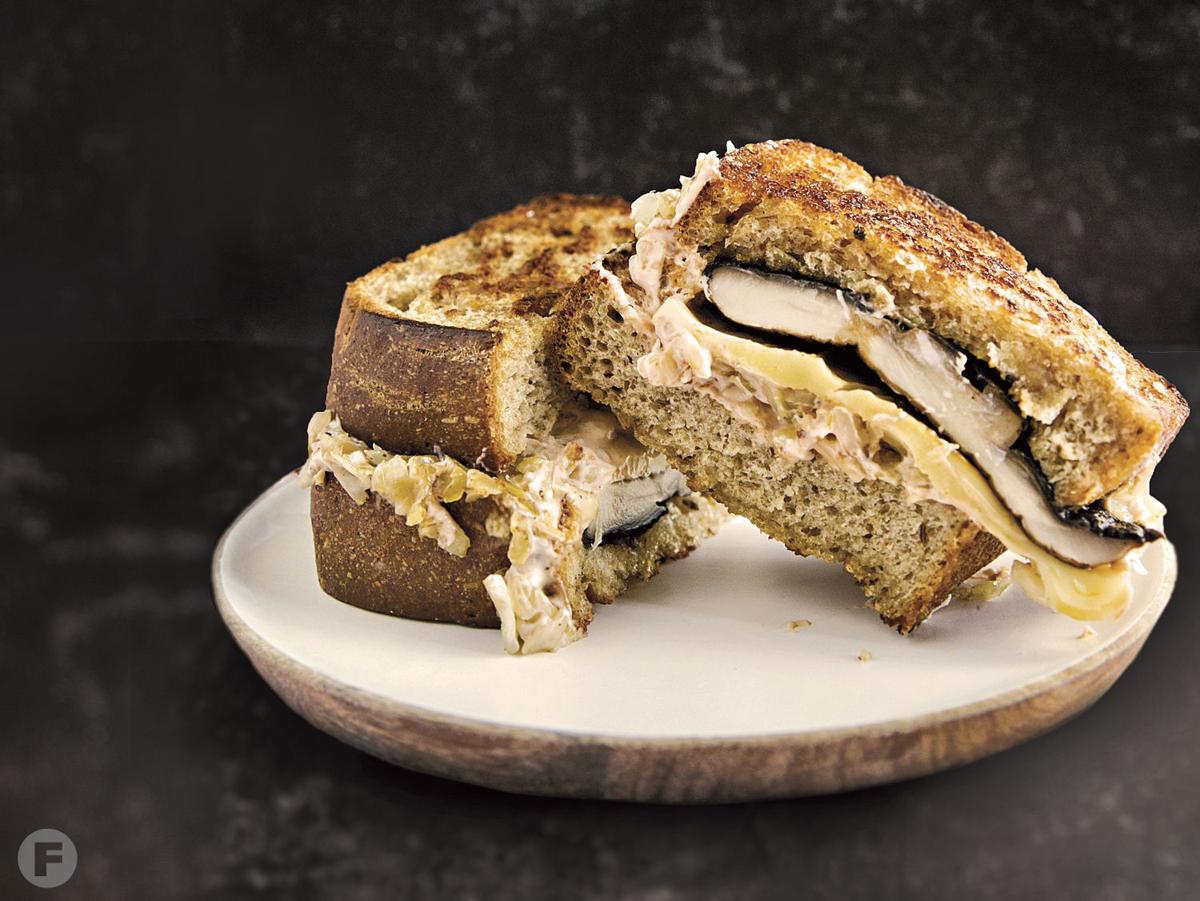 The Reuben ranks as my go-to diner sandwich. To me, the flawless flavor profile of even the worst one makes it delicious, and for some time, I've obsessed over giving the classic sandwich a vegetarian twist. Now, after eating many different versions, I've decided that – dare I say it? – a vegetarian Reuben can beat the traditional corned beef sandwich. To elevate your Reuben, use fresh-baked rye bread, opt for a cheese more interesting than the regular Swiss (Gruyère, say) and pile on a well-made sauerkraut. These elements combine to create the same warm, comforting and familiar sandwich – with a little portobello pizazz.
Mushroom Reuben
Serves | 2 |
Russian Dressing (Yields 1¼ cups)
1 cup full-fat Greek yogurt
¼ cup ketchup
2 tsp grated horseradish
1 clove garlic, minced
1 tsp hot sauce
¼ cup minced bread-and-butter pickles
salt and freshly ground black pepper, to taste
Mushrooms
4 Tbsp olive oil, divided
2 large portobellos
2 tsp smoked paprika
2 tsp garlic powder
2 Tbsp Dijon mustard
1 tsp ground coriander
salt and freshly ground black pepper, to taste
Mushroom Reuben
2 Tbsp butter
4 slices rye bread
4 slices (4 oz) Gruyère
4 Tbsp Russian dressing (see ingredients/recipe)
1 cup sauerkraut, drained
mushrooms (see ingredients/recipe)
| Preparation – Russian Dressing | In a bowl, combine all ingredients, and season with salt and pepper to taste. Store in the refrigerator until ready to use.
| Preparation – Mushrooms | Reserve 2 tablespoons of olive oil for cooking. In a medium bowl, combine remaining ingredients and season with salt and pepper to taste. Place a large sauté pan over medium-high heat, and add reserved olive oil; add mushrooms, then cover and cook for 8 to 10 minutes, flipping every couple of minutes. Once mushrooms are cooked through and tender, remove from pan, and set aside. Carefully wipe pan clean.
| Preparation – Mushroom Reuben | In the same sauté pan over medium heat, add butter. Once butter has melted, add bread. Immediately place one slice of cheese on top of each slice of bread, cover and leave to cook for 2 to 3 minutes, until cheese begins to melt and bread begins to brown. Remove from heat and transfer bread to a clean work surface. On top of two slices of bread, evenly distribute Russian dressing. On top of remaining two slices, evenly distribute sauerkraut and then mushrooms; top with Russian dressing-slathered slices. Cut each sandwich in half, and serve immediately.
Amanda Elliott is the chef at Peachtree Catering (peachtreebanquet.com) in Columbia and authors the website Rustic Supper (rusticsupper.com), where she shares recipes centering on the idea of the communal table and embracing the heritage of food through travel. She also hosts a series of pop-up dinners in Columbia called Sunday Suppers.
Be the first to know
Get local news delivered to your inbox!