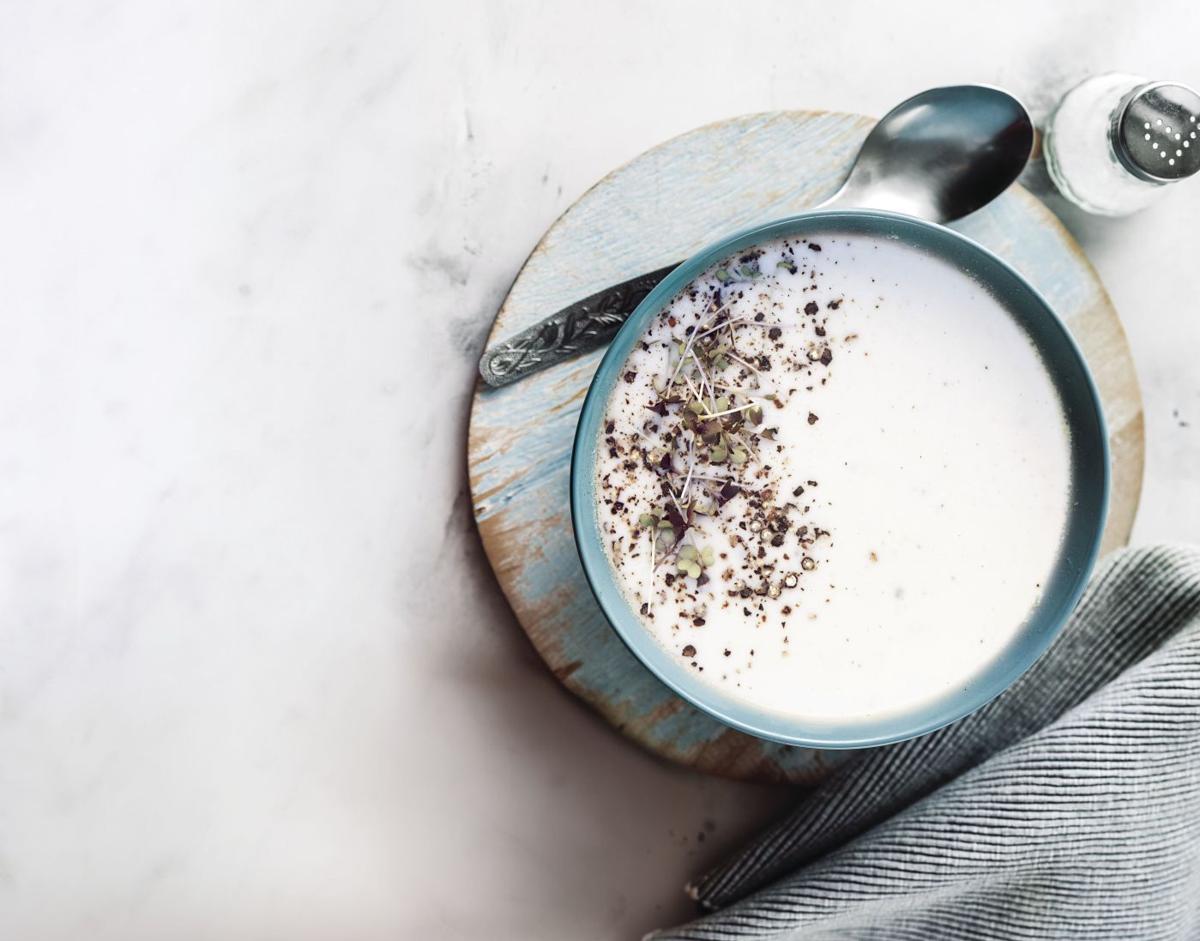 Winter often (no pun intended) polarizes people's opinions: Either you love it or you hate it. Most folks can agree, though, that a hot bowl of earthy vegetable soup helps brave cold days and colder nights. Kohlrabi, also known as the German turnip, can draw bewildered looks from shoppers, but the knobby purple or green vegetable shouldn't be snubbed. Fantastically versatile, it features a flavor and a texture somewhere between that of cabbage and broccoli stems. Used here, it makes a velvety, creamy (and vegan – in case you're eliminating things in the new year) soup. 
Serves | 4 |
3 Tbsp olive oil
2 leeks, thinly sliced
½ yellow onion, large dice
salt and freshly ground black pepper, to taste
3 heads kohlrabi, peeled and large dice
1 apple, peeled and large dice
2 Yukon Gold potatoes, peeled and large dice
1 cup white wine
2 cups water
1 13.5-oz can coconut milk
| Preparation | In a medium saucepan over medium-high heat, add olive oil, leeks and onion, and season with salt and pepper to taste; sauté until ingredients are slightly caramelized, for approximately 5 to 7 minutes. Add kohlrabi, apple and potato, and season with salt and pepper to taste; sauté for 2 minutes. Add wine, and leave mixture to simmer for 2 minutes. Add water, and simmer until vegetables are tender, for approximately 10 to 15 minutes. Remove from heat and allow to cool slightly for 5 to 10 minutes. Carefully spoon soup into a blender, and purée until very smooth. Transfer soup back to saucepan, and add coconut milk. Gently reheat, adjust seasoning as needed, and serve warm.
Amanda Elliott is the chef at Peachtree Catering (peachtreebanquet.com) in Columbia, Missouri, and authors the website Rustic Supper (rusticsupper.com), where she shares recipes centering on the idea of the communal table and embracing the heritage of food through travel. She also hosts a series of pop-up dinners in Columbia called Sunday Suppers.
Be the first to know
Get local news delivered to your inbox!