Re-Voaked Sandwiches, in St. Louis' Central West End neighborhood, now offers online ordering for easy pickup.
The eatery, which debuted in December, comes from chef Stephan Ledbetter, who previously served as executive chef of Oaked, a short-lived bar and restaurant that dished new American cuisine in St. Louis' Soulard neighborhood.
"When Oaked closed in October, I wanted to do something that was similar, but then decided I was going to go in the complete opposite direction – from fine casual to fast casual," Ledbetter says. "What we do here is take quality ingredients, utilize the techniques we know and have learned, and put them between two pieces of bread."
From the menu, customers can choose from a selection of around a dozen sandwiches in addition to some breakfast items. Bestsellers include a bánh mì, with pork belly, onion-and-jalapeño chutney, carrots, cucumbers, green onion, cilantro and lime aioli, as well as the Basic As Cluck, with chipotle chicken, bacon, ranch, lettuce, red onion and provolone. All sandwiches are fired in a deck pizza oven to give them a toasty exterior.
"We wanted to make sure we had something that appeased everyone," Ledbetter says. "You'll find a bit of everything on here, from vegetarian options to plays on classic Italian and club sandwiches. It's a very wide range of things."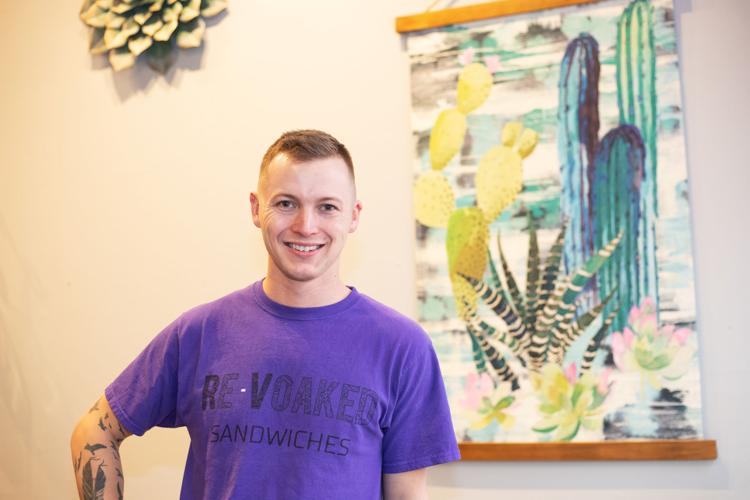 The chef's touches can be found across the menu. For instance, rather than sliced tomatoes, Ledbetter uses a sweet-savory tomato jam. The jam can be found on popular menu items like the B-L-A-S-T, with bacon, lettuce, avocado, tomato jam, smoked salmon and turkey.
A unique vegetarian option, the Meatless Daze, features walnut taco "meat," pepper relish, onion, avocado and chipotle ranch, while breakfast sandwiches include Lox Without Bagels, with dill cream cheese, capers, crispy onions and tomato. Side options include fresh fruit and a three-cheese mac 'n' cheese with rotini noodles.
"We're really excited to be in the neighborhood and are excited to see what new things will come to this side of it," Ledbetter says.
Re-Voaked Sandwiches, 12 S. Euclid Ave., St. Louis, 314-349-9017, revoaked.com
Be the first to know
Get local news delivered to your inbox!