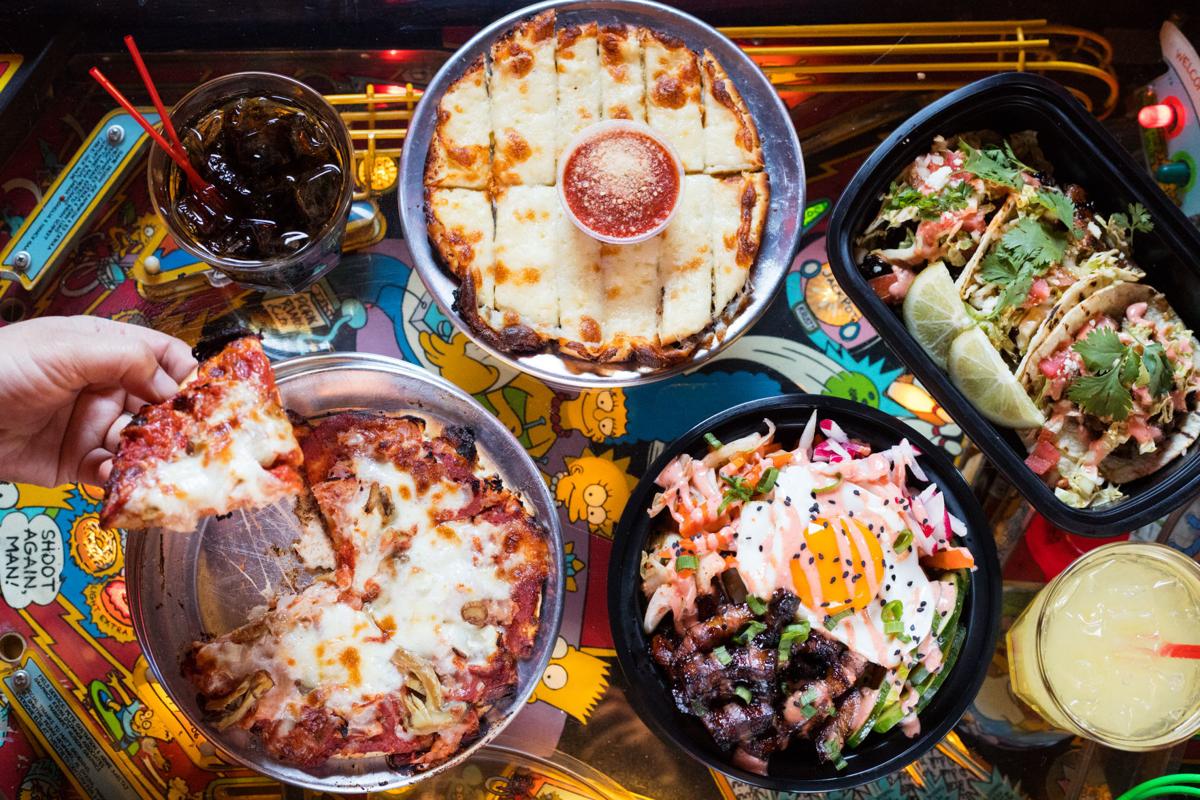 Personal pizzas and Korean-inspired street food predominate at Party Bear Pizza and Tiny Chef, a dynamic duo that teamed last spring to take over the kitchen at The Silver Ballroom in St. Louis' Bevo neighborhood.
The charmingly curious pairing comes from partners Chris Ward and Melanie Meyer, who also co-host a program on community radio oasis KDHX. Ward grew up in Rushville, Illinois, where his family has owned the popular Pizza Unlimited since 1995. With Party Bear Pizza, Ward hopes to crack the metro area with his mascot, Party Bear – a whimsically crowdfunded Craigslist purchase.
Meyer, meanwhile, brings nearly 20 years of industry experience to the table and plates the cuisine of Korea, where she was born. Her culinary résumé includes a stint at The Cheshire with chef Ben Welch, who dubbed her "Tiny Chef"; Meyer most recently worked at Lulu's Local Eatery, where she developed numerous chef specials.
"It's like 'two great tastes that taste great together,'" Ward says, borrowing an old tagline from Reese's Peanut Butter Cups. "I always wanted to do Party Bear Pizza, and Tiny Chef is Melanie's brand. It's kind of a weird name, putting them together, but we just wanted to have fun with it."
Party Bear Pizza and Tiny Chef fills the space previously occupied by Devil Dogs Wienery. In the kitchen, Ward and Meyer cook their food from scratch, including freshly made pizza dough. Ward describes his crust as thin but not cracker-thin. Also, the self-proclaimed Provel naysayer won't put the processed cheese anywhere near his pies; topping his tangy but sweet tomato sauce is mozzarella cooked till it browns.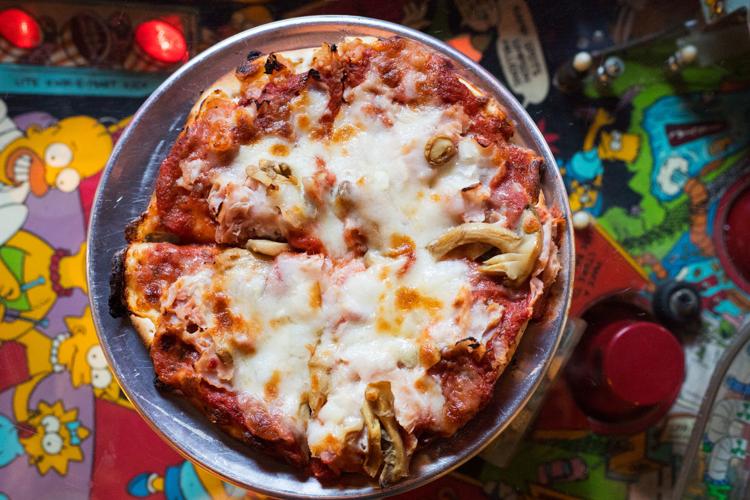 Personal party pizzas come in a 7-inch size, available with the diner's choice of toppings or in unique combos like The Hoosier (thinly sliced deli ham, mushrooms and onion). Another highlight from Ward, the menu's Cheese Stix incorporate garlic butter, cheese and marinara.
On the Tiny Chef side of the menu, guests can enjoy an array of tacos and the popular rice dish bibimbap. Proteins for them – also available as side orders – include pork belly given the char siu treatment (loosely, Cantonese barbecue), char siu tofu, and chicken, steak or mushroom given the bulgogi treatment (a Korean method of grilling or roasting). Tacos come with the diner's protein of choice, pico (salsa, for nonfoodies), a lime wedge, cilantro and Chihuahua cheese on a corn or flour tortilla with Napa coleslaw or kimchi.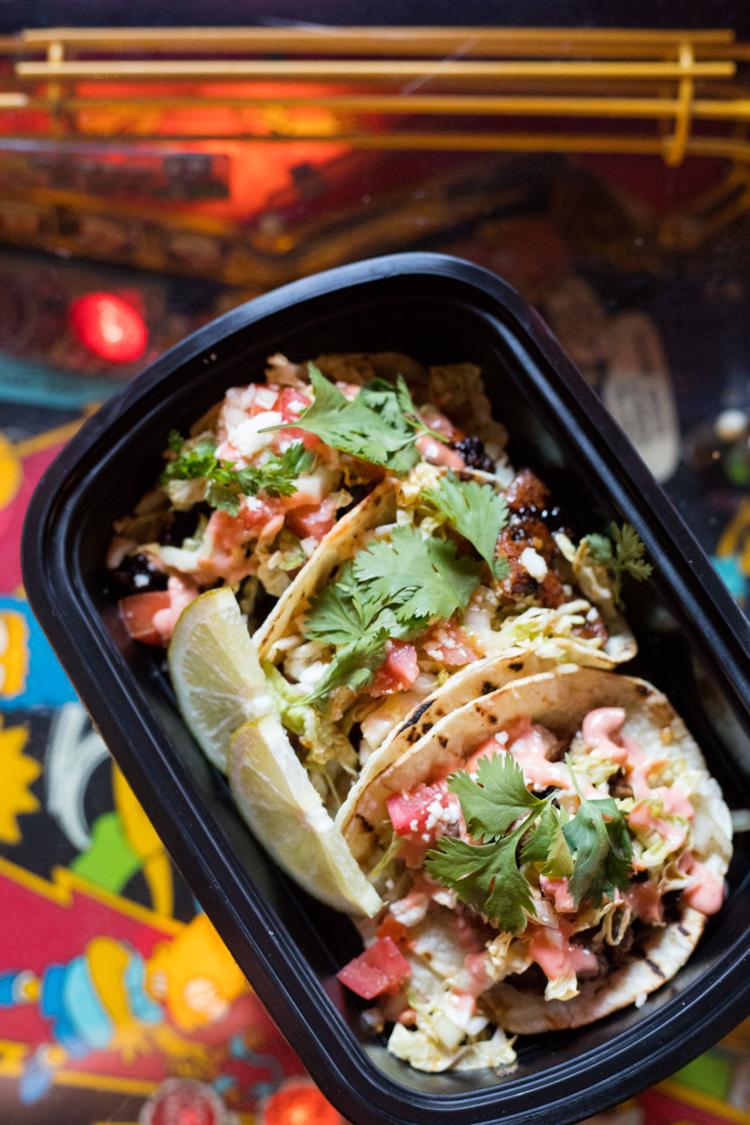 Bibimbap bowls come with the diner's protein of choice, kimchi, cucumber and carrot-sesame salad, black sesame seeds, a fried egg, green onion, Japanese-style rice and the diner's choice of two vegan sauces: a sweet-and-spicy soy-based "dragon" sauce or a sweet-and-salty orange-ginger-plum "pixie" sauce.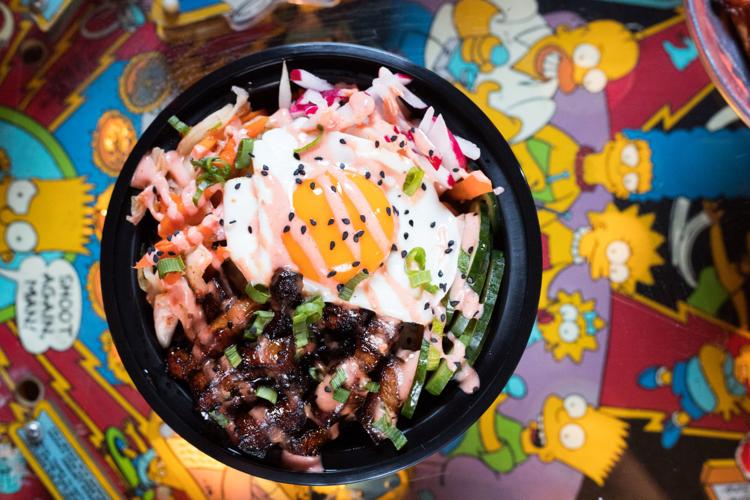 Guests also can expect to see fun crossovers between the two menus in the future, such as bulgogi pizza with kimchi and a fried egg on top. Either way, Party Bear Pizza and Tiny Chef should make a great venue to visit before viewing Ghost from Metro Theater Company.
"It's been cool seeing a lot of people coming back to Silver Ballroom to visit us who haven't been in a while or ever," Ward says with a laugh. "We're sort of pinball evangelists, so this is all just a Trojan horse to get people in to play pinball. I've never been happier. I'm in my favorite place around my favorite people in my favorite city working with my favorite person."
"I love being able to come in and prep, blare music and feed my friends," Meyer adds. "It doesn't even feel like work. We're having fun feeding people and making them happy."
Party Bear Pizza and Tiny Chef, 4701 Morganford Road, St. Louis, facebook.com/partybearpizzaandtinychef
Be the first to know
Get local news delivered to your inbox!