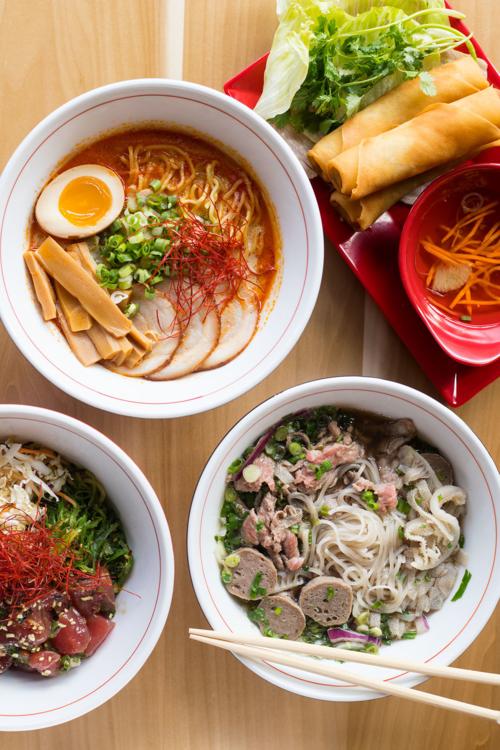 The second Nudo House, a casual Asian noodle-centric eatery, serves ramen, pho, bánh mì, the Japanese snack/appetizer takoyaki, boozy slushies and more in St. Louis' West End neighborhood.
This brainchild of Mai Lee's Qui Tran and chef Marie-Anne Velasco launched last September. Although the original Nudo House opened in Creve Coeur in 2017 after years of planning, the new location marks something of a homecoming for Tran, whose family opened the original location of Mai Lee at Delmar Boulevard and I-170 in the '80s.
"We had an opportunity from the Koman Group, who owns this building," Tran says. "They thought the Nudo concept would be great here. We weren't thinking about doing a second location, but it quickly turned out that it was a great opportunity we couldn't pass up."
The new Nudo House fills a 2,500-square-foot space on the ground floor of the Everly on the Loop high-rise. It holds 65 seats and mirrors the modern interior design of its sibling, with wood and industrial elements juxtaposed with the bright red accents of the brand's logo. An outdoor front patio fits another 30 seats.
Tran's sister, Sara, served as the interior designer, filling the dining room with noodlelike hanging bulbs and whimsical comic art. Brad Fink of University City's Iron Age Studios worked on paintings for it, while St. Louis' Narrative Furniture provided tables. Live-edge shelving came from Dow, Illinois' David Stine Woodworking.
"We want it to be a welcoming place where you can come in and eat, leave your cares behind, slurp a bowl and be on your way," Tran says. "It's a little bit of Vietnamese with a little bit of Japanese. Marie-Anne brings her Filipino style to the table, too. It's awesome because we blend all of the cultures."
Guests can choose from such menu specialties as the Nduja Bomb: a take on classic ramen, with tonkotsu (pork bone) broth, shoyu and black garlic with the spicy, spreadable Italian sausage nduja from Richmond Heights' Salume Beddu. Bánh mì pho dip, another signature dish, incorporates braised beef and onions, pho, garlic aioli, cucumber, jalapeño, pickled carrot, cilantro and hoisin.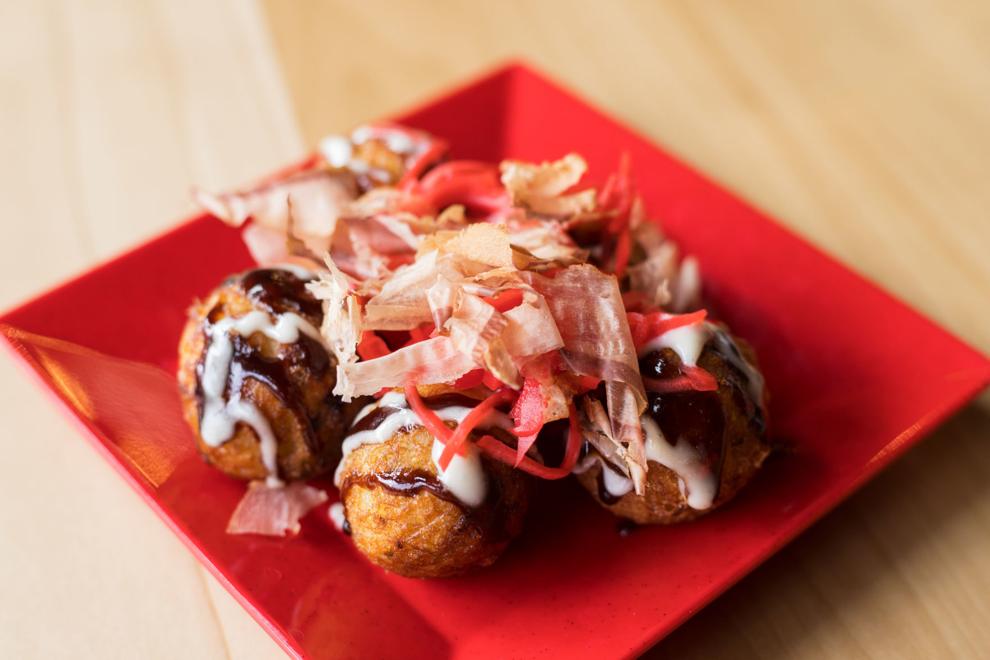 Additional highlights include spring rolls; takoyaki (fried balls of octopus with Kewpie mayo), brown sauce, pickled ginger, nori and bonito flake; and tuna poke with yellowfin, chilled ramen noodles, wakame ("sea mustard") salad, cucumber, napa  (Chinese cabbage) coleslaw, ginger soy, green onion, sesame and the dry Japanese seasoning furikake.
Alcoholic slushies developed by Nudo House chef Chris Ladley are available in varieties such as Green Tea Margarita and Ecto Cooler, as a refreshing alternative to the house soft-serve, which comes in such flavors as milk tea and strawberry and Chinese black vinegar. All in all, a visit to Nudo House should make an entrancing preliminary to taking in Spell #7 from The St. Louis Black Repertory.
"I'm a huge advocate for our food community and how awesome it is," Tran says. "This is my first restaurant in the city of St. Louis, and I hope to add value and represent the city the best way I can."
Nudo House, 6105-A Delmar Blvd., St. Louis, 314-274-8046, nudohousestl.com