Little Fox, a modern neighborhood restaurant that debuted last fall in St. Louis' Fox Park neighborhood, features appetizers, small plates and entrées inspired by the owners' experiences in Brooklyn, New York, and European travels.
The restaurant comes from St. Louis native Craig Rivard and his wife and business partner, Mowgli. The chefs met while working in Brooklyn kitchens and afterward started a restaurant group called Postcards from Bklyn with a mission to bring a taste of their experiences in New York to Fox Park, where they now live.
St. Louis' SPACE Architecture + Design worked with the Rivards to bring a warm, modern feel to the roughly 2,300-square-foot space, which previously housed The Purple Martin. Balancing its dark teal walls are wood tones, white tile, exposed brick and geometric design features. New elements include a relocated bar, an open kitchen and dining rooms that seat around 54 guests.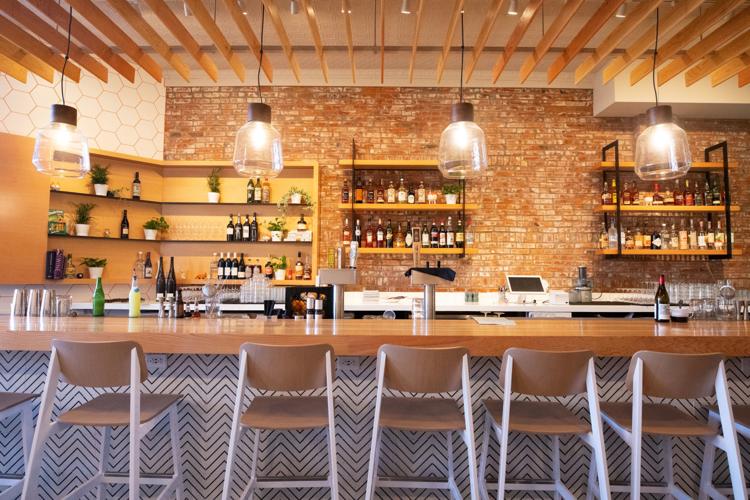 The dinner menu comprises snacks, plates and large plates developed by the Rivards. Guests can choose from such highlights as the Tomahawk Pork Milanese, with grilled Japanese turnips, pickled mustard seed and gribiche, a mayonnaise-style cold egg sauce. Another popular pick so far has been the Delicata Squash, a dish that riffs off of classic onion rings, featuring squash breaded with masarepa (precooked corn flour) with fried lemon, locally produced hawthorn honey and scallion.
"The menu is very naturally gluten-free, pescatarian and vegetarian," Mowgli Rivard says. "I'm gluten-free myself, so I'm proud of that. I just love that you can come in and get a bowl of really tasty greens and veggies. Clams, salad and a glass of wine would be my go-to."
With regard to clams, Little Fox's littlenecks are prepared in sherry with shallot, garlic and grilled sourdough. One of Craig Rivard's own favorites – crispy fingerlings, inspired by Spanish patatas bravas – comes with little sweety peppers, scallion and tonnato (a tuna aioli).
The bar program features a robust natural wine program developed by beverage director Kelly Nyikes, formerly of Sardella in Clayton. The list includes a selection of glass pours and around 75 bottles. Canned beers are available, as well as four beers on tap. Cider and wine draft selections are coming soon.
St. Louis native Shannon Ponche, whom Craig Rivard met while working at Clover Club in Brooklyn, developed the cocktail list. Ponche trained with local mixologist Ted Kilgore before moving to the East Coast, where she currently serves as head bartender of Leyenda in Brooklyn. Highlights from the Little Fox list include the Little Fox Martini with gin, blanc vermouth, fino, Old South Tomolives (small pickled green tomatoes) and lemon oils.
A "social hour" menu available from 3 to 6 p.m. includes a few cocktails and small plate options such as riblettes with Calabrian chiles, Italian fish sauce and honey. Service will soon tentatively expand to include a morning coffee bar and pastries, a weekend brunch and monthly themed suppers. Till then, Little Fox should make a fashionable start for a day ending with Wildfire from Upstream Theater.
"We've spent around eight years thinking about ideas, and to actually see it all come together, have diners come in, feel really welcome, enjoy the space and be blown away by the food has been really wonderful," Mowgli Rivard says. 
Little Fox, 2800 Shenandoah Ave., St. Louis, 314-553-9456, littlefoxstl.com
Be the first to know
Get local news delivered to your inbox!