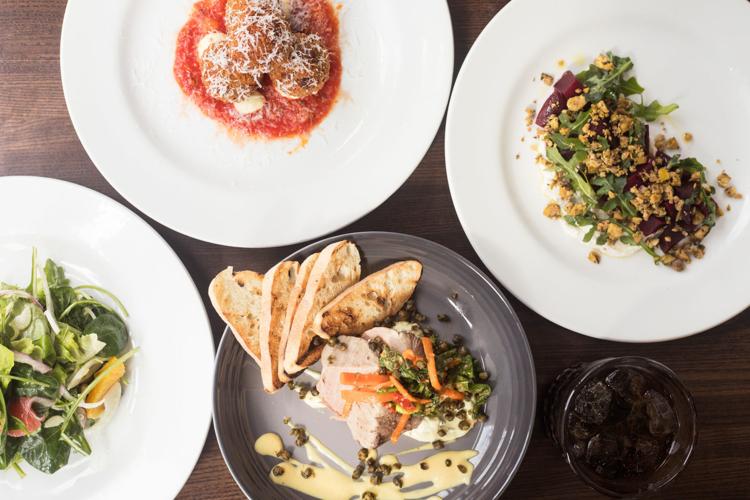 The seventh restaurant under Michael Del Pietro's MDP Restaurants group, Il Palato joins such popular eateries as Del Pietro's, Sugo's Spaghetteria and Tavolo V, but features decidedly lighter fare than its siblings, with a focus on southern Italian cuisine reflecting Mediterranean and northern Italian influences.
"We wanted to focus on more southern Mediterranean styles and kind of stray from our usual brick lasagnas and heavy creams here," says partner Ryan French. "Michael started out in Clayton many years ago, and we wanted to come back but not utilize the same ideas as our other restaurants – and we're looking to have a bit more fun with our from-scratch kitchen."
Executive chef Tim Adams works with sous-chef Jordan Knight and roving manager Pat Baltes to bring the seasonally driven menu to Clayton. Adams' culinary résumé includes working in kitchens at such area restaurants as Pastaria, Cielo and his family's Ricardo's Italian Cafe. He also previously studied at Italy's ALMA La Scuola Internazionale di Cucina Italiana.
"This is right in my backyard," Adams says. "The simplicity of this cuisine is something I just really fell in love with."
Filling the space previously occupied by Remy's Kitchen & Wine Bar, Il Palato seats 98. Scott Volding served as the architect, while Karen Pepper of Edwin Pepper & Associates served as the designer. The clean, modern interior features mixed media, including wood, iron and marble juxtaposed with textures such as tweed and leather. A coffered, gridlike under-lit ceiling sets the tone in the dining room for meals meant for a nice evening out.
"It's not rigid or formal, but classy," French says. "We want this to be your experience for the evening in several courses that you can take your time with."
From the menu, guests can choose from highlights including one of Adams' favorites, tonno, or oil-poached tuna with aioli, capers, lemon and Dijon. As another mainstay, whole roasted and filleted branzino includes olives, onion, tomato, egg and pickled shallot vinaigrette. It also excites Adams to offer zeppole, or Italian-style ricotta donuts dipped in chocolate and coated in hazelnuts.
Il Palato would make a stellar place to treat yourself to an intimate, multicourse meal before seeing Rigoletto from Opera Theatre of Saint Louis.
Popular local bartender Sasha Alms heads the bar program. The beverage list features 15 wines by the glass and 50 or more by the bottle, four beer options and craft cocktails.
Il Palato, 222 S. Bemiston Ave., Clayton, ilpalatoclayton.com