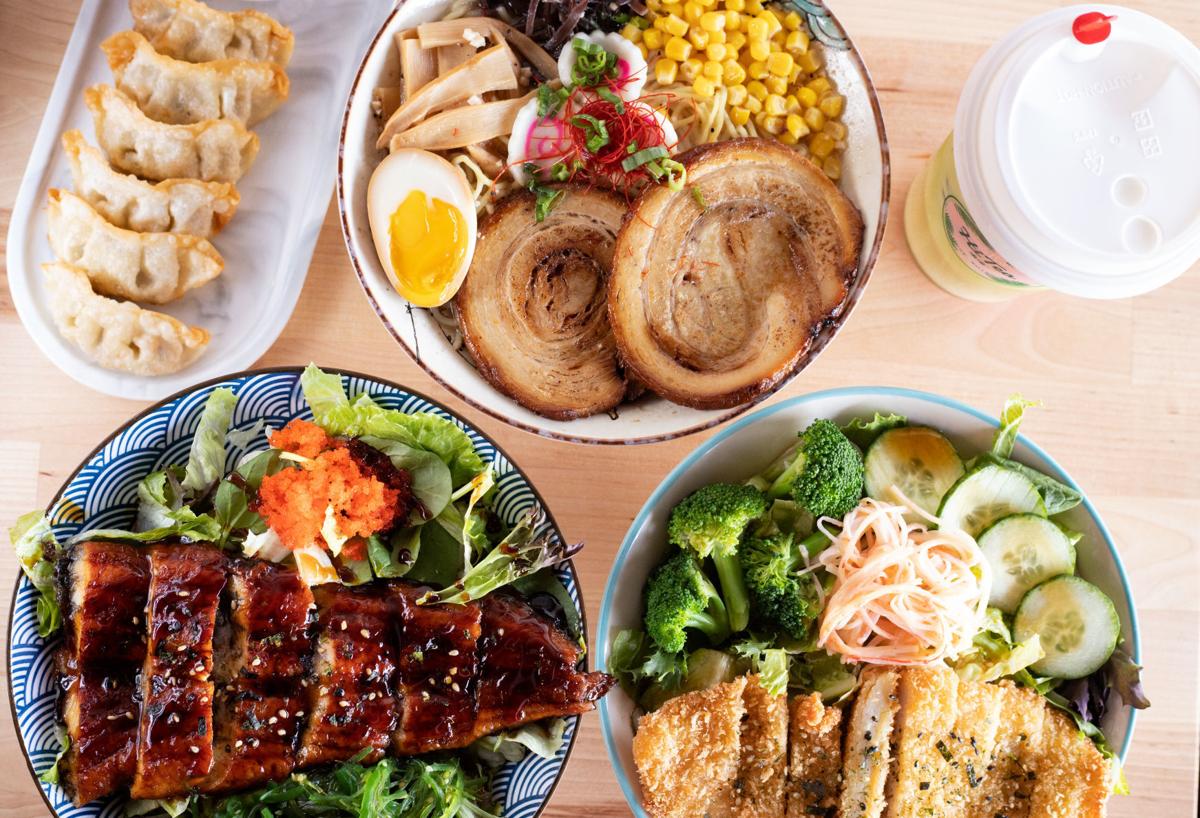 The colorful Asian eatery HiTea, which debuted last summer in Chesterfield, offers unique food and drink options with an extensive menu that includes ramen, rice bowls, bubble tea and baked goods.
HiTea comes from business partners Gavin Gao and George An, the latter of whom also co-owns Dollar Express in Overland. (This makes the second HiTea; the original opened in Lawrence, Kansas, in 2017, with a third planned for Columbia this spring. The partners also own Han Cafe in far-flung Guangzhou, China.) Gao, a native of Zhejiang, China, manages the Chesterfield restaurant with his wife, Jessie Han, who also serves as house baker.
"We had this idea to offer bubble tea and cakes," Gao says. "We saw that bubble tea in St. Louis is old-fashioned and wanted to bring new modern styles here, so we learned how to make the teas from a program in China and also found a farm where we buy teas directly."
HiTea's dining room seats roughly 40 guests exclusive of a lounge area and front patio. Han, who studied studio art locally, carried out the interior design. The pastel pink and greenery-themed décor features her hand-painted murals of plants paired with contemporary furniture and light fixtures.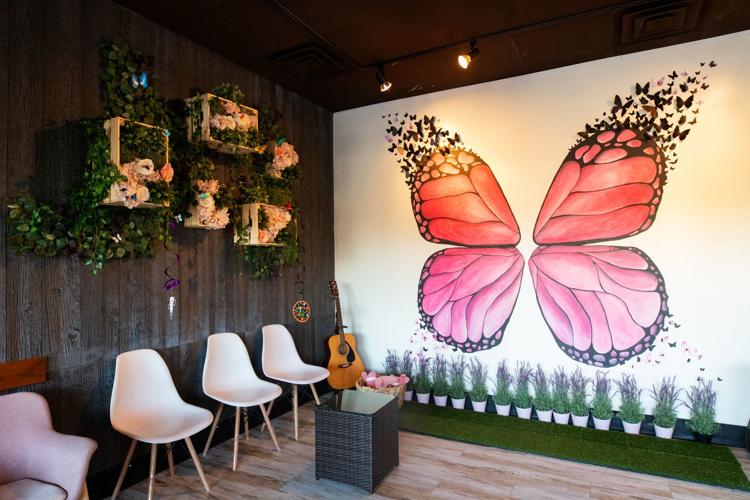 From the menu, customers can choose from food options including ramen, rice bowls and appetizers. The various ramen options include lobster ramen, as well as a deluxe ramen variety that combines many of the topping selections. The specialty bowl comes with slow-cooked beef bone broth, pork belly char siu (a popular Cantonese way to flavor and prepare pork), beef shank, large whole shrimp, ajitama (seasoned) egg, black fungus, the bamboo-based Japanese condiment menma, corn, scallion, the cured-fish paste narutomaki, bonito flakes and roasted seaweed.
Additional highlights include an eel rice bowl with seasonal salad, seaweed salad, fish roe and eel sauce. Appetizer options include gyoza (pork/cabbage wontons), fried chicken wings and Cajun fried shrimp. The drink menu features such categories as fresh brewed tea, fruit tea, smoothies, flower tea, fresh milk tea, cocoa and uji matcha, a special grade of green tea.
Popular beverages include Mountain High brand milk tea made with green tea; roasted oolong milk tea; and brown sugar boba fresh milk tea (incorporating the tapioca globules common to bubble tea). Specials include a taro milk cloud drink with hand-blended taro. All drinks come with fresh boba flavored with honey and brown sugar.
Additional sweet treats include individual cake slices in flavors such as mango, matcha and the exotic osmanthus. Custom bakery orders, also available, include such options as decorated birthday cakes and crêpe cakes.
"Our restaurant is a very good place for people to have meetings, chat and enjoy afternoon tea," Gao says of HiTea, which also would make a fine stop preliminary to viewing My Name Is Asher Lev from the New Jewish Theatre. "We want people to enjoy our food and come meet their friends here." 
HiTea, 13700 Olive Blvd., Chesterfield, 314-392-9399, hiteamo.com
Be the first to know
Get local news delivered to your inbox!