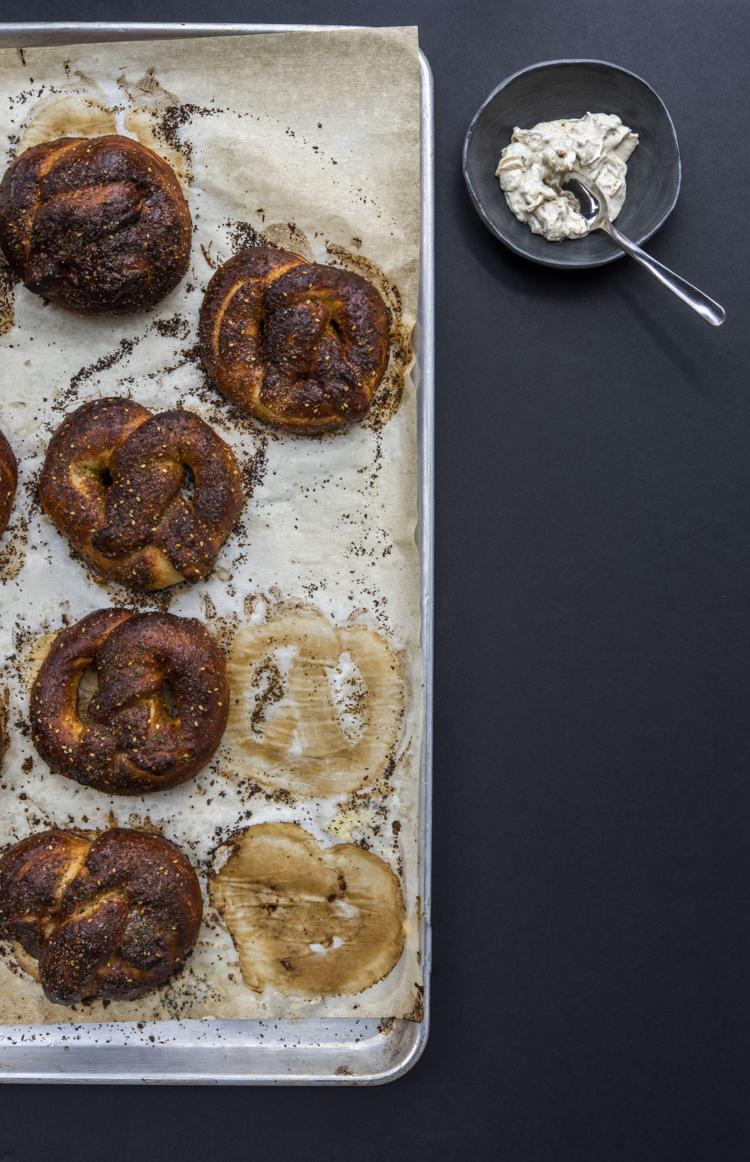 These spicy soft pretzels make a great snack, whether fresh and hot from the oven or pulled apart after a night on the town. The primary seasoning in both the pretzels and dip is za'atar, a Middle Eastern spice blend with dried thyme, oregano and toasted sesame seeds. Here, I've paired it with another Middle Eastern ingredient that's a favorite of mine, labneh – a thick, creamy yogurt with a tangy flavor. Labneh and za'atar can be found locally at your favorite international market; if you prefer, a thick Greek yogurt can be used in place of the labneh.
ZA'ATAR PREZELS WITH CARAMELIZED ONION DIP
Caramelized Onion Dip
Yields about 3 cups
3 Tbsp olive oil
2 large Vidalia or Maui sweet onions
salt and freshly ground black pepper, to taste
¼ cup sherry
3 garlic cloves, grated
2 cups labneh or thick Greek yogurt
Tbsp za'atar
Za'atar Pretzels
Yields 12 pretzels
2¼ cups milk
½ cup brown sugar
1 tsp salt
2 Tbsp active dry yeast
6 cups all-purpose flour
¼ cup olive oil
8 cups water
1 cup baking soda
1 egg, beaten
¼ cup za'atar
flaky sea salt, to taste
Preparation – Caramelized Onion Dip | In a large saucepan over medium-high heat, heat olive oil. Add onions and season with salt and pepper. Cook, stirring frequently, until onions caramelize to medium brown. Add sherry and garlic; cook for 5 to 10 minutes more until a deep caramel color. Remove from heat and let cool. In a small bowl, combine cooled onions, labneh or Greek yogurt, and za'atar. Season with salt and pepper to taste. Chill until ready to serve.
Preparation – Za'atar Pretzels | In a small saucepan over medium heat with candy thermometer inserted or attached, heat milk until approximately 95 degrees. Remove from heat and add brown sugar, salt and yeast; stir to combine. Let sit for 5 to 10 minutes.
In the bowl of a stand mixer fitted with the bread hook attachment, add all flour and slowly stream in warm milk mixture and olive oil. Let mixture come together; then knead for 2 to 3 minutes. Mixture will be slightly sticky. Cover bowl and let dough rise until it doubles in size, 30 to 45 minutes.
In a large saucepan over medium heat, add water and baking soda, and bring to boil until baking soda has dissolved. Let cool. Preheat oven to 450 degrees. Line a baking sheet with parchment paper, and set aside.
Divide doubled dough ball into 12 equal portions. On a clean work surface, roll each ball into a 15-inch rope. Cross ends over each other twice to form pretzel twist, making a U with the rope by twisting and pulling down and crossing and pressing tips of rope on opposite sides to form pretzel. Line a plate with paper towels.
Carefully dip pretzels into baking soda-water mixture for approximately 1 minute each; then transfer to paper towel-lined plate to dry for about 30 seconds. Transfer to prepared baking sheet. Repeat until all pretzels are arranged on baking sheet. Brush pretzels with egg wash, sprinkle with za'atar and aggressively season with salt. Bake for 10 minutes. Serve warm with caramelized onion dip.
Amanda Elliott is the chef at Peachtree Catering (peachtreebanquet.com) in Columbia, Missouri, and authors the website Rustic Supper (rusticsupper.com), where she shares recipes centering on the idea of the communal table and embracing the heritage of food through travel. She also hosts a series of pop-up dinners in Columbia called Sunday Suppers.