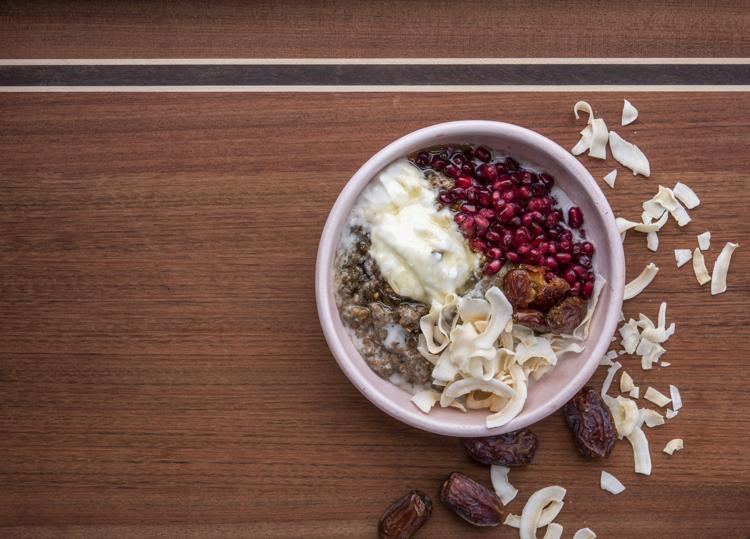 I have long been a fan of grain-based breakfasts like muesli, oatmeal, farina – you name it. This take on overnight oats substitutes classic old-fashioned oats for kasha, toasted buckwheat commonly used in Central and Eastern European cuisines. Although kasha is often used to make porridge, I love using it in overnight oats-style recipes because of its unusual texture: It has a chewy, earthy flavor that you can't replicate with other grains.
COCONUT-POMEGRANATE OVERNIGHT KASHA
Serves 6
cup kasha
½ cup chia seeds
¼ cup hemp protein
½ cup hemp seeds
cup pitted and chopped dates
½ cup raisins
Tbsp ground cinnamon
6 Tbsp honey, divided
6 Tbsp vanilla Greek yogurt, divided
4½ cups unsweetened almond milk, divided
cup fresh pomegranate seeds (for garnish)
½ cup toasted unsweetened coconut chips (for garnish)
Preparation | In the bowl of a blender or food processor, add kasha and pulse a few times until grains split and crack but do not turn into powder.
In a large bowl, combine next six ingredients. Add pulsed kasha and stir to combine. Divide mixture between six 8-ounce canning jars with lids, and top each with honey, Greek yogurt and almond milk. Cover with lids and refrigerate overnight.
Serve | Remove one jar or more from refrigerator, and stir mixture thoroughly. Garnish with pomegranate seeds and toasted coconut; serve.
You can find kasha at Eastern European markets and in most grocery stores, from brands like Bob's Red Mill. For meal-preppers: Make this batch of six servings on Sunday to eat for breakfast all week; the kasha will keep in the refrigerator up to one week. 
Amanda Elliott is the chef at Peachtree Catering (peachtreebanquet.com) in Columbia, Missouri, and authors the website Rustic Supper (rusticsupper.com), where she shares recipes centering on the idea of the communal table and embracing the heritage of food through travel. She also hosts a series of pop-up dinners in Columbia called Sunday Suppers.