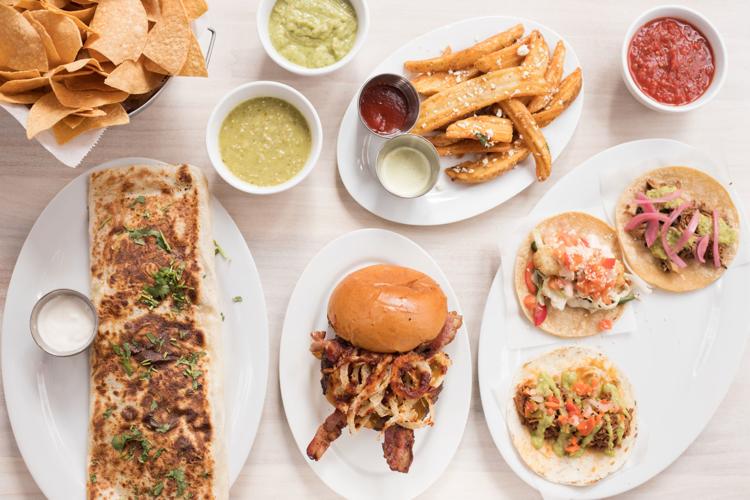 Gringo, a new restaurant with a familiar name, arrived in downtown St. Louis last month to serve Mexican street food like tacos and burritos (as well as burgers and more) alongside a full bar.
As part of a sale to Mission Taco, Gringo's original location closed in 2016 after three years in St. Louis' Central West End neighborhood. The downtown Gringo comes from Chris Sommers of Pi Pizzeria, who partners with co-owners including the restaurant's original executive chef, Cary McDowell, as well as chefs David Rodriguez and Dale Beauchamp.
Gringo fills a space in the MX District formerly occupied by Robust Wine Bar, with seating for roughly 125 guests. Sommers served as general contractor for the refinishing, which incorporates resortlike décor to brighten the area, including hanging basket lamps above the bar and other tropical accents like an array of hanging plants and succulents.
From the menu, guests can choose from old Gringo favorites such as Gringo fries – crispy potato wedges tossed with queso cotija, herbs and chili flakes, served with Gringo ketchup and cilantro "ranch" dressing. Eight kinds of à la carte tacos are another highlight of the retooled menu.
New taco options include birria-style brisket topped with chow-chow and fresh AvoTerra salsa, which combines avocado and salsa verde. A vegetarian taco option features spice-rubbed jackfruit, roasted corn, pickled red onions, avocado, cilantro and Tajín seasoning.
"I think it's sort of an updated take on some Mexican classics using some traditional cooking methods, with the introduction of a few twists and surprises," Sommers says. "Most of the menu has been retouched in some shape or form. We've added categories including 'Machetes' and have expanded our burger and bar menu."
Offerings under the Machetes menu category – giant rolled tortillas that resemble Mexican knives of the same name – come stuffed with a variety of savory ingredients. The Carbon-Ator, for instance, comes with steak al carbon, corn, poblano, pasilla salsa, queso fundido, cilantro and crema. Additional highlights include a Gringo burger with a grilled 8-ounce beef patty, tomato, house pickles, romaine, red onion and American cheese on brioche. All of those options sound delectable before seeing Into the Breeches from Shakespeare Festival St. Louis.
From the bar, guests can choose from updated offerings including two margaritas on draft and shaken cocktails such as the El Diablo with Cazadores Tequila Blanco, ginger beer, crème de cassis, lime and ice. Additional offerings include a selection of other tequilas, beers on tap or by the can and bottle, traditional-style micheladas (beer, lime juice and assorted sauces and spices, served cold in a salt-rimmed glass) and wine by the glass or bottle.
"I'm so pleased and proud to have Gringo back and to share it with more people," Sommers says. "Downtown St. Louis is a perfect opportunity to reach a wide audience." 
Gringo, 635 Washington Ave., St. Louis, 314-449-6777, gringo-mx.com