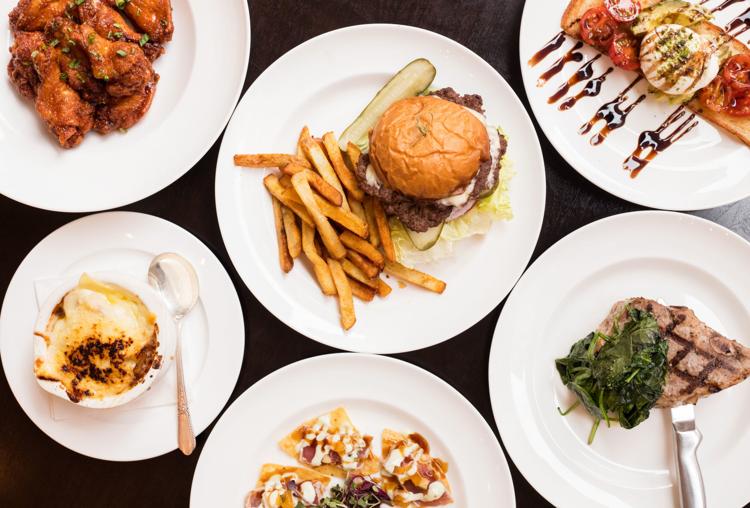 Union 30, which had a Dec. 20 "soft" opening inside Hotel Saint Louis in the heart of downtown St. Louis, features not only a full bar but also breakfast, lunch and dinner menus inspired by mainstay metro area comfort foods crafted with a variety of local ingredients.
The husband-and-wife duo of Amrit and Amy Gill of Restoration St. Louis bring the restaurant to the city, along with the 16-story hotel itself – the first Autograph Collection Hotels location by Marriott here. (The whole venture fills the Louis Sullivan-designed Union Trust building, which dates from 1893 and underwent a $68 million renovation to restore many of its original design elements. Read LN's story on the hotel project here.)
Union 30 fills a 2,500-square-foot, 100-seat space on the hotel's ground floor, opening into its lobby. Highlights include a marble-topped bar, golden circular hanging lights and the brand's trademark blue accents throughout the dining room.
St. Louis native Matthew Birkenmeier heads the kitchen. The well-traveled chef's expansive résumé includes stints with Millennium Hotel, a variety of cruise lines and the Hotel Ritz-Carlton in Montego Bay, Jamaica. He most recently served as executive chef of St. Louis' Quincy Street Bistro, which closed late last October.
"When Quincy Street Bistro closed, Amrit and Amy brought me on here to head up Union 30," Birkenmeier says. "They loved what I did with our 'Kegs N Eggs' [menu section] and just my take on Midwest-Southern comfort classics."
"The mission of the restaurant is to showcase to the business traveler what St. Louis food is all about," Amrit Gill says. "We have little homages to different things, like Mayfair [Hotel] salad and Famous-Barr's classic French onion soup. Matt smokes something every day and makes the most fabulous St. Louis-style dry-rubbed ribs in town."
From the menu, guests can choose from such highlights as a dry-aged Duroc pork rib chop with whipped root vegetable purée and sautéed baby spinach; according to Birkenmeier, the chop undergoes 14 hours of dry-aging followed by sous vide treatment in duck fat for a melt-in-your-mouth product. One of Gill's personal favorites, blackened Missouri line-caught catfish, comes with crawfish étouffée, dirty rice and veggies.
Another popular pick, the Hotel Saint Louis ultimate bacon cheeseburger, comes with a 60/40 blend of smoked bacon and ground beef, wrapped in bacon and stuffed with ghost pepper cheese. The menu also features many vegetarian and gluten-free items, among them avocado caprese toast with bread from Clayton's New Day Gluten Free, cherry tomatoes from Tony's Family Farms in Chesterfield, fresh basil, burrata and a blood-orange reduction.
From the bar, guests can choose from various taps, including more than a dozen local craft beers – among them WellBeing Brewing's nonalcoholic amber and the specially made Union 30 Pilsner from 4 Hands Brewing Co. – as well as Kaldi's Coffee Roasting Co.'s cold brew. A list of red, white and sparkling wine is also available.
From the cocktail list, guests also can choose from a few different categories: classic cocktails, classics with a twist, barrel-aged cocktails and nonalcoholic classics. Highlights include the Comfortably Numb, mixed with the esteemed Hendrick's Gin, St. Germain elderflower liqueur, orange curaçao, fresh lemon juice and white grape juice, served with a Szechuan button flower.
All things considered, Union 30 sounds like a splendid venue to visit before going "window shopping" at The Hundred Dresses from Metro Theater Company.
Union 30, 705 Olive St., St. Louis, 314-241-4300, hotelsaintlouis.com/union30