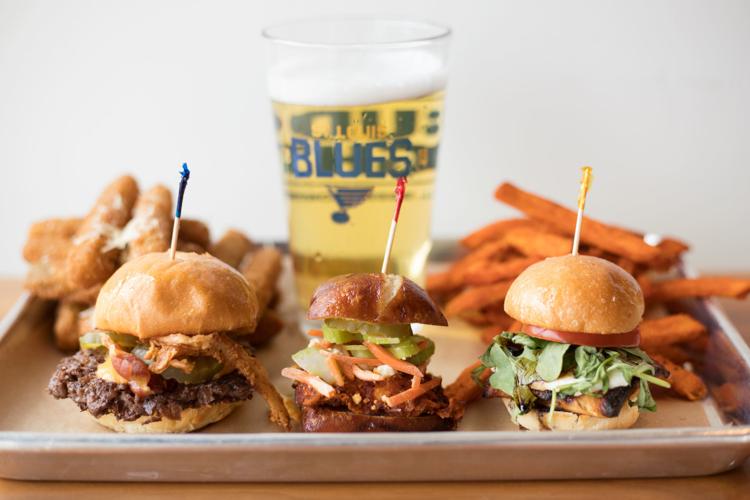 In an unusual tandem setup under one roof, The Note Bar, which opened last October in downtown St. Louis, shares its kitchen with fast-casual Mexican eatery Vaya Con Dillas.
At the forefront of the dual venture, the St. Louis Blues-themed bar and grill offers appetizers, sliders, pizzas, salads and more, and comes from Lawrence Group, replacing Alumni Saint Louis. Chef Ryan Hecht – who previously ran Alumni, as well as Kota Wood Fire Grill in St. Louis' Covenant Blu-Grand Center neighborhood – serves as general manager and executive chef for the overall rebranding.
Lawrence Group revamped the space, which seats roughly 180 guests between both businesses, with a minimalist contemporary design. To round out the hockey-lovers' hub, retired Blues players' jerseys line the walls, with a few TVs at the bar.
"We wanted to make this spot more comfortable for Blues fans and make it a place where they could go before and after games," Hecht says, adding that a shuttle and food-ordering counter are available to make it easier to get in and out. "The menu features handcrafted pub food. We tried to make sure that there's something for everyone on the menu."
To complement the theme, dishes are broken down into six categories: Pregame Skate (appetizers), Hat Tricks (sliders), Hit the Boards (pizzas), Loose Pucks (sides), Powerplays (soups and salads) and Bring Out the Zamboni (desserts). Popular carryovers from the Alumni menu include its smoked chicken wings, playfully dubbed Red Wings Suck. They're served with the guest's choice of sauce: Buffalo, barbecue, sweet Asian chili, ranch or blue cheese.
"Cardinals fans have Ballpark Village, so we wanted to find something for Blues fans to rally around," Hecht says. "We do make things in-house, so it's a step above your standard bar fare."
Additional highlights include a fried chicken slider with Buffalo sauce, pickles, blue cheese, shredded carrot and celery on a pretzel roll; a cheeseburger slider with beef patties, pub cheddar, pickles, fried onion and bacon on a brioche; cheese curds with Sriracha sauce; and a St. Louis-style pizza topped with pepperoni, sausage, ground beef, bacon, Canadian bacon and Provel.
From the bar, guests can choose from nine taps, including eight beers and a monthly rotating cocktail made with Redemption whiskey. So whether you're interested in trying a whimsical whiskey beverage or would like to try one of the many offerings on The Note Bar's menu, be sure to do so prior to catching Canfield Drive from The Black Rep. 
The Note Bar, 200 N. 13th St., St. Louis, 314-241-5888, thenotestl.com