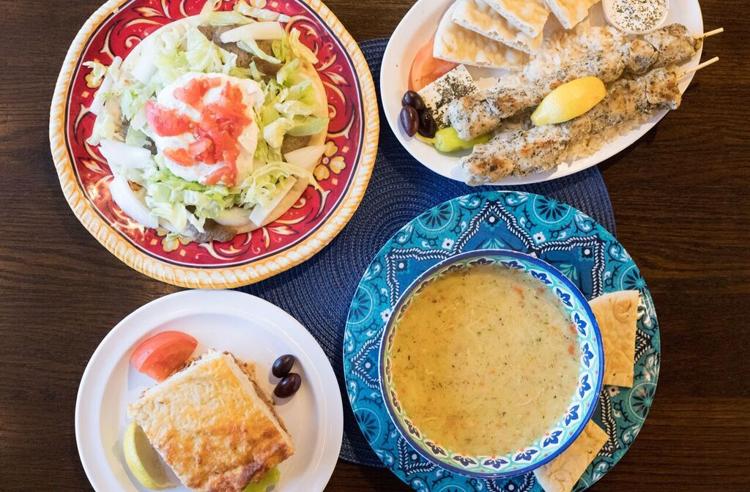 The Greek Kitchen – which moved last fall from Ellisville to Kirkwood – features a full menu of from-scratch authentic Greek cuisine and unique dishes like a gyro cheesesteak.
"Now that we're centrally located, we have a lot of people who are happier we're closer and not so far west," says Lisa Nicholas, who co-owns the The Greek Kitchen with her partner, Joe Kandel. "We love Kirkwood because it's such a wonderful community of families."
The restaurant fills the space previously occupied by Sushi Bistro, with around 52 seats and an outdoor patio that will double its capacity come springtime. The décor follows a traditional theme; the dining room fittingly reflects the blue and white of the Greek flag, complete with picturesque murals of the island of Santorini and a statue of the goddess Dione.
From the menu, guests can choose from such best-sellers as a chicken kebab platter with marinated and grilled chicken skewers on a bed of rice with feta, tomato, lemon, tzatziki and pita. Another specialty from the kitchen, the soup avgolemono, features chicken, orzo, egg, vegetables and lemon. A special from the previous location also made it onto the full rotation thanks to more room in the kitchen: petite lamb chops on rice pilaf with tzatziki, pita and seasoned veggies.
"Lisa's great at experimenting with new recipes but not veering too far away from the traditional Greek recipes we're known for and have built this business with," Kandel says, noting that the restaurant's saganaki – or warm kasseri cheese coated with brandy and lemon – is still lit on fire tableside with an emphatic "Opa!"
Patrons will find playful Greek-American takes on the list of offerings as well, including one of Nicholas' recent creations: baklava cheesecake, a graham cracker crust topped with cheesecake filling studded with nuts and spices, beneath phyllo and honey syrup. Another mashup, a Philly-style gyro, incorporates gyro meat on a pita topped with grilled onion, peppers, melted kasseri and a dollop of tzatziki.
To wash it all down, the bar offers exclusively Greek libations, including red and white wine, Mythos and Alfa beers, the sui generis spirit Metaxa and ouzo, a dry anise-flavored aperitif – making The Greek Kitchen an altogether heady place to visit before catching Nonsense and Beauty from The Repertory Theatre of St. Louis.
The Greek Kitchen, 343 S. Kirkwood Road, No. 101, Kirkwood, 314-462-9112, thegreekkitchen.net