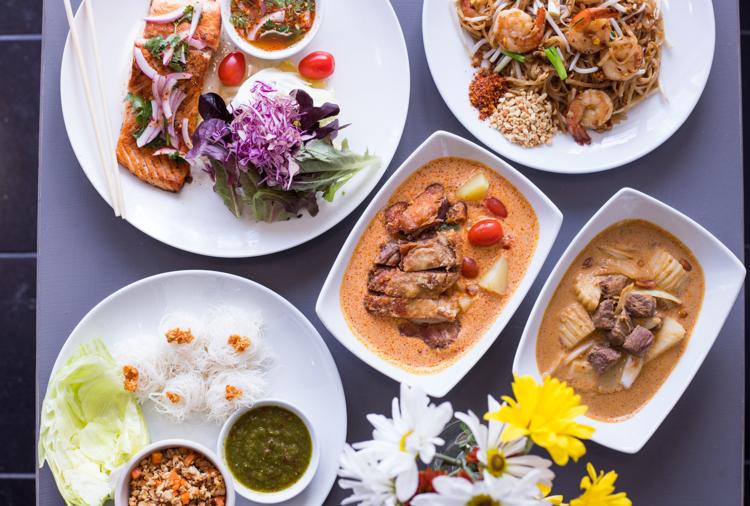 Thai Table, which opened in September in Maplewood, showcases the spicy cuisine of northeastern Thailand.
The eatery comes from chef-owner Natthinee "Joy" Teerakawanid, who hails from Buriram, a town in that nation's south-central area. Teerakawanid came to St. Louis nearly six years ago and decided to open her first restaurant in Maplewood, where she currently resides, because she noticed a lack of Thai food there.
Thai Table fills approximately 1,800 square feet and seats around 43. According to Teerakawanid, the interior sports a simple, cozy design meant to mimic the feeling of enjoying a meal at home. Images of food and scenes from Southeast Asia adorn Thai Table's walls.
"I love to cook, and I love to spend lots of time in the kitchen," says Teerakawanid, who learned her culinary skills at an early age from her grandmother and has been developing her own repertoire of recipes ever since. "For the food at Thai Table, I try to make the food the way I make it at home."
Many of the dishes, characteristically, taste spicy, fortified with homegrown fresh Thai chili peppers and dried spices that are toasted and ground in-house. Traditional dishes are made like their street-food counterparts, including such staples as pad thai and pad kra pow, with stir-fried ground chicken, bell peppers, white onion and Thai basil in spicy basil sauce, topped with a fried egg.
A popular appetizer pick at Thai Table is lettuce wraps with iceberg lettuce, vermicelli noodles and stir-fried ground chicken and carrots, served with spicy lime sauce. Entrée specialties include ghang ped bhed yang, duck curry with roasted duck, coconut milk, red curry paste, pineapple and grape tomatoes. Another highlight, massaman beef, features tender, slow-cooked beef in that variety of curry, coconut milk, peanuts, potatoes and white onions.
Some of Teerakawanid's personal favorites include som tam, a salad made of fresh green papaya, carrots, tomatoes, Thai chilis, lime, tamarind dressing and peanuts, as well as nam tok – flame-grilled sliced beef or pork tossed in a spicy lime dressing with ground toasted rice, red onions, green onions and cilantro, served with sticky rice and fresh vegetables.
Hungry yet? If so, make sure to try the Thai food tabled with love at Teerakawanid's new eatery before catching Away in the Basement: A Church Basement Ladies Christmas from The Playhouse at Westport Plaza.
Desserts at Thai Table, finally, include sticky rice with Thai custard, coconut fried ice cream and house-made coconut cake. To drink, guests can choose from options including Thai tea, Thai coffee and bubble tea. Lunch specials are available Mondays through Fridays from 11 a.m. to 3 p.m.
"I want to make people happy with my food," Teerakawanid says. "I make it taste just like the way it does in Thailand." 
Thai Table, 7403 Manchester Road, Maplewood, 314-449-6919, thaitablestl.com