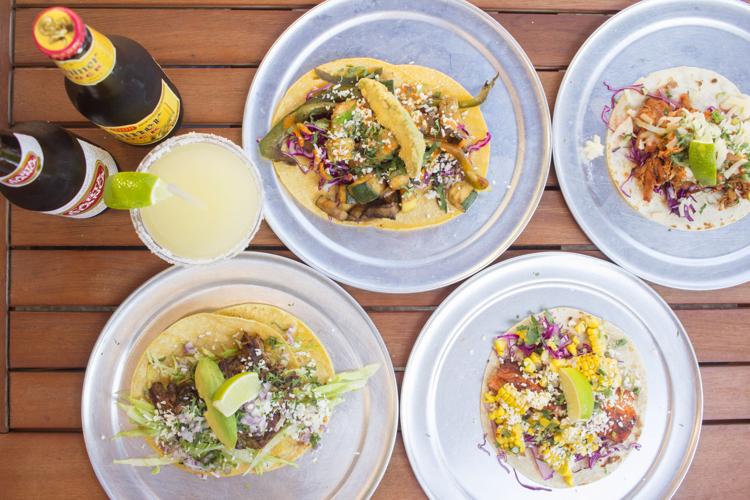 A new counter-service-style restaurant in University City specializes in tacos – albeit with a variety of worldly influences.
Taco Buddha, which debuted in August, features both traditional and inventive tacos inspired by Southwestern and Mexican cuisine as well as the Caribbean, Asia and beyond. The casual eatery comes from owner Kurt Eller and his partner, Erin McCracken. Chef Ben McArthur, formerly of the defunct J McArthur's in St. Louis' Lindenwood Park neighborhood, serves as a chef consultant, assisting with the restaurant's development.
"Erin has been [an] awesome support and a major contributor to the aesthetic and spirit of Taco Buddha," Eller says. "And Ben has taken a lot of my ideas and things I've done and made them better and more consistent."
Eller spent much of his hospitality career in Austin, Texas, where he owned and operated several restaurants. Throughout the '90s, he also traveled to such cities as Miami, Atlanta and San Antonio to manage various businesses ranging from taco joints to high-end fusion eateries.
A shift to a corporate job then led him to St. Louis, but three years ago, he started his own catering company under the Taco Buddha moniker, with an accompanying food trailer to assist in mobile food preparation for wedding receptions and other events.
"When I came up with the name, I was thinking about something that opened up tacos to be inclusive to everything and accepting of every type of food," Eller says. "We're just offering honest, simple ingredients that we layer to create different flavors – humble street food."
Taco Buddha fills a 435-square-foot space that previously served as the back of PerJax Americana Kitchen. McCracken designed the space, which features what Eller describes as a French Cambodian or international-style feel, reminiscent of a Brooklyn café. Staghorn ferns mounted on acoustic boards adorn the walls next to a handwritten menu, and the dining area is filled with tables built by Eller himself from refurbished wood. That dining area seats 24, with an additional 24 seats available on a patio.
The kitchen's ever-expanding recipe portfolio currently contains approximately 18 different tacos, with five to six options available on any given day. "Our menu is always changing as we source fresh ingredients and try out new flavors each day!" states Tacho Buddha's website listing, which is updated regularly to reflect what's currently on offer.
One of the most popular menu items has been a tandoori-style chicken taco with grilled, masala-marinated chicken, cabbage slaw, cotija cheese, cilantro, mango chutney and red-chili cream.
"One of my favorites is the smoked brisket," McArthur says. "Kurt is from Texas, so he does the Texas-style smoke with mesquite wood for that desert taste. It's smoked 16-plus hours until it's just right. We also incorporate a lot of New Mexico chilies."
Depending on weekly menu changes, guests also could find such items as a blackened-salmon taco with New Mexico red chilies and Cajun spices, grilled corn relish, cotija cheese, cabbage slaw and cilantro. Appetizers generally include chips and salsa, guacamole, queso blanco, green-chili queso and ceviche. Quesadillas also may be available, depending on the week's menu.
Sides customarily include rice and/or beans, street corn-on-the-cob and a fried half avocado. For dessert, weekly menu options could include flan, tres leches cake and Texas pralines – all of which sound like delectable delights before catching Heisenberg from The Repertory Theatre of St. Louis.
From the full bar, the beverage list includes specialty cocktails, margaritas, eight canned and bottled beers, and a wine selection that boasts a partnership with Spain's Torres Vineyards. Nonalcoholic drink options include horchata and hibiscus tea.
In addition to walk-ins, Taco Buddha is available for private-event rentals, with wine-tasting events paired with food potentially forthcoming. Customers also can order ahead online and arrange pickup times.
"One of our niches is breakfast tacos. Growing up in Texas, that's what you eat five mornings out of the week," Eller says. "Why bring donuts to the office when you could bring breakfast tacos?"
Taco Buddha, 7405 Pershing Ave., University City, 314-502-9951, tacobuddha.com