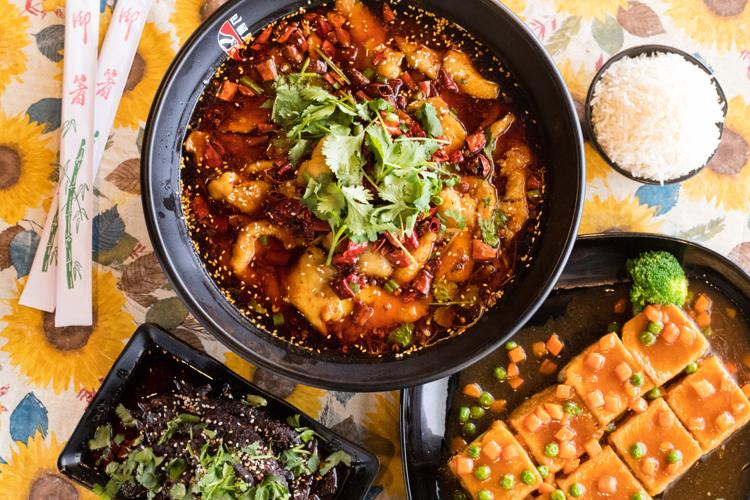 Lovers of spicy food, rejoice! Szechuan Cuisine in University City offers a full menu of Chinese dishes, several of which feature a signature blend of Sichuan peppercorns and chili peppers.
The eatery comes from owner Tommy Zhong, who opened the original Szechuan Cuisine in Chicago around four years ago. The local incarnation seats roughly 80, filling the building previously occupied by Asiana Garden. The casual interior features a modern design, whimsical decals and art from China, embellishing neutral-hued walls.
"We try to be as authentic as we can to bring the Sichuan style of Chinese food to the greater St. Louis area," says manager James Zhao, a native of Guangdong Province (located on the South China Sea coast). "The chef has come from our main store in Chicago, and all of our cooks are from the Sichuan Province in [southwest] China."
According to Zhao, top recommendations from the expansive menu include ox tendon with chili oil, sesame oil, garlic and vinegar; Szechuan-style rice jelly with chili pepper sauce; and wood ear mushroom salad. Additional best-sellers include eggplant in garlic sauce, mapo tofu and sautéed string beans. Lunch specials include fish-flavored pork on rice, tomato scrambled egg on rice and spicy braised beef brisket noodle soup.
"One particular characteristic of our food is the numbing peppers, which give you a little numbing sensation on the tongue," Zhao says. "It's one of the characteristics of Sichuan style and is very popular in China."
The peppers appear in such signature dishes as a chili-oil soup with fish fillets, clear noodles and bean sprouts. A mild menu highlight involves house made, from-scratch egg tofu served in a brown sauce with carrots and peas. Although the restaurant is currently applying for a liquor license, drink options include Coca-Cola products and herbal tea like White Gourd tea. Szechuan Cuisine makes a great spot to try something new – and spicy! – before heading to The New Jewish Theatre at the Jewish Community Center for a showing of Time Stands Still.
"We welcome people from all neighborhoods in the St. Louis area, no matter where you're from, to try our Sichuan cuisine," Zhao says. "Customer service is a top consideration here, and we do appreciate feedback so that we can take recommendations and make modifications." 
Szechuan Cuisine, 7930 Olive Blvd., University City, 314-925-8755