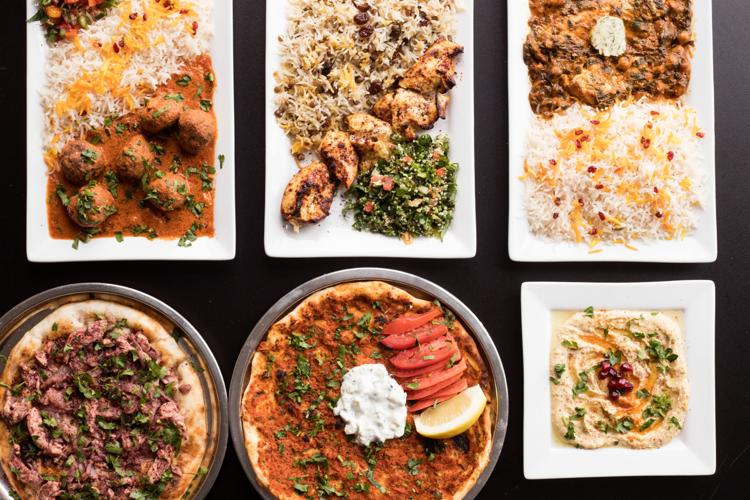 Sultān Mediterranean Cuisine, featuring the dishes of Kurdistan and beyond, debuted on Jan. 12 in St. Louis' Grove business district.
Leading the family-owned Middle Eastern restaurant is the husband-and-wife duo of Akram Saeed and Jenar Mohammed, Iraq natives who came to the United States as refugees in the mid-1980s.
"This is our first time owning a restaurant," says the couple's daughter, Media Saeed, who serves as Sultān's general manager. "My dad ran convenience stores before, but my mom loves cooking, and it was always a dream of theirs to open a restaurant."
Mohammad – who previously worked as a prep cook at Sameem Afghan Restaurant, also a St. Louis standby – now serves as Sultān's chef, creating an extensive menu that includes everything from unique Kurdish dishes to her take on classic Mediterranean staples.
Sultān fills the approximately 2,400 square feet previously occupied by Erney's 32°, complete with more than 20 tables across two dining rooms. A yearlong gut renovation resulted in a clean, neutral-toned interior embellished with ornate red tapestries, colorful light fixtures from Turkey and decorative drink service vessels straight from Kurdistan.
"We're very excited to represent our culture and bring Middle Eastern cuisine to the Grove," Media Saeed says. "I think that's the only thing missing here."
From the menu, guests can find signature Kurdish fare such as sultan pilau – a phyllo pocket filled with basmati rice, almonds, pistachio, raisins, walnuts and carrots, served with salad and fresh naan. Another specialty, lahmajun, involves a Mediterranean-style pizza topped with minced beef, onion, tomato and parsley.
Sultān's offerings also feature food inspired by areas from all over the Middle East. To that end, flavorful standards such as hummus, baba ghanouj and falafel await atop the list of appetizers with mainstay entrées such as a chicken kebab platter served with rice, grilled tomato and salad.
Additional highlights include shish barak, a Syrian entrée made of steamed dumplings stuffed with ground beef, onion and parsley, cooked in a yogurt-and-mint sauce. The Palestinian dish musakhan involves roasted chicken with onions, sumac, allspice and saffron served over bread.
To drink, guests can choose from options including Turkish coffee, lemonade with fresh mint, leben (a salty yogurt drink) and pomegranate juice made with specially imported ingredients from Kurdistan. A variety of desserts are also on offer, making Sultān a wonderful place to dine before enjoying The Repertory Theatre of St. Louis' production of Oslo.
Sultān Mediterranean Cuisine, 4200 Manchester Ave., St. Louis, 314-390-2020
Be the first to know
Get local news delivered to your inbox!