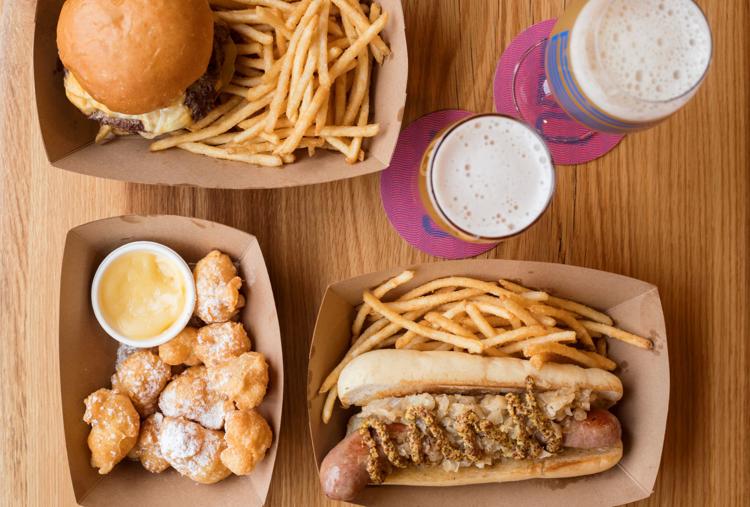 Guests to Rockwell Beer Co. can enjoy craft brews made on-site and served with burgers, brats and more prepared by Brasswell from chef Gerard Craft's Niche Food Group.
Rockwell – located in The Grove business district of St. Louis' Forest Park South East neighborhood – debuted its brewery and family-friendly tasting room in late November with a casual food menu inspired by Brasserie's Cinq à Sept happy hour.
Leading the Rockwell team is owner Andy Hille, who originally announced plans to open the establishment in April 2016. Jonathan Moxey serves as head brewer, Ryan Nickelson as tasting room manager and Joe Landis as chef at Brasswell.
"Rockwell gets its name from the street I lived on in Chicago for five years while my wife made it through grad school," Hille says. "I started homebrewing and made my way into the industry there. There's so much room to grow here in the St. Louis beer community. It's such a strong beer town, but there's always opportunity for more."
Rockwell fills 12,000 square feet – formerly occupied by a machine rental and servicing company – with a 15-barrel, three-vessel brewhouse, three Missouri oak foeders (generally, large wood barrels set on end and used for fermentation) and its own canning line. The tasting room takes up 2,000 square feet with 90 seats and a retail space.
The modern interior design features both industrial and organic elements such as repurposed shipping containers and ceiling embellishments made with oak scraps from St. Louis' Foeder Crafters of America. Behind the bar, a draft system installed by Chicago's Leaders Beverage Consulting features Rockwell's beers, plus guest taps and four rotating beverages such as wine, cider and Kaldi's cold brew.
"We want to offer a fun, kind of laid-back approach to beer," Hille says. "I think it resonates with our space here – something comfortable, balanced and inviting. Internally, we take the beer very seriously, but that should kind of end there. Beer is inherently a fun beverage, and that's what we're really trying to dial into here."
Instead of featuring flagship brews, Rockwell offers seasonal options in an effort to create well-balanced beers for every palate. One of the first beers available on tap was Simple Needs, a citrus-forward blond ale; another was the Velour Tracksuit, a well-rounded India pale ale. At press time, guests can enjoy such options as Passing Clouds, which features three types of wheat, citrusy American and spicy German hops, and a blend of coriander, curaçao orange peel and grains of paradise, a type of ginger.
From the Brasswell food menu, guests can choose from single- or double-patty griddle burgers topped with onions, American cheese, pickles and dijonnaise on a brioche, with bacon optional for a small charge. A veggie burger is also available, as well as a beer brat topped with sauerkraut and whole-grain mustard. Additional items include fries, bite-sized beignets and a kids' menu – all of which sound delectable before catching Love, Linda from Max & Louie Productions.
"It's taken a long time to get to this point, but we're really excited to have our doors open and have people come in to see what it's all about," Hille says. "They'll be surprised with what they find."
Rockwell Beer Co., 1320 S. Vandeventer Ave., St. Louis, 314-256-1657, rockwellbeer.com