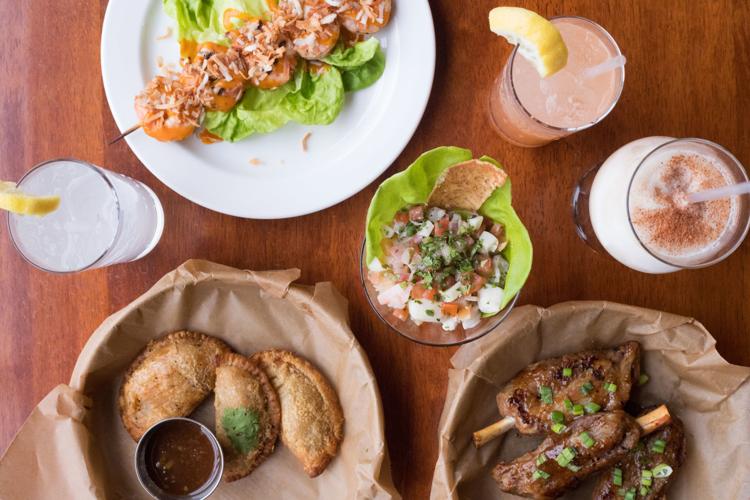 Rhone Rum Bar, which debuted just last month in St. Louis' Downtown West neighborhood, features a taste of the tropics.
This latest addition to the local Hamilton Hospitality empire joins Paul and Wendy Hamilton's other area businesses, including Vin de Set and Hamilton's Urban Steakhouse & Bourbon Bar. The casual bar offers Caribbean-inspired shareable plates and cocktails, and features more than 100 rums.
The establishment's name pays homage to a legendary century-old shipwreck, the RMS Rhone. According to general manager Pamela Moore, the "O" in the bar's logo represents the ship's porthole, which divers still visit today and touch for good luck.
"The biggest reason the Hamiltons chose a Caribbean-style theme is that they're in love with the islands," Moore says. "They've been going to the British Virgin Islands for years. They have a home there and wanted to bring a little bit of that to St. Louis."
The 5,000-square-foot space mimics the feel of beachside bars found in those islands, with seats for roughly 95 guests. Lime walls, string lights and nautical décor including colorful images of the islands give the room a vacationlike vibe. Intriguingly, the establishment's website also mentions indoor sand volleyball.
From the bar, visitors can choose from a long list of rum options organized by their point of origin – everywhere from Barbados to the West Indies. Beer and wine are also available, as well as more than a dozen specialty cocktails. Frozen options include such highlights as The Rhone with Sailor Jerry spiced rum, Blue Chair Bay Pineapple Rum Cream, wild berry and piña colada mix. For less-sweet options, guests can opt for mixed drinks like The Pirates Paloma with Cruzan Mango Rum, grapefruit, Ting (a carbonated beverage popular in the Caribbean) and lime.
The Hamiltons collaborated with director of operations John Dalton and chef Jennifer Moore to create a food menu of shareable plates to complement the libations. Flavors within include everything from jerk seasoning to tamarind. Highlights include conch fritters with Key lime remoulade, jerk chicken wings and hand pies available in curry chicken, root vegetable, or beef and goat.
"If you want somewhere where you can kind of escape this weather and holiday stress, just come in and let it wipe away," Moore says. "It's a great, laid-back, fun place where you can get good food and drink and have fun times with your friends."
Rhone Rum Bar, 2107 Chouteau Ave., St. Louis, 314-241-7867, rhonerumbar.com